Ali Darwish | Nour Aldeen Ramadan | Khawla Hafezi
Piles of a white substance, inside commercial containers of different companies, food packages or tires of cars; such scenes have circulated on international media to document thwarting smuggling major drug shipments around the world. All these scenes showed that the source country is Syria.
Tons of drugs have been seized both in Italy and Saudi Arabia, preceded by seized shipments in both Egypt and the united Arab Emirates (UAE). Additionally, the Jordanian government has repeatedly declared foiling shipments of hashish and narcotic pills coming through the Syrian Desert towards Jordan to be later shipped to the countries of the Arab Gulf.
The Syrian regime authorities also launched campaigns to arrest drugs traffickers in their areas of control. The biggest campaign took place last January, after seizing a vehicle loaded with drugs, that was supposed to transport vegetables, between Daraa and As-Suwayda governorates. The amount of seized drugs was estimated at about one and a half tons of narcotic pills and hashish (500 bags of "Captagon" pills, and eight thousand and 516 bags of cannabis of various types), according to the Ministry of Interior in the regime's government through its "Facebook" account.
In this file, Enab Baladi sheds light on the role of uncontrolled borders in Syria, the chaotic state which led to drug trafficking on a global level, as well as profits generated by this trade for traffickers. Though this file, Enab Baladi attempts to answer raised questions about the "Interpol's" ability to pursue drug traffickers in case Syrian businessman and politicians' involvement has been proven.
A Growing trade
From Lebanon to Saudi Arabia, then to Italy … Syrian drugs all over the world
Within the border strip between Lebanon and Syria, which extends from the countryside of al Qunaitra, passing through al-Zabadani, Madaya and Qalamun western region in Damascus countryside until al-Qusayr, Talkalakh and the Mediterranean coast, this area has become famous for smuggling operations. In fact, it has witnessed several clashes between smugglers and the Syrian border guards (called Hajanah) prior to the Syrian revolution in March 2011.
In interview with Enab Baladi, the Information Unit Manager at Omran Center for Strategic Studies and military affairs researcher, Nawar Shaaban, said that smuggling operation is not a new phenomenon in Syria, but rather an "eternal profession."
He added, smuggled materials were transported on horses and mules from Lebanon to Syria, which are separated by a rugged Qalamoun mountain range (eastern the Lebanese mountains), especially since imposing sanctions on the Syrian regime in 1979.
At that time, most of the "smuggled materials" included items which the Syrian market lacked, such as cloth, kitchen equipment, and other items that could be easily carried. Later, these smuggling operations expanded to include to timber and household items.
The Lebanese-Syrian borders are not the only smuggling portal. There are also Syria's borders with Jordan and Iraq, especially after imposing U.S. economic sanctions on Iraq. In addition to its borders with Turkey, which have witnessed active operations during the Syrian revolution. Not to mention the coastal strip monopolized by men from the inner circle of the ruling family, who enjoy the widest authorities with al-Assad family's rule.
Prior to the revolution, controlling cross-border smuggling was difficult, as smugglers were known for using weapons and their close relationships with security forces and "Hajanah Unit". Consequently, it was difficult to control these operations, especially when residents of a particular village near borders work in smuggling, the area becomes almost fortified, as Shaaban put it.
Now, even with the regime promoting its return, controlling borders is still difficult. Russians, on the other hand, have tried to interfere in some areas at the end of 2018, such as al-Qusayr region in the western countryside of Homs. Back then, they tried to position themselves on borders in al-Dabousieh area, the "Arida" border crossing, near al-Qusayr; however, their attempts to control the crossings collided with a local force controlling these points and they ended up by withdrawing, according to Shaaban.
With the beginning of the Syrian revolution, smuggling became very active and included weapons, drugs, civilians and fighters. However, after closing international crossings, a new a group of smugglers, other than the traditional ones, raised to the surface under the name of "warlords", who smuggles items and materials the state and regions lost because of war, as explained by Shaaban.
According to Shaaban, most of these "warlords" were unknown; yet, they took full control of the market by smuggling arms and drugs from and into the state.
Shaaban thinks that this state of chaos will continue within borders and controlling it during the coming period will be more difficult as reliance on it becomes greater, especially after "the Caesar Syria Civilian Protection Act", known also as "Caesar Act" came into force.
The Syrian Market a gate …Lebanon a source
The presence of the Lebanese "Hezbollah" on the Syrian soil and its interference in battles alongside the Syrian regime forces since the beginning of the revolution, have transformed the Syrian market into a transit point for "Hezbollah" shipments to the Gulf, Jordan and other countries, according to researcher Nawar Shaaban.
The Syrian-Lebanese border was one of the most prominent ways to supply "Hezbollah" with its needs. Both the regime and "Hezbollah" relied on local smugglers to supply the latter with weapons, oil, and others materials. These smuggled items were used later to help deploy "Hezbollah" camps on the border strip before 2011.
"Hezbollah" is accused of making financial gains through a network of drug dealers in several countries, as American media reports said that it is participating with more than one country in the world to smuggle drugs, to finance its military operations in Syria and purchase the necessary weapons.
According to a report published by "the Washington Times" on June 2016, said that the U.S. Drug Enforcement Administration (DEA) has officially informed members of Congress that it had found evidence of 'Hezbollah" involvement in massive drug trafficking around the world.
The report added that "Hezbollah" has many factories that produce "heroin" and manufacture "cocaine", while smuggling raw material from Brazil and Paraguay, and thus controls the sale of the final product locally and internationally.
The United States and Ecuador were able to arrest drug trafficking networks linked to Hezbollah, and at the end of 2012, a prominent member of the Finance Committee of the U.S. House of Representatives confirmed that drug manufacturing and trafficking represented 30 percent of the party's revenues.
However, in January 2018, Hezbollah Secretary-General, Hassan Nasrallah, denied his party's involvement in the drug trade for the purpose of financing, which the United States accused it with and formed a special team to investigate the secrets behind its financial profits.
Lebanon is the first Arab country to pass a law allowing cultivation of "hashish" for medical and industrial use, last March.
 Smuggling though trademarks
Pictures of "Kharta al-Khadra" mate boxes and "Milkman" boxes went viral on media last April, after seizing 19 million and 264 thousand narcotic pills in mate boxes by the Saudi authorities, and four tons of hashish hidden inside milk boxes in Port Said by the Egyptian authorities.
The "Kharta al-Khadra" mate is produced by "Kabour International Group", which is the main distributor of mate boxes in Syria. The industrial facility was established in 1989 to mobilize food products and it is headed by the Syrian businessman Adib Kabour. Meantime, the Syrian businessman Rami Makhlouf, who is also Bashar al-Assad cousin's, owns the "Milkman" company. This raised questions about the involvement of Syrian businessmen affiliated with the regime in drug trafficking operations.
However, "Kabour Group" said in a statement on 30 last April that "smuggling narcotic drugs through its products of international reputation is destroying its name," and asked the Syrian authorities to uncover the networks involved in the export of drugs. The company also asked to suppress this phenomenon which destroys the national products' reputation.
For his part, Makhlouf also denied responsibility for the shipment that was confiscated in Egypt, and said in a statement published by the Lebanese newspaper "al-Akhbar" that "whoever distorts this work, by unloading these products and filling them with narcotic substances, is a coward who tries to wants to distort our work and company."
Makhlouf called on the responsible authorities in Syria to put an end to such conducts, and to pursue those who manufactures and trades in these narcotic substances "which destroy our minds and harm our children," he said.
Prior to the Saudi and Egyptian operations, the Dubai Police's Anti-Narcotics Department has confiscated, last February, five tons and 656 kilograms of "Captagon" pills (about 35 million pills) coming from Lattakia port in Syria. These pills were hidden in iron wire reels which was discovered in port of Jebel Ali in UAE, according to the Emirati newspaper, "al-Ain."
In July 2019, the Greek authorities announced confiscating four thousand and 762 of narcotic pills (about 33 million pills) coming from Syria in three containers, with a value of half a billion euros.
The biggest deal…to Italy
The most recent of these Syrian shipments, which is the largest operation in the world, took place in Italy. On 1 July of this year, the Italian police has announced seizing of about 14 tons (85 million pills) of narcotic amphetamine pills coming from Syria.  Later, the operation was described as the "largest seizure of amphetamine at the global level."
The pills were hidden in three containers containing large cylindrical paper rolls for industrial use. These seized drugs in the port of Salerno, southwestern Italy, before heading to a company based in Lugano city in Switzerland, are worth one billion euros.
The Italian police said that the drug shipment was manufactured by the so-called "Islamic State" (IS), considering that the organization "funds its own terrorist activities through drug trafficking that is manufactured in Syria."
However, the German newspaper "Der Spiegel" stated in a report published on 3 July, that the seized drugs did not belong to "IS", which was also mentioned by several Arab and international news agencies.
The newspaper added that Samer Kamal al-Assad, the uncle of the head of the regime, Bashar al-Assad, was behind the billion-euro shipment, noting that he runs a factory in al-Bassa village, south of Lattakia, to produce narcotic drugs.
Moreover, the report added that the Samer Kamal al-Assad factory is cooperating with businessman Abdul Latif Hamid, who opened a paper factory in Aleppo a few weeks ago. The newspaper conducted a comparison between the source of the previous shipments, their quantities and the types of narcotic pills in them, and found them similar.
While "IS" stated that it was surprised that the Italian authorities accused them of smuggling of tons of narcotics seized by the Italian security authorities in the port of Salerno, southwestern Italy, at the beginning of this July.
On the third page of "al-Naba" newspaper issued by "IS" on 9 of the current month, it stated that "inflating the value of the shipment was not more strange than declaring (…) that the shipment belongs to "IS."
"IS" considered that the drug trade is one of the aspects of political and economic relations between Western countries and the Syrian regime, adding that some political and economic analyzes have linked the U.S. intervention in Afghanistan and their stay there is "to continue opium production there and control its trade."
What is the difference between "amphetamine" and cannabis?
Indian hemp (cannabis and marijuana) is one of the most widely used drugs worldwide.
According to the World Drug Report, released in May 2017, the number of cannabis abusers in 2015 have reached 183 million, while the number of "amphetamines" and "Captagon" abusers exceeded 37 million people.
Cannabis is a drug that comes from the Indian hemp plants, whose cultivation is active in tropical and temperate regions. It is used in various ways, either by chewing or smoking. It is also considered one of the most popular drugs with psychological effects, spreading in the world, due to its cheapness and ease of use.
Cannabis contains many chemicals, but the most important substance is tetrahydrocannabinol (THC), which affects neurosecretory cells, and causes mental effects. When taken, (THC) leads to excessive activation to some parts of the brain, causing feelings of euphoria and leading excessive laughter.
As for "Captagon" pills, it is the trade name for Fenethylline, is a derivative  "methamphetamine" which stimulates the nervous system and makes its abusers hyper active while their need for sleep decreases. Most truck drivers tend to take "Captagon" pills while working, also these pills are considered to be sexual tonics due to "the feeling of paranoia most abusers experience after taking them." as explained by Dr. Akram Khulani, a specialist in family medicine, in a previous interview with Enab Baladi.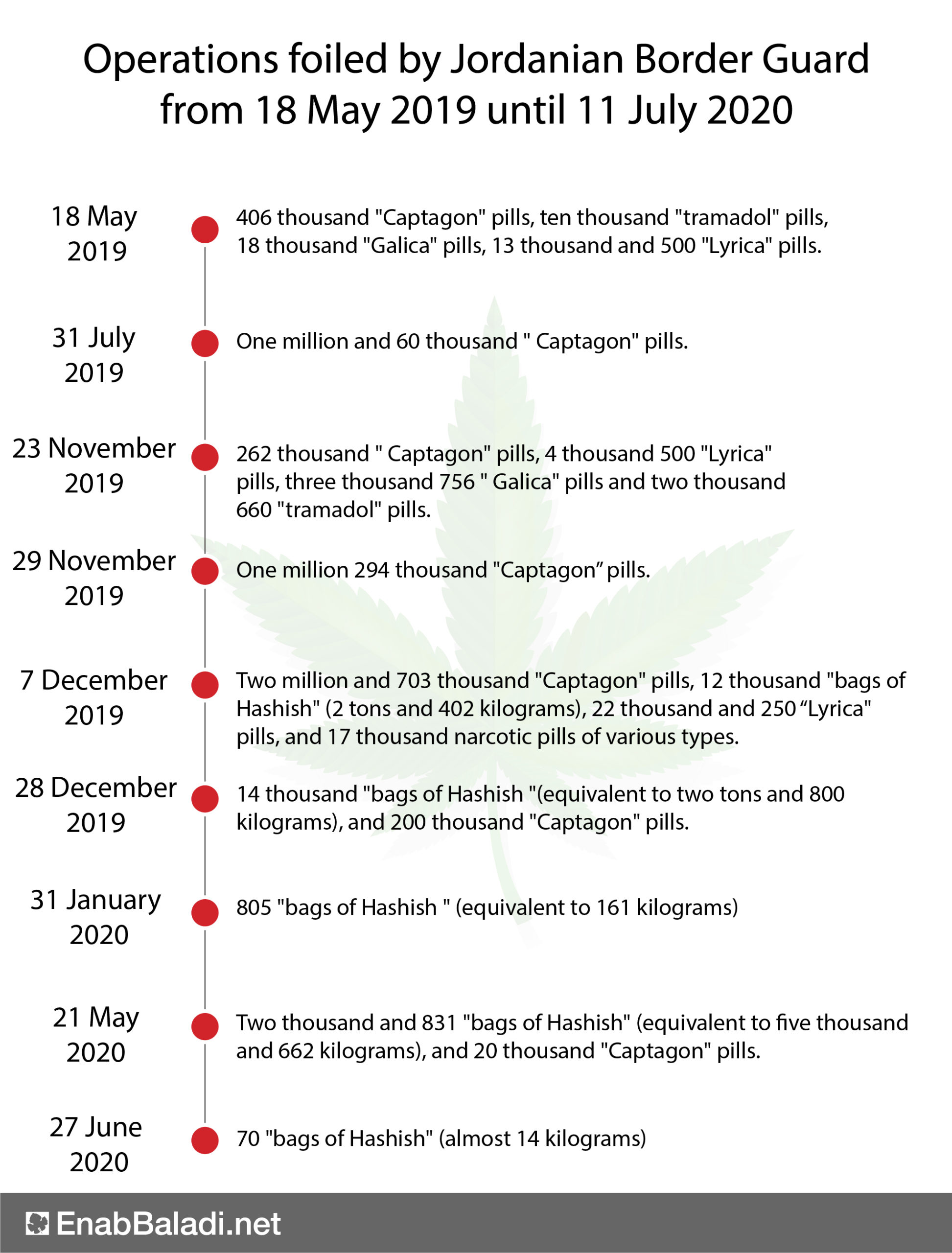 How did the drug trade develop in Syria and how does the system benefit from this trade?
The Syrian regime has long been associated with drugs production and distribution; however, its activity has evolved significantly in recent times. Talking to Enab Baladi, economic analyst Younes al-Karim, has divided this progress into three main stages linked to Syria's internal developments.
1st stage: Under Hafez al-Assad's rule
Hafez al-Assad allowed internal entities from his family a slight margin to trade and produce narcotic substances, which they cannot surpass for several reasons. The most important of which, is to avoid disputes with the neighboring countries, and out of fear of being pursued by the interested international intelligence. Moreover, this kind of trade constitute a burden for his rule. Therefore, this stage was known for trading specific types of drugs.
2nd stage: Under Bashar al-Assad's rule
According to Younes al-Karim, the second stage can be divided into two different parts; the first before 2005, where things did not change much. This period was marked by the sudden wealth of a handful of families close to the regime and the return of others from abroad. It also witnessed a high demand for drugs, hashish and alcoholic beverages in general.
As for its second part, which marked the period after 2005, drugs began to appear in Syrian society after calls to give freedom to young people, especially during the re-elections of Bashar al-Assad in 2007, as al-Karim put it. However, with their high prices, narcotic drugs were most used by the rich, while drugs of poor quality were consumed by the poor. In addition, the conservative nature of the Syrian society reduces their popularity as well.
3rd Stage: after 2011
Al-Karim considers this stage to be the most important stage of drug trafficking and abuse in Syria, as demand increased, especially among fighters from various factions (especially amphetamine pills and hashish), taking into account its availability in large quantities.
At this stage, next to "Hezbollah" and a handful of Iranian militias which traded in drugs, various militias raised to the surface and became internationally linked to this trade. In 2014, Russian mafias joined this network.
Al-Karim added, as battles declined and the economy retreated, the regime and its backing militia were urged to search for wider funding, the most important of which was the drug trade. In that period, Iran played a major role in shipping drugs from other countries through Syria to Europe, while "Hezbollah" prevented people returning to their areas in Damascus countryside so not to use them in production and agriculture.
The pace of this trade escalated with the regime's economic deterioration and control over new areas in Syria for certain reasons, including securing liquidity for the government, amid the Iranian and Russian pressures to pay in exchange for protection, as well as fighters' salaries and expenses.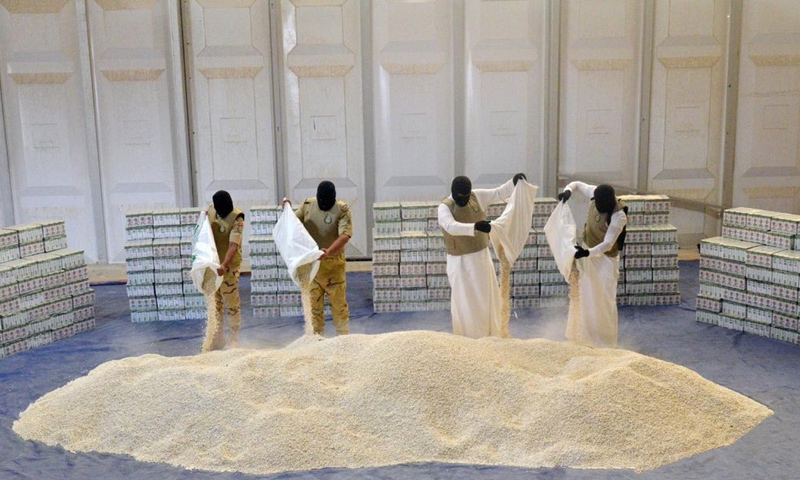 Where does drug money go?
Economic analyst Jalal Bakkar explained to Enab Baladi that the Syrian regime used illegal trades, including drugs to make profits which will later be used to fund legitimate trades, such as foods and oil.
However, they were also used to pay salaries of both the regime fighters and militias or used to support the Syrian pound. Meantime, such profits were never invested in any real industries or service sectors, such as the health sector, instead they were preserved as tools of war, as Bakkar put it.
Drug shipments, which hit the highest records in drug trafficking, did not have a political impact on the regime's ties with countries confiscating them. Some of these countries avoid implicating the Syrian regime, such as Egypt and UAE, according to political analyst Hassan al-Nifi.
In the last shipment seized by Italy, "IS" was faulted for it, even with the significant decline of its influence.
Italian journalist, Daniele Ranieri, questioned the Italian discourse, and attributed accusations made by Italian investigators to "IS" to the fact that the Italian government does not want to distort relations with Damascus, as it still imports phosphates from Syria to this day. The Italian government has also invited intermittently the head of Syrian intelligence, Ali Mamlouk, to government meetings in a private plane in March 2018.
Internationally illegal ..it is possible to stop the regime?
Drug trade is illegal worldwide including its cultivation, manufacture, distribution and sale. During the declaration on the rule of law, member states recognized the importance of strengthening international cooperation to counter the world drug problem.
The United Nations General Assembly also stated that "despite the extensive efforts that States and relevant organizations, civil society and non-governmental organizations continue to make, the world drug problem undermines social, economic and political stability and sustainable development," according to the United Nations' official website.
Does the "Interpol" contribute to the pursuit of those involved?
The "Interpol" is an international coordinating body between police, based on cooperation between member countries to issue arrest warrants for wanted individuals. This means, that its main role is to facilitate cooperation between member states. When it comes to case pursuit, is carried out by member states themselves, according to what the head of the "Syrian Program for Legal Development" (SPLD), Ibrahim Olabi, told Enab Baladi.
Olabi added that the process of pursuing wanted persons is carried out by states, while police agencies specialized in drug control are the ones to arrest them and transfer them to the judiciary. Later, these individuals are punished according to the law of their state, since laws and provisions differ from one country to another.
For example, if there are people who are affiliated with the Syrian regime and involved in drug smuggling, an arrest warrant can be issued against them in one of the European countries. Therefore, they cannot go to Europe because they are wanted or accused, also their names may be added to the sanctions lists. These are the two possible procedures which can be undertaken against drug traffickers.
If these people are outside Syria but live in Europe, they can be tried locally according to the hosting country law.
People accused of drug smuggling or other cases can refrain from coming to the country in which they are wanted, to evade prosecution and this limits their movement.
In 2018, the number of member countries of the "Interpol"  has reached 194, and Syria has been a member since June 1956, according to the "Interpol's" official website.
Can the Syrian regime be convicted of drug trafficking?
Countries that have detected drugs shipments from Syria (like Italy, Greece, Egypt, Saudi Arabia, the UAE, Jordan) can "resort to law" through investigating with people involved in these shipments, and then the investigation must come to the conclusion that the Syrian regime has asked certain people to trade drugs, as Ibrahim Olabi put it.
If investigations concluded that the Syrian regime committed international violations to be condemned, legal actions may be taken against it through the United Nations. Olabi thinks that such moves represent a political condemnation rather than a legal one, in terms of its consequences, which means that the regime can continue to find a way out to evade legal prosecution.
if you think the article contain wrong information or you have additional details Send Correction