Strenuous efforts to curb "leishmaniasis" northern Syria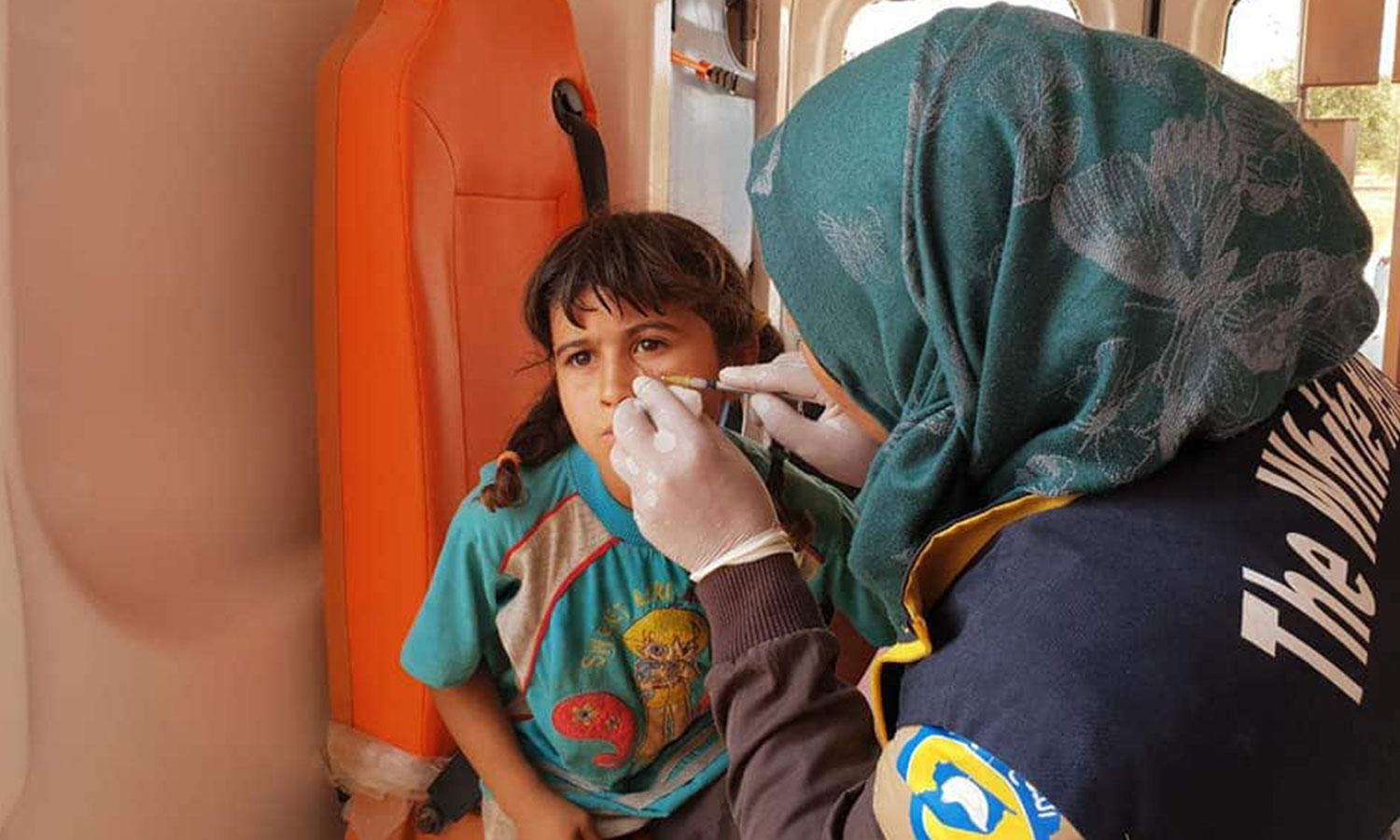 Enab Baladi- Aleppo Countryside
"The faces of my children are disfigured", with these words Obeid al-Annad, a displaced refugee in "Hudhayfah Bin al-Yaman" camp near al-Dana town in Idlib governorate, expressed his suffering for having five children infected with "leishmaniasis parasite"
Obeid proceeded by saying to Enab Baladi "at first, my ten-year-old daughter was infected by leishmania and more than 30 boils appeared on her face. Consequently, she had to be injected with 50 muscle syringes in al-Dana and al-Tawameh medical centers as well as mobile medical teams in camps."
He added with grief "she finished her treatment and my daughter's face was disfigured, I thought it was all over now, but unfortunately, my four other kids respectively were infected with this parasite, in less than a month."
Thousands of infections
Obeid's children are only a sample of thousands of leishmaniasis infections commonly known as "boil of the year" or "Aleppo boil" according to Muhammad Omar, the Medical Director of international organization "the Mentor" specialized in fighting the disease operating northern Syria. Omar said that the number of infections has reached 40 thousand people, 25 thousand of them are centered in Idlib, while the other 15 thousand are scattered throughout the rest of areas in the north.
Omar pointed out that the number of untreated leishmaniasis infections exceeds 15 thousand because of displacement, which make a total of 55 thousand infections based on the organizations' statistics.
He explained that rashes and grains on the skin causes what is called "visceral leishmaniasis", which is a fatal disease that attacks primarily the liver, spleen, and bone marrow. The number of infections reaches 70 cases yearly. The visceral leishmaniasis is also called "kala-azar" or the "black fever" according to Omar.
According to the "Mentor" Medical Director, the organization does not face challenges or obstacles while providing services, other than the patients' lack of commitment to treatment and instructions. The organization has different teams; a medical team, a preventive one, an awareness team, and another for assessment.
Environmental and health conditions
The head of healthcare in Idlib, Dr. Hassan Qaddour, attributed the increase of "leishmaniasis" infection cases to the poor health conditions due to the war, most importantly lack of sanitation in many areas especially in camps.
Obeid al-Annad did not deny the role of organizations and medical centers in providing medical services and healthcare for the patients; however, he pointed out to the lack of preventive measures against this disease such as spraying pesticides, or closing sewage channels, are the main causes of this parasite.
As for the northern countryside of Aleppo, the Assistant Director of the "Free Aleppo Health Directorate", Radwan Harouq, told Enab Baladi, that the main reason behind leishmaniasis spread is linked to patients' lack of access to medical centers and their inability to secure transportation costs from their camps to these medical facilities. In addition to their lack of commitment during the treatment process.
Harouq added that his directorate suffered from lack of "Glucantine" medicine used to treat "leishmaniasis", but now directorate personnel face difficulties in gathering statistical accurate information on the numbers of infections because of their constant displacements.
Harouq confirmed that the directorate has formed a field medical team to treat infections inside camps as a primary emergency solution. It is also in a joint cooperation with "the Mentor" organization, responsible for treating "leishmaniasis" northern Syria.
Risk of an outbreak
Based on a report, issued on 12 of last June by the United Nations Office for the Coordination of Humanitarian Affairs (OCHA), northern west Syria faces an outbreak of "leishmaniasis" disease. Meantime, local communities need to raise awareness about prevention and control measures to curb the spread, also the capacity of health personnel needs to be enhanced along with medical treatment supplies to treat infections.
The report mentioned that 4.1 million people live in northern west Syria; where 2.8 million of them need assistance and the rest constituting nearly 2.7 million are Internally Displaced Persons (IDPs).
Some 60 percent of the people who need access a safe water supply are being reached, leaving a gap of 1.3 million people across northwest Syria without water.
In Idlib only, it is estimated that at least 45 percent of the population rely fully on water trucking as the only and main source of portable water, while at least 65 percent rely on water trucking in addition to water they reach through networks.
Meantime, 33 percent of assessed streets in the region are reported to be full of garbage, which contributes to "leishmaniasis" spread.
"Leishmaniasis" parasite spreads in specific regions of the world, including the Brazil's swamps, and in eastern Asia, and in Aleppo on both sides of "the Queiq" River. The disease is widely known as (Bouton d'Alep), which can be translated as "Aleppo boil" and the infection is transmitted by a mosquito bug bite.
if you think the article contain wrong information or you have additional details Send Correction