Spread of Coronavirus closes bazaars in Idlib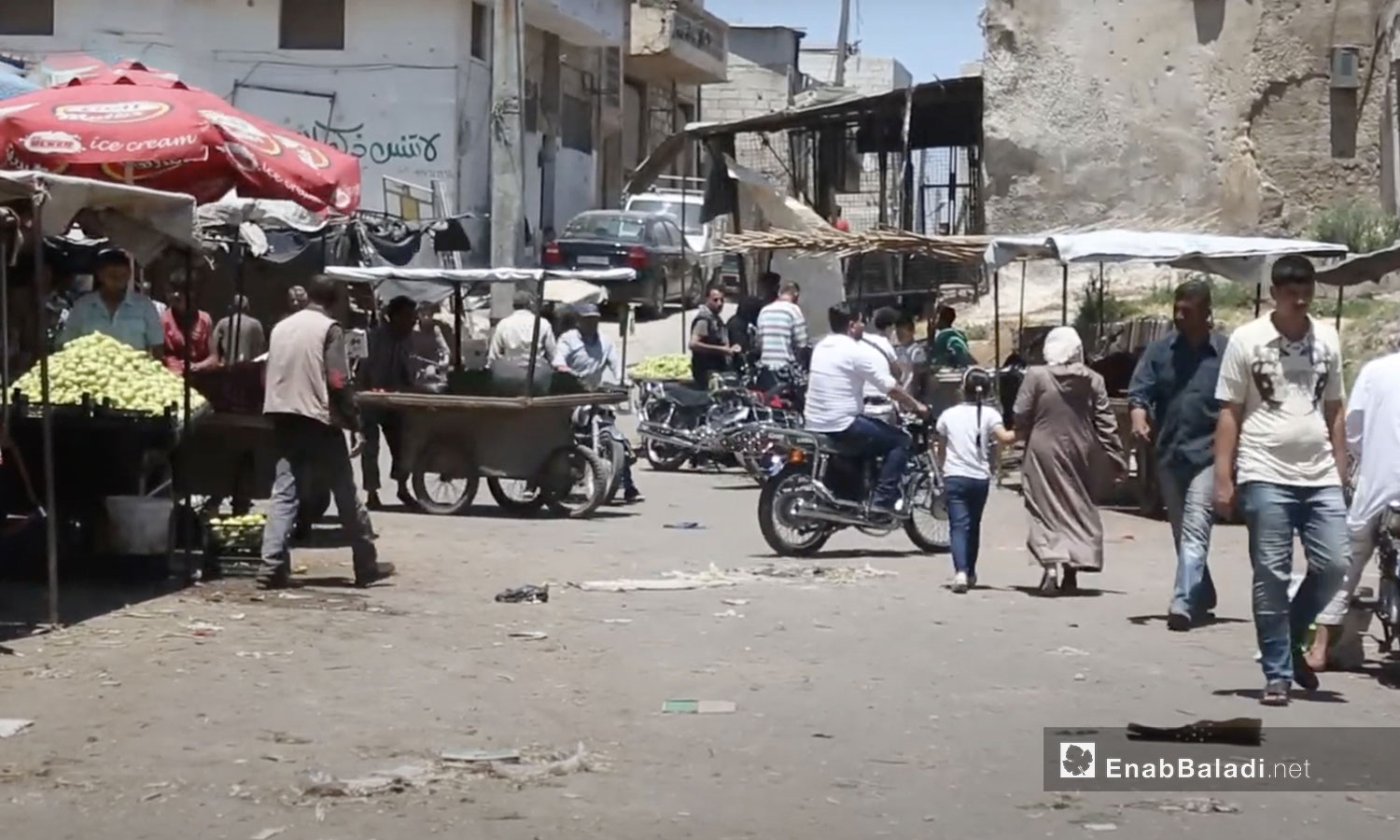 Idlib – Youssef Gharibi
Abdel-Hay al-Asaad resumed his economic activity through reopening his "stand" after bombing and shelling stopped, in the face of Syrian pound's decline. However, the novel coronavirus (COVID-19) forced Abdel-Hay to close his stand, after a decision to close bazaars between cities, as part of the undertaken precautionary measures to prevent the pandemic spread.
Just a few days after announcing the first case of coronavirus infection on 9 of July, local councils in Idlib governorate issued statements requiring closure of weekly bazaars in areas including ad-Dana, Binnish, al-Fu'ah and Atimah to prevent gatherings in markets "until further notice". However, the region which three quarters of its population dependent on relief aid, is facing a reality no less serious than the virus itself.
Prevention and unemployment
Abdel-Hay obtained a degree from the Industrial Institute in Idlib in 2011, but unemployment urged him to look for other jobs. He told Enab Baladi, that his last resort was to open a "stand" in bazaars to make a living.
Moving from one bazaar to another was not easy for Abdel-Hay, especially during the war years. He actually endured a lot, starting by losing his 'stand" following the Russian massacre in Kafr Nabl market, in the southern countryside of Idlib, to being forcibly displaced under fire and finally the destabilization of the Syrian Pound (SYP). Yet, Abdel-Hay troubles did not end here, once he restored his work, "coronavirus" reached the area.
According to the head of the local council, Muhammad al-Ahmad, 120 traders shut down their businesses at al-Fu'ah Bazaar, while more than twice that number stopped trading in Binnish, according to the head of its local council, Dr. Fadel Hajj Hashem, who talked to Enab Baladi.
Hajj Hashem added that the council received warnings from Idlib Health Directorate and the ministry of local administration of the "salvation government" (SG), about the necessity of preventing gatherings and closing bazaars. Accordingly, the council gave instructions to ovens in Binnish to respect social distancing when selling bread.
Abdel-Hay thinks that closing bazaars was not necessary as long as the number of infections is still limited, as it amounted to 13 cases on 17 of July. He also recommended announcing the names of patients to identify those who were in direct contact with them.
Abdel-Hay believes that closing markets will force traders to look for alternatives, such as selling between villages and camps, change their jobs, or spend their savings and lose everything.
Breather for buyers
Bazaars are "breathers" for buyers, according to the head of the local council in Binnish city, Fadel Hajj Hashem, who said that products cost less than in grocery stores.
Mustafa Gharibi, a resident of Ad-Dana city, told Enab Baladi, that residents of the region buy their needs from bazaars on a weekly basis, because goods are cheaper there compared to grocery stores. He also said that he is obliged now to spend more to secure his daily basic needs.
According to a report by the United Nations Office for the Coordination of Humanitarian Affairs (OCHA), issued on 13 of this July, the coronavirus pandemic compounded by the impacts of frequent displacement, security hazards, and the destabilization of the Syrian Pound (SYP), all increase the suffering of more than  4.1 million people living in the region, where 2.8 million of them depend on relief aid to meet their basic needs.
According to the report, all these factors increased the cost of the food baskets by 68 percent within one month, which makes the region's population at the risk of falling below the poverty line and make them unable to secure their basic needs without assistance.
if you think the article contain wrong information or you have additional details Send Correction