"Security clearance"… Property protection tool or disruption to citizens' lives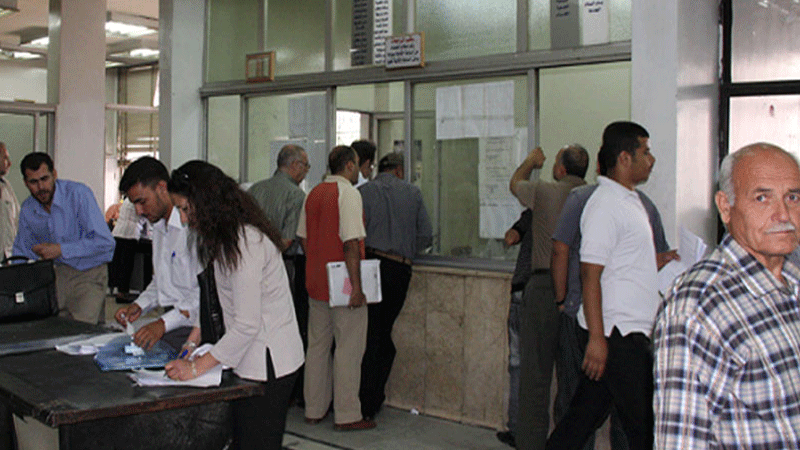 On 4 August 2015, the Syrian regime's government sent Circular No. 4554 to the Ministry of Local Administration. This circular provides that all transactions of property purchase, sale, leasing of residential units, and commercial properties require a prior security clearance from the relevant authorities.
However, this requirement has placed additional burdens on citizens, limited their right to freely dispose of their property, as the security clearance became requested in most aspects of citizens' private and public lives.
The regime's government justified the circular under the pretext of preventing the purchase or lending of real estate by "terrorists" who take it as headquarters and to protect property documents from loss or forgery.
Under this circular, the real estate registrar requires an in advance security clearance to register the transfer of property even with a definitive and final court decision.
This requirement increases the possibility that the relevant parties of a property transaction would engage in a long and complicated legal dispute to implement the judicial decision and transfer property ownership.
To obtain a security clearance, an application must be made through the finance directorates of Syria's Ministry of Finance.
The answer to the clearance application may take up to ten days; nevertheless, if security issues were detected for the seller or buyer for whatever reason, or they were deserters of mandatory enlistment or reserve military service, have previously committed an offense or a misdemeanor, or have been sentenced to imprisonment, they would be denied the security clearance.
In other cases, one of the property transaction parties may have obtained a bank loan that has not been fully paid and wanted to sell a property to repay the bank debt, but the bank has placed a travel ban as a precautionary measure in case the sale was defaulted, in this case, a security approval is also difficult to obtain.
Based on this circular, restrictions on property transactions may occur at any legal problem or violation even if it was financial.
In a related context, the Ministry of Justice in Syria issued Circular No. 14 on 21 February 2018, emphasizing the requirement of security clearance before the completion of the public auction sales.
It is worth noting that this circular excluded the sales and purchase transactions of public entities.
This made private banks reluctant to grant credit facilities because they could not dispose of late and delinquent clients' property collateral.
Therefore, private banks started requesting "additional assurance" in addition to real estate collateral, such as the personal guarantee that includes a guarantor, and reserve collateral required if the signature or other collateral were weak or difficult to dispose of.
All of this has created additional burdens on citizens when providing necessary collateral to banks.
These difficulties contributed to increasing the property stagnation and economic recession in the long term, as security clearance has impeded citizens' access to cash liquidity resulting from selling a property for investment projects.
Many Syrians have resorted to buying real estate to protect their money from losing its value after the massive fall of the Syrian Pound. When these people wanted to sell some of these properties to invest in their revenues, security clearance came as an obstacle to their wish, thus negatively affecting the economic cycle.
Moreover, the security clearance requirement helped to facilitate corruption and administrative bureaucracy, as citizens had to pay bribes to people close to the security services to obtain this clearance.
The amount of this bribe is estimated between 100 and 1000 USD depending on the importance of the transaction to be finalized.
To avoid the problems associated with security clearance, some people were forced to use written contracts with witnesses as legal documents that are not registered in the cadastre.
This threatened title establishment procedures and opened the door to judicial disputes, fraud, and manipulating sale operations.
Security clearance has included all types of internal and external power of attorney (POA) arrangements, and on all matters, until the year of 2015 when Circular No. 4810 came to exclude some cases that require security clearance for special external POA arrangements, including proof of ownership, which remains unclear.
Besides, Circular No. 463/T, directed to the regime's General Directorate of Cadastral Affairs, provides for the need for security clearance for real estate purchase, sale, and leasing of houses and shops in regulated and unregulated areas.
This circular was considered a violation of the individual property rights provided for in the Syrian Constitution in article 14, which affirms the right of an individual to dispose of his property freely and not to be confiscated.
The circular was also criticized for not being issued by the legislative authority of the People's Council of Syria, despite being described as "confidential and urgent" and not being pursued by the legal system.
This raises the question of how to apply laws on citizens classified "confidential" and outside the judiciary's authority if citizens want to object?
Protection or confiscation of property?
To obtain a security clearance, citizens must wait for up to three months, and in many cases, they are denied clearance if the property owner is outside the country or has a security problem, such as been sought after by one of the security branches.
According to people working in the real estate field, the rate of security clearance applications that are met with refusal is estimated at 60 percent.
Hence the question arises whether the security clearance requirement came to protect the displaced persons' properties as the regime's government justifies its decision? Or is it a tool to prevent them from disposing of their property and put it under the risk of confiscation instead?
Furthermore, the clearance requirement adds to the problems caused by Law No. 10 of 2018, which prompted many Syrians living abroad to assign general and private power of attorney arrangements through Syrian consulates that allow their relatives to act on behalf of them regarding their property transactions.
However, the requirement to obtain security clearance prevented the legal agents from selling or buying real estate due to the security prosecution of original owners.
Property transactions requiring an in advance security clearance have expanded since the issuance of Circular No. 4554 to Syria's Ministry of Local Administration in August 2015.
Even the lending of a house or a store requires a prior security clearance, whether inside and outside the regime's regulatory plans.
This has placed the real estate market under the full control of the Syrian security services and increased its domination over all life-aspects of the Syrian society.
if you think the article contain wrong information or you have additional details Send Correction