Rising temperatures threaten residents of displacement camps in Syria's war-torn Idlib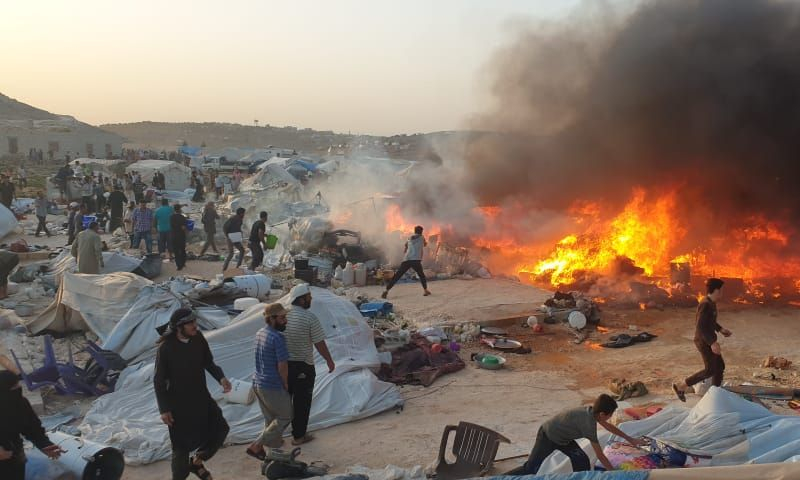 Enab Baladi – Idlib
" My wife is pregnant, and we live in a plastic tent, north of Idlib. She can no longer withstand the high temperature. She sat and cried," with these words, Nasr al-Barjis summed up the sufferings of the internally displaced people in the camps, amid the rising high temperatures, which have hit the region since 2 July. 
Al-Barjis added that with the absence of any means of cooling such as fans, "I have no choice but to spray water to her and my children slowly to lower their temperature and cool them."
According to the General Directorate of Meteorology in Syria, the temperature went up three to six degrees above its rates on 2 July, and it continued to rise by about five to seven degrees ºC on 3 July, making the weather "extremely hot." The temperature remained higher than its rates for the next day by about five to eight degrees ºC. The temperature rose to reach 43 degrees ºC.
The displaced people in the camps could not stand the intense heat. Therefore, they resort to sitting under olive trees to cool and protect themselves from the boiling sun especially after the children complained of headaches and pain, Hassan Suleiman al-Hamada, a displaced person in the camp of Bani Khuza'a, in the town of killi, north of Idlib, told Enab Baladi. 
"Civil Defense" and "Idlib Health" warn families
The health directorate of Idlib and the "Syrian Civil Defense" (SCD) educated people on the reasons that lead to heatstroke, its symptoms and prevention methods, first aid steps for treating heatstroke. 
The health directorate of Idlib and the SCD stressed the necessity of avoiding prolonged exposure to direct sunlight between 10:00 AM and 4:00 PM. Besides, people should not cook inside tents, store flammable or combustible materials ( such as gasoline or diesel fuel) or use unnecessary electrical appliances. Children should not leave their tents and avoid the sun during peak times.
People should stay hydrated and drink sufficient amounts of water to maintain their body temperature, wear loose cotton clothing, cover the entire body, and watch out for the deadly scorpions and snakes, especially in camps and agricultural lands.
Fabric structure of tents increases fire hazards
Muhammad Hallaj, the director of the Syrian Response Coordination Group (SRCG), told Enab Baladi that there is a concern because of the quality of the tents that are uninhabitable with increasing temperatures. 
Cooking inside or around tents, creates significant temperature rises, leading to the occurrence of fires.
Fears grow over heat dangers and fires, whose first results appeared on 3 July, when a fire broke out in a tent due to a major gas leak of a compressed gas cylinder in al-Shuhada/Martyrs' camps near Kafr Lusin, north of Idlib, which resulted in severe burns of a child. 
Hallaj added that 90 percent of the camps are not equipped with wall insulation materials, which guarantee protection against high temperatures in summer and low temperatures and rains in winter, noting that organizations cannot be blamed for several reasons. First of all, the large numbers of IDPs in the camps caused a major problem in needs.
Second, there is a gap due to the increased needs offset by a decrease in funding. At the last "Brussels" conference on "Supporting the Future of Syrian and the Region," the United Nations called for US$ ten billion. However, the participants to the Brussels IV Conference announced their pledges for both Syria and the region by providing US$  7.7 billion: US$ 5.5 billion (€ 4.9 billion) for 2020 and multi-year pledges of close to US$ 2.2 billion (€ 2 billion) for 2021 and beyond. This leads to a failure to respond with the many variables that exist, and a type of inadequate response For IDPs in general, in addition to camps, according to Hallaj.
The SRCG estimated that nearly one million and 41 thousand IDPs were displaced from areas in Hama, Aleppo, and Idlib due to the military operations launched by the Syrian regime forces and their ally Russia to re-settle in safer areas and spread over 1,277 camps, including 366 random camps.
No fire extinguishing equipment 
Hallaj said in a previous interview with Enab Baladi that fires cannot be prevented  or avoided as long as tents are made of plastic and cloth, indicating that the alternative solution to address this hazard is by building cement housing units and "caravans." Actually, this will help reduce fires by up to 80 percent. 
The establishment of cement housing units and caravans is also a solution to end the problems of poisoning, hypothermia, storms, and floods, because "the camps are a temporary solution that must be completed as soon as possible," as he put it.
A high proportion of fires are caused by leaks from gas cylinders or by a small fire that occurs in one of the tents and spreads quickly to other tents because they are made of the plastic cloth which is highly combustible, in addition to the high temperatures in summer recorded in the region.
if you think the article contain wrong information or you have additional details Send Correction