Reasons behind increasing numbers of drowning cases in water bodies northern Syria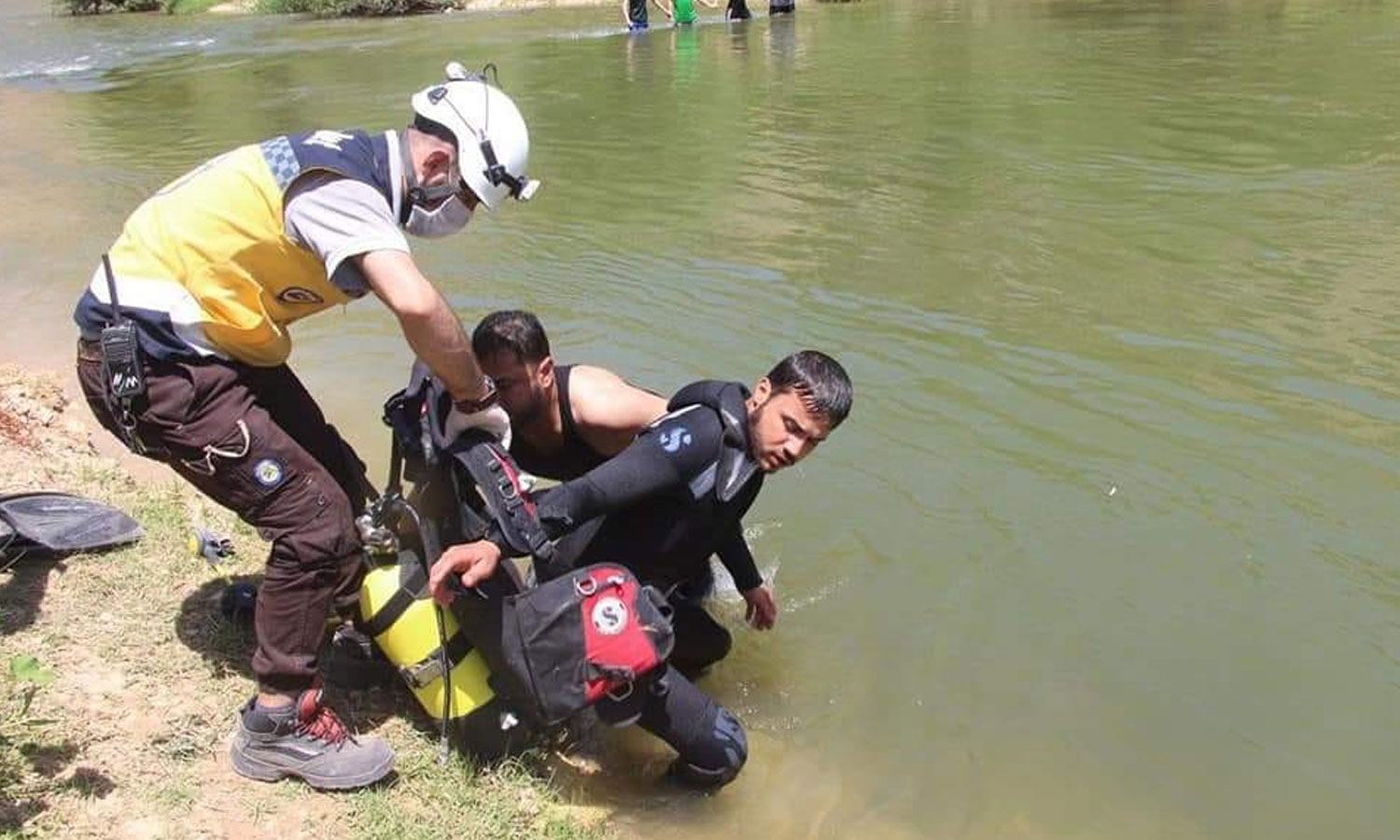 Enab Baladi – Idlib
Muhammad al-Mustafa (a 16-years old young man) and Mahmoud al-Mustafa (a 22-years old young man), two brothers from the village of Anjara in the western countryside of Aleppo, drowned in Maydanki lake, northwest Aleppo.
On 6 of the current month, a few moments separated between their death and the arrival of the "Syrian Civil Defense" (SCD) teams to recover their bodies.
Muhammad and Mahmoud are not the only ones who drowned northern Syria as a result of random swimming. Last June, teams affiliated to "Civil Defense" documented 15 deaths by drowning, including a young man who lost his life in the waters of "Dorriyeh" dam in the western countryside of Idlib and three other children who drowned in a small dam in Murin town in the northwestern countryside of Idlib. Additionally, to another child drowned in "Deir Ballut" river in the northern countryside of Aleppo.
Why civilians drown?
Hossam Badawi, the director of training in the "Syrian Civil Defense" explained to Enab Baladi that one of the most prominent reasons for civilians drowning is their ignorance of areas they swim in. He added that most of these people swim in water bodies which they have no prior knowledge of. Hence it is possible to encounter water currents, sudden depths, or some other obstacle that exposes them to drowning.
He added that sometimes, drowning cases occur when members of the same family try to help another drowning member, but instead of rescuing them they ended up by drowning themselves. This is very frequent despite instructions and awareness brochures distributed by the "Civil Defense" teams, in addition to awareness campaigns conducted on water bodies.
Other times, while swimming, people experience heart attacks or muscle strain which causes them also to drown.
He explained that as for people who do not know how to swim, all water bodies are dangerous for them; yet, some surfaces are more dangerous than others, such as the "Maydanki" industrial lake connected to the "April 17" dam in Afrin, as well as dams and deep places that witness water currents.
Rugged waters which have rocks and trees at the bottom with a high flow of water, are more dangerous than rivulets and regular swimming pools.
An old phenomenon
Drowning is not a new phenomenon; however, cases have increased drastically this year, according to the director of training in the "Syrian Civil Defense", Hossam Badawi. Badawi attributed this increase to people's access to water bodies to swim due to rising temperatures and increasing population density in northwestern Syria. Last 31 June, the "Civil Defense" documented 31 drowning cases in Idlib governorate.
In 2018 and 2019, the "Civil Defense" diving teams recovered 95 bodies in northern Syria, including 23 children and 12 women, according to statistics published on its official website.
Attempts to reduce the phenomenon
 Many awareness campaigns were conducted, while the "Civil Defense" warned against swimming in prohibited spots and from descending into waters immediately. The "SCD" also warned against taking risks when swimming, and from swimming in rivers and waterways with grass.
The "Civil Defense" also called not jumping from high altitudes to avoid collision with the ground or sharp objects, and not to swim far away from the beach. It also recommended to take into account the way back and send immediate signals when having the sensation of drowning from the first time and not to make extra efforts.
Moreover, the team also recommended to learn about the nature of the water bodies through asking people residing in those areas, and taking safety precautions while swimming, such as having a ring buoy, a floating line and swimming aids.
The "Civil Defense" warned against swimming alone, especially in spots with strong water currents.
It also pointed to the necessity of covering artesian wells, because they pose threats on the lives of people and livestock, and cause material losses and environmental damages that affect the groundwater.
It is difficult in large lakes such as "Maydanki", dams or even in large rivers such as "Euphrates River", for swimmers to survive; however, in swimming pools or small lakes sometimes there is a chance to rescue them, according to Badawi.
One team for the whole northern Syria
Civil Defense teams operate near known water bodies; however, they have only one diving team in the absence of additional equipment.
Hossam Badawi explained that equipment is not the only problem, experience also is essential, because recovering bodies of victims need strong people with experience and skills through which they can do their job, which is "very difficult".
Therefore, the "Civil Defense" focuses on awareness and prevention, such as equipping river banks and lakes with floating lines, or through deploying staff in dangerous swimming spots; however, people's commitment is always a problem.
if you think the article contain wrong information or you have additional details Send Correction