Nostalgia for past to revive mailing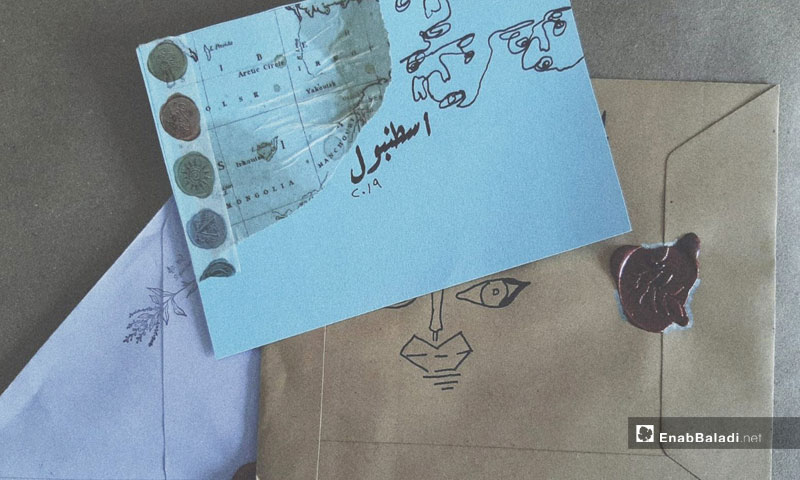 Enab Baladi – Sarah Abdi
Whoever tried post mailing is familiar with the thrill of anticipation that accompanies the arrival of a handwritten letter as well as the joy when opening the post office box to see envelopes, or colorful postcards adorned with stamps and gentle words. In these words, Jordanian activist Rawan Baybars talked about her initiative to revive mailing in the Arab world.
Through her blog, which she named "a Basket of Pomegranate", Rawan considers that mailing is "an authentic and appropriate way for those who feel nostalgia for a time they did not know of". Through her initiative, Rawan urged people to send handwritten letters using the hashtag "#haya_natarasal" (let's be pen pals) on "Instagram", while she focused on the enthusiasm of opening a letter and reading the first page, the date, the opening sentence, the entire content which is written specifically for the addressee.
Mailing dates back to the fifteenth century and became popular first in Britain and France in 1657. Later, many countries popularized its services and made them available to the general public after they were limited to government agencies only, according to a book entitled "The History of Postage Stamps."
Mailing declined to the point of disappearance in the beginning of the new millennium, as the Internet was introduced to the world.
Post mail enthusiasts send their handwritten letters from all countries and they find them more enjoyable and personal, according to Youssef  Youssef, a-20-year-old Syrian student who studies Electronic Engineering in Turkey. Youssef explained that "social media platforms and applications are void of feelings and honesty and do not deliver messages the way they are supposed to, since it takes only a few seconds to send a birthday message to someone, for example."
But when you send the same congratulatory message through mail, the addressee will sense your care and that you have devoted a portion of your time to write, prepare and send a letter that you wrote with love, and not just the disclaimer we often send when using social media, Youssef said to Enab Baladi.
Another reason that makes Youssef a post mail enthusiast is his love for old things he experienced with his father and the good memories they have at home, like handwritten letters, cassette tapes and stamps.
Youssef does not want traditional stuff and old customs to simply disappear, considering that "when you start with the hobby of paper-based correspondence, you will realize that is a kind of art more than a hobby."
Youssef thought it is hard to find other people with the same hobby, after the Internet made communication way easier than postal communication, but he was wrong, as there are plenty of people with the same enthusiasm.
Rawan Baybars, with a Bachelor's degree in marketing and a Master's degree in Migration, Mobility and Development, has provided a set of helpful tips for those interested in postal correspondence, including explaining the postal address per region, fees or required subscriptions to conduct this activity, as well as the letter's content and how it should be labeled and prepared.
Mailing is not limited to sending letters to those we known only, according to Rawan, it is nice to exchange them with strangers who become friends with time. She said at the beginning you must be proactive and ask them if they wish to exchange letters with you, and after a while you will notice that you have started receiving such requests as well.
Syrian blogger Latifa Hamido (a 26-year-old young lady), started paper-based correspondence when she was in the second grade in 2002. Back then, she used to exchange handwritten letters with her friends at school, but she stopped in the secondary school. Yet, she resumed her paper-based correspondence activity three years ago.
Latifa told Enab Baladi that she loves mailing because of her feelings of nostalgia and enthusiasm, and because it tackles completely different topics from those discussed via quick emailing which we receive a response for on the same day.
Latifa met her correspondence friends via "Instagram", and said that she is writing to her sister and sends her postcards on occasions and holidays, considering that writing letters is not a daily activity, hence she is allocates certain times when she is free.
if you think the article contain wrong information or you have additional details Send Correction