Initiative to transport students of basic and high school diplomas to exam centers for free in As-Suwayda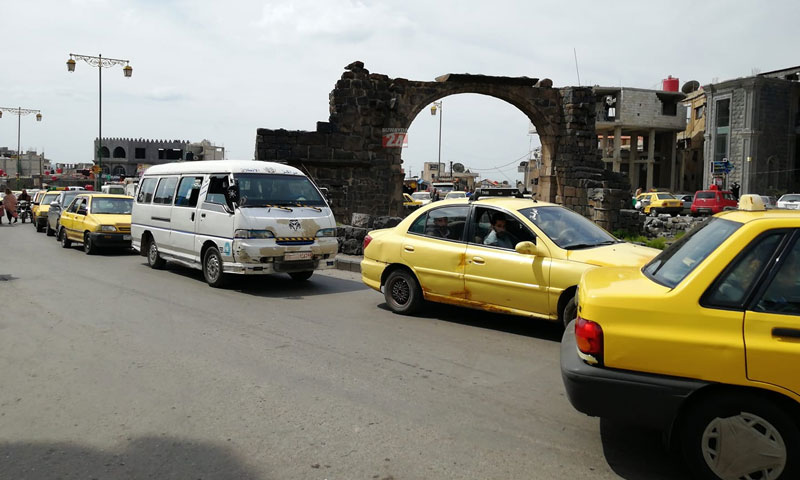 As-Suwayda – Rayan al-Atrash
Civic bodies in the province of As-Suwayda have assumed the costs of transporting students of basic and high school diplomas to their exam centers, in conjunction with the severe living condition that most families live due to the steep fall in the value of the Syrian pound against the US dollar.
The initiative, with the support of some expatriates from the governorate and charitable associations, was launched to include most of the villages and districts in the province, such as al-Mazraa, al-Majdal, Najran, Attil, al-Harisi, Rdemet al-Liwaa, Sha'ef, Umm al-Rumman, al-Ghariyah. The organizers of the initiative contracted with many bus drivers in various areas of the province to transport students to their exam centers. 
As-Suwayda is experiencing special conditions, especially after demonstrations broke out last June, in protest against the deteriorating living conditions. 
The "Charitable Channels" Association in the town of Qanawat in the eastern countryside of As-Suwayda has contracted some bus drivers to transport more than 150 students who are taking the exams of basic and high school diplomas to the exam centers at the expense of the association.
The Student Support Fund in the village of Murdok, north of the governorate, also allocated four buses to transport students to their exam centers in the cities of  Shehba and AS-Suwayda.
Samer Mustafa, one of the students' parents in Orman village, said that this initiative has been going on for four years in the village under the support of expatriates, but its importance is evident this year amid the worsening living and security conditions. 
The bus drivers themselves took part in the initiative by reducing transportation fares to less than the ones set, according to a bus driver, who spoke on condition of anonymity.
Yazan al-Halabi, a student from the town of al-Thaala, indicated that this initiative relieved the financial burdens placed on his family, and saved both time and effort, in light of the deteriorating living conditions and high transportation costs.
In addition, the student, Majdi al-Kuntar, explained that this initiative provided students with "the safest means of transportation for students," amid some cases of "kidnappings and attacks" taking place in some areas of the governorate.
Ashraf al-Halabi, an expatriate in the United Arab Emirates, told Enab Baladi that he has been contributing for the past four years to the Student's Financial Aid Initiative.
He highlighted that the idea came in conjunction with the dire living conditions experienced by the people of the province in general, calling for broader participation of expatriates.
In addition to this initiative, several humanitarian initiatives were launched in the province, aiming to provide material and relief support to dozens of families, following the doubling of prices of everything, low wages, and the devaluation of the Syrian pound.
if you think the article contain wrong information or you have additional details Send Correction