Homs governorate removes hundreds of "ramshackle" properties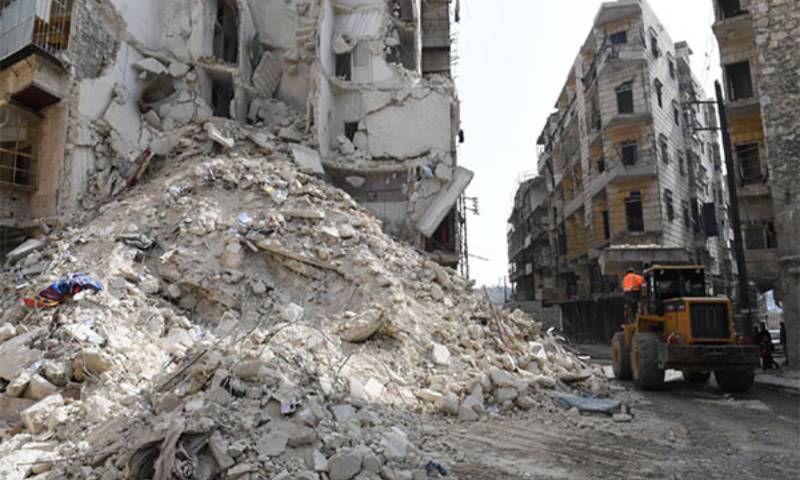 Homs governorate has removed more than 100 properties, including "ramshackle" buildings and plans to remove dozens of other buildings at the cost of more than one billion and a quarter billion Syrian pounds (SYP = 558,035 USD).
On 25 July, the pro-government local news website, "al-Watan Online," reported on the Public Works Director in Homs City Council, Haidar al-Nakkri, saying that the Public Works Directorate has ended the removal works of 105 properties of crumbling buildings threatening passers-by and public safety in the city.
Al-Nakkri said the removal works would be carried out according to a 286 million SYP (127,678 USD) contract signed with Homs' General Company for Roads and Bridges.
He added that the "Public Works Directorate" has approved two new contracts to finish the removal of dozens of properties and dilapidated buildings in different areas of Homs.
Al-Nakkri pointed out that the first contract's value reached 459 million SYP (204,910 USD), while the second contract is valued at 250 million SYP (111,607 USD).
Both contracts are signed between the "Directorate" and the General Company for Roads and Bridges under Law No. 3, which includes removing dilapidated buildings and transferring the demolition debris.
The implementation of the two contracts will start after the Eid al-Adha period, according to the administrative official, al-Nakkri.
He also indicated that another contract of the Homs' executive office was approved with 260 million SYP (116,071 USD).
This contract provides for the removal of rubble from the city's damaged neighborhoods and will come into force during the next week.
The total value of these contracts is estimated at one billion and 255 million SYP( 560,267 USD).
What is Law No. 3?
In February 2018, the Head of the Syrian regime, Bashar al-Assad, issued Law No. 3, which provided for "removing the rubble of buildings damaged as a result of natural or unnatural causes or subject to demolition law."
This law defined the damaged buildings as those destroyed by natural or unnatural factors or buildings subjected to provisions that call for their destruction, whether being a real estate area, a property, or a plot.
The affected buildings' "assessment committees" in Homs City Council ended in August 2018 the identification process of damaged buildings that could be subject to Law No.3, after a year-long process, according to what the state-run Syrian Arab News Agency (SANA) reported of the Council's Chief of Technical Affairs, Engineer Nidal al-Ali.
According to al-Ali, the percentage of damages that affected buildings range between 5 and 20 percent in the province, while the percentage of damaged buildings in Homs' old city rises to 10 and 20 percent.
In Homs governorate, there are 3,082 totally destroyed buildings, 5,750 severely affected buildings, and 4,946 partially damaged buildings, with a total of 13,778 damaged buildings.
The United Nations Institute for Training and Research (UNITAR) published the "Syrian Cities Damage Atlas," report on 16 March 2019 that showed the extent of the destruction that befell the provinces and cities of Syria during the last eight years.
According to the atlas, there are 9,459 completely destroyed buildings in Hama governorate, 404 severely damaged buildings, and 666 partially damaged buildings, bringing the total number to 10,529 damaged buildings.
if you think the article contain wrong information or you have additional details Send Correction