first-graders to resit… a tool to remedy effects of school suspension in Daraa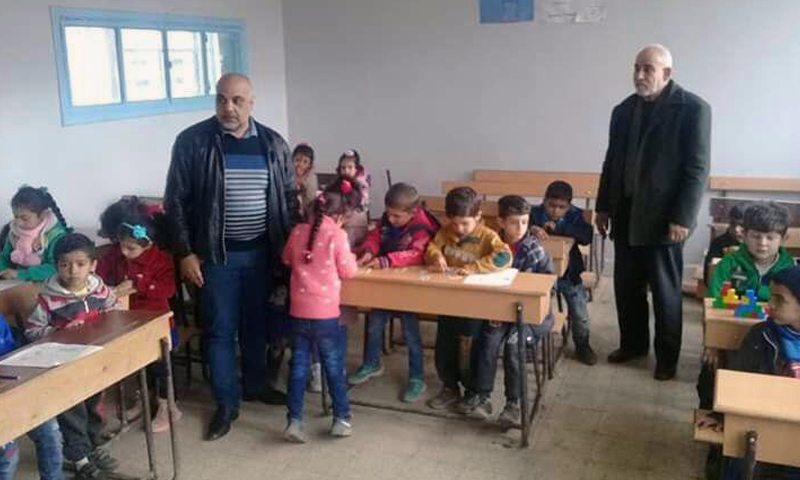 Enab Baladi – Daraa
On 11 last May, the Ministry of Education in the government of the Syrian regime set a mechanism for transferring students of transitional classes in basic and secondary education stages to the next grade. The ministry also provided lists including names of first-graders whose parents would like them to fail because of their poor academic achievement, on the condition that they provide a written consent of their legal guardian and copy of the latter's identity card to the school administration.
School suspensions, as part of undertaken precautionary measures to limit the spread of the novel coronavirus (COVID-19), have deprived thousands of students of an effective education in Syria, in the absence of effective alternatives to pursue the process of leaning.
It seems that first-graders are the most effected ones, since they are supposed to be in a foundational phase, one of the most important educational stages in the learning process. In this phase, students learn the principles of reading, writing and arithmetic and study a focused well-divided curriculum throughout the academic year. This what caused parents confusion and made them unable to choose between transferring their children to a higher class without proper education, or making them retake classes and lose a whole year.
Enab Baladi conducted a poll and asked a number of families in Daraa governorate regarding their final decision regarding transferring their children to a higher class, or making them retake the same one. The poll included also teachers who gave their thoughts on the matter.
A decline in the level of education
The majority of the interviewees, whom Enab Baladi's correspondent met in Daraa, expressed their fear of a decline in the level of education in case students were transferred to higher grades without being able to complete the curriculum or basic principles, especially first-class students.
Parents consider that the first grade is a foundational stage, hence they supported students retaking this class, especially those who showed poor academic achievements during the year.
They also considered transferring students with weak academic backgrounds to the second grade will negatively affect all subsequent educational stages and could lead to their failure and their inability to adapt to their peers eventually.
An Arabic language teacher in one of the schools in Daraa, talked to Enab Baladi, preferred to remain anonymous, confirmed that a number of parents decided for their children to retake the class.
She quoted one of the parents saying that he decided that his son should retake the class despite the latter's average level during the first semester. However, "he prefers that his son would lose a year than losing his entire future."
The effect of this decision will be seen next year
School administrations assessed students' educational level and classified them accordingly, and then contacted families of the "weak" ones to choose between transferring them to higher grades or make them retake the class, according to government instructions, based on what has been said by one of the first-grade teachers
In an interview with Enab Baladi, the teacher, who asked to remain anonymous, said that students had not completed the curriculum, which would negatively affect their educational level next year.
The teacher said it is likely that second-grade teachers may face difficulties with students regarding intuitive matters that they were supposed to have learned previously.
On the role of parents in compensating educational loss, the teacher thinks that their role is to follow up with schools taking account the directions of the teaching staff. She explained that students learn an idea at schools; yet, they may need some help from their parents.
However, she thinks that "parents will not be able to follow up fully with students, because they lack the necessary teaching methods, additionally to their weak knowledge of the learning process."
Absence of alternatives
The problem of transferring students to higher grades has clearly emerged in the absence of alternatives which may allow students to complete part of their education in the same way in other countries, including "distance learning", or summer classes.
For her part, the Arabic language teacher considered that "distance learning" would be useless in Daraa because it has never been used before. In addition to the poor internet connection and the absence of advanced and secure communication devices.
if you think the article contain wrong information or you have additional details Send Correction