Displaced women complain of lack of privacy in camps of Idlib countryside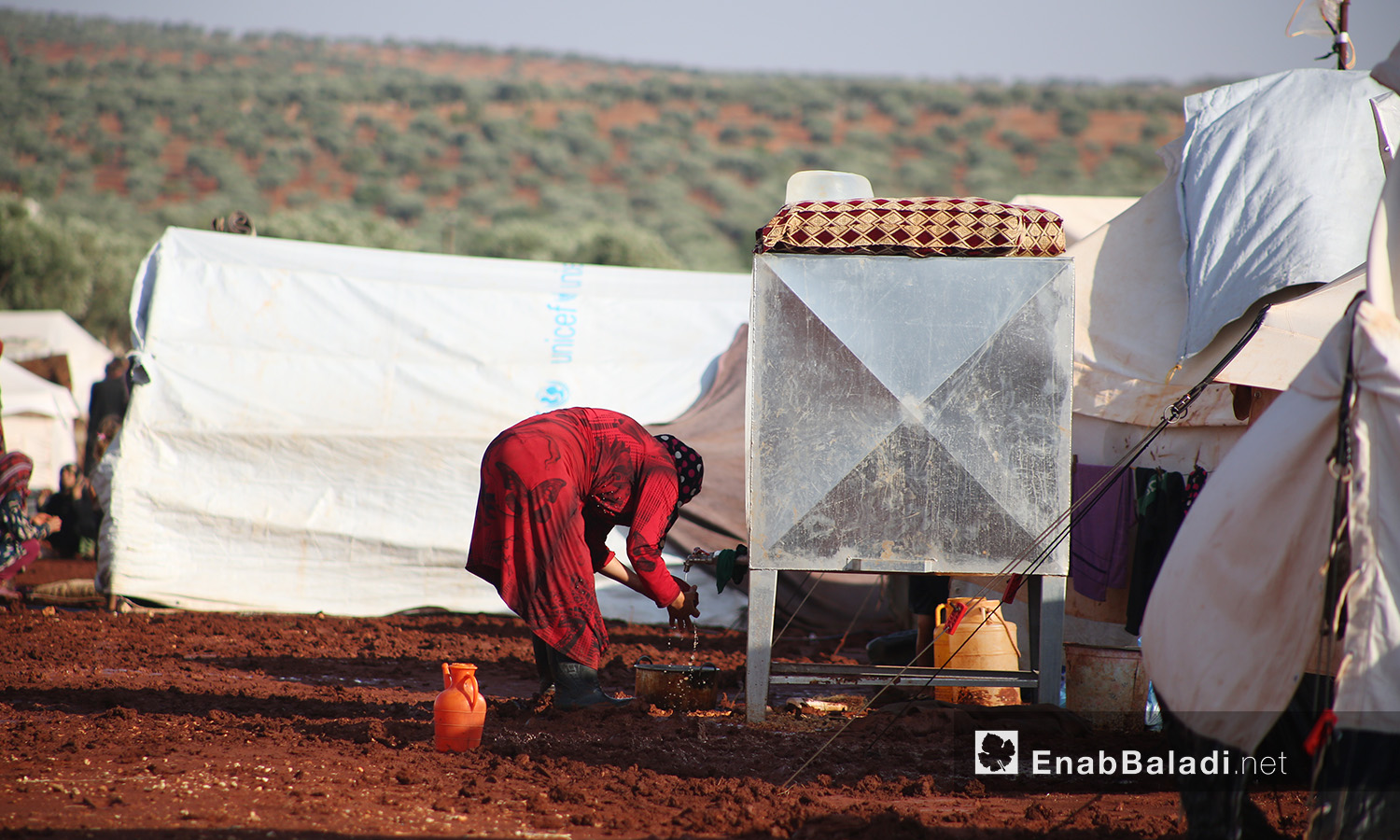 Idlib countryside – Shadia al-Taataa
" We do not have our own kitchen or bathroom. We have lost our privacy," with these words, Fatima al-Khatib, a displaced woman in Muzn Camp in Killi village, summarized the most recurring problems encountered by the displaced women, amid the absence of their privacy due to the overcrowding of the camps with the displaced.
The displaced women have to use communal toilets, causing them a huge embarrassment, while they use the same kitchen with others, which makes them uncomfortable when preparing food for their families.
Al-Khatib was displaced from the city of Kafr Nabl, south of Idlib, where she felt more "at ease" in her home. It is worth mentioning that in the camp, at night it is very dark to reach and use the shared toilets, which existed far from the tents most of the time, increasing the suffering of women.  
Women in the camps have difficulties in maintaining hygiene and proper health conditions due to lack of water, cleaning supplies, and personal care. Therefore, they have to carry water from long distances to wash up and keep clean.
Unavailable requirements
Women in the camps lack their basic needs, which make them feel safe and comfortable, Nermin Khalife, a psychologist, told Enab Baladi. Through her work in the field of psychological support, Khalife met many women who are afraid to live in the camp, even though they are unable to pay rents in cities and villages. She said to Enab Baladi that "this may cause depression, which varies between women according to the amounts of pressures, the coping skills they use to endure the daily hardships they encounter. "
Thus, the displaced women are unable to meet their most basic needs, according to the divisions of psychology, which make the basic physiological needs at the top of what a person seeks to achieve, followed by social relations, safety, love, and esteem and self-actualization. 
Lack of safety
Displaced women face many challenges in the camps that prevent them from meeting their special needs, according to humanitarian activist Sahar al-Zaatour.
Al-Zaatour highlighted that one of the most prominent problems displaced women are experiencing is heating water for bathing.
Al-Zaatour added to Enab Baladi, "Mostly tents do not have water heaters, forcing women to use stoves for heating water. The displaced women might stay for several days without taking a bath, and sometimes they have to wait for two weeks or more until water is available. Besides, they have to get everybody out of the tent in order to take a bath, which creates psychological burdens for them."
The displaced women feel insecure when fulfilling their own needs in the crowded tents, with no space for independence, they are forced to sleep in one tent shared by both males and females, adults and children, according to the activist al-Zaatour.
Overcrowding mounted pressure
The Syrian regime forces, with the support of Russian forces, carried out military operations in northwestern Syria, which resulted in the displacement of roughly one million civilians from Idlib and Aleppo countryside, 81 percent of whom are women and children, between April 2019 and last March.
Some of them were displaced more than three times in an area hosting nearly four million people, 21 percent of whom are staying with host families, according to statistics released by the United Nations Office for the Coordination of Humanitarian Affairs (OCHA), on 15 February.
Although several organizations are attempting to provide the families with their needs, the problem of ensuring privacy for women has still not been resolved, despite numerous promises made by these organizations to improve the situation, the director of al-Zaitoun camp, Ahmed Ghaylan said. 
Ghaylan added to Enab Baladi, "We hope to find solutions that alleviate the suffering of women, which causes psychological pressures, by allocating a small pre-made room for each tent instead of the shared bathroom."
Ghaylan considers that the implementation of this solution as "not impossible."
if you think the article contain wrong information or you have additional details Send Correction