Daily wages do not cover expenses of agricultural workers in Daraa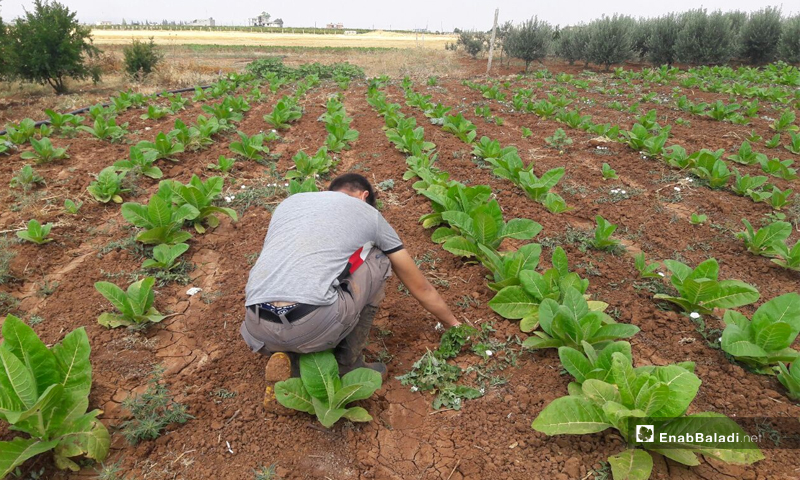 Enab Baladi – Daraa countryside
"I am unable to secure my family's expenses, as the prices are high and wages are not enough to buy half of our daily basic needs," in these words Ahmed expressed his discontent about the current situation. Ahmed is a wage worker in agricultural projects who earns daily SYP 2500 (1USD) with the deterioration of the Syrian pound against the dollar.
Ahmed is one of a group of daily-laborers in Daraa countryside met by Enab Baladi (who all preferred to remain anonymous for security reasons). These daily-laborers all agreed that their earnings are not sufficient to support their families at the minimum level, amid high prices.
Expenses exceed income
Diaa, a dismissed university student who is required for compulsory military service, told Enab Baladi that his situation urged him to work in agricultural projects, even though he was hoping to work with a law degree.
But he ended up in the field of agriculture, with a wage that does not cover his daily expenses, Diaa said that "half of his wage can buy him only a pack of cigarettes."
Female workers are not any different, including Umm Ammar (a 40-years old lady), a widow who supports four children. She told Enab Baladi that she works in agricultural projects to secure her children's livelihoods. However, after prices' hike, she is no longer able to secure their needs, especially the necessary foodstuff.
Umm Ammar is also concerned about the back to school season coming up and its expenses; such as children clothing, books and stationery.
As for Ahmed, he fears the Syrian pound deterioration will continue and affect prices more, he said "that all national and imported goods are expensive even pharmaceuticals."
High prices
As in most Syrian governorates, good prices doubled several times, following the decline of the Syrian lira since last May. Meantime, Enab baladi's correspondent have monitored the prices of some basic foodstuff.
One kilogram of sugar costs SYP 1200 (USD 0.52), while the same quantity depending on its quality costs between SYP 1500 (USD 0.65), and SYP 3000 (USD 1.30). Meantime, one kilogram of tea reached 18 thousand Syrian pounds (USD 7.82), whereas one litre of oil amounted to SYP 3000 (USD 1.30). When it comes to diapers one kilogram costs seven thousand Syrian pounds (USD 3.04). Additionally, to hikes in the prices of cloths and shoes.
As a result, Umm Ammar said that she had abandoned buying non-essentials, as "one kilogram of chicken costs SYP 2500 (USD 1.08), whereas the same quantity of veal amounts to 12 thousands Syrian pounds (USD 5.21). Ghee, on the other hand, costs SYP 3500 (USD 1.52), so how for a daily wage could cover these prices?!"
Fears of decline the numbers of cultivated areas in the coming seasons
Workers fear being unemployed if the numbers of agricultural projects got reduced  following the recent hikes in agricultural costs, especially prices of medicines which get affected by the dollar's fluctuations and most of them are imported.
Ahmed pointed out to some farmers' discontent with these high costs of production, and their intention is to reduce their cultivations, which means laying off workers.
The minister of economy in the "Syrian interim government" (SIG) operating in rural areas of Aleppo in northwestern Syria, Abdel Hakim al-Masri, expected, in a previous interview to Enab Baladi, that farmers will reduce their cultivated areas during the coming seasons, due to the high costs of production and low prices of crops when sold.
90 percent of the population below the poverty line … the purchasing power deteriorates
The United Nations World Food Program (WFP) has previously warned of an unprecedented food crisis in Syria, amid expectations of an acceleration of the outbreak of the novel "Coronavirus" (COVID-19), as reported by "Reuters" news agency, on 26 of last June of the program spokesperson, Elizabeth Byers.
Byers said that nine million and 300 thousand people in Syria lack sufficient food, pointing out that the number of those who lack basic foodstuff  has increased to one million and 400 thousand during the past six months.
Food prices went up by more than 200 percent in less than one year, and the WFP spokesperson has attributed this to the economic collapse in Lebanon and preventive measures taken against the novel coronavirus to curb its spread.
While the World Health Organization (WHO) representative to Syria, Akjemal Magtymova, estimated that 90 percent of Syrians live below the poverty line, which means they live with less than two dollars per day.
if you think the article contain wrong information or you have additional details Send Correction