Thousands of people without ID documents in Syria's Idlib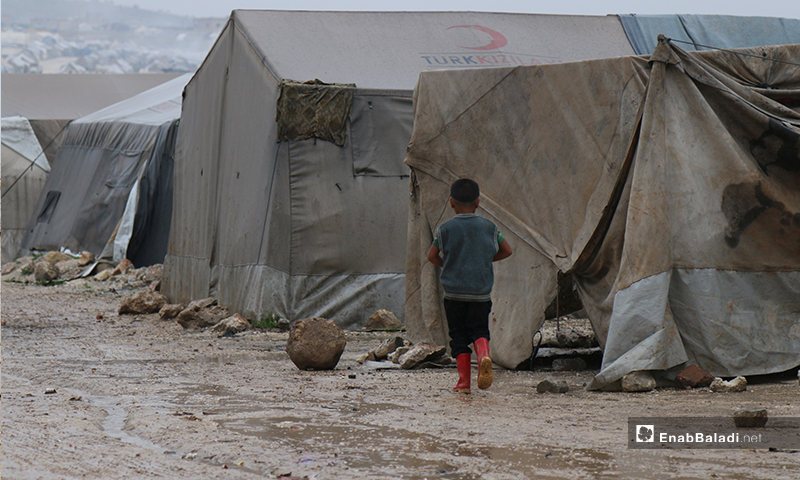 Idlib -Youssef Gharibi
That's what he heard first, the sound of an explosion, which awakened and prompted him to look around and feel the pain quickly aching through his limbs. The paramedic was standing above him, mumbling words he could not understand at first to find out later that it is the question: "Who are you?"
Ibrahim Darwish knows who he is, but his personal identification documents were lost in shelling by Syrian regime forces on the town of Maar Tahromain in the southern countryside of Idlib in 2018. Darwish was injured while working as a media activist during the Russian bombardment on the axis of al-Nayrab last February. Then, he was transferred to a hospital where he has nothing to prove his identity but the testimony of an acquaintance. 
Complex problem
Thousands without birth certificates, thousands without personal identities, and others without documents for marriage, divorce, death, or property, some of whom were unable to obtain those documents at all, and others lost them during the years of war and displacement.
Ibrahim Darwish, a media activist from Maar Tahroma, told Enab Baladi that he was attempting to obtain a document proving his marriage, after he had three children with no birth certificates, in order to be able to confirm his identity when passing through the security checkpoints within Idlib, and when moving to the Turkish held- areas in the Syrian north. He complained that he encounters numerous challenges on a daily basis due to the loss of his identity card.
The lack of personal documentation means that "there is no person in the legal sense," according to the Syrian lawyer Ghazwan Kronfol. Kronfol told Enab Baladi that failure to record civil status events: deaths, births, marriages, or divorces means that they do not occur in the legal sense and negate any "consequences," and this is "dangerous."
A divorced woman cannot remarry without documenting her divorce in the first place. Besides, the family of a deceased person cannot receive inherited assets without registering his/ her death.
The internally displaced people and migrants cannot claim their property without having its legal contracts. "The absence of official documents deprives people of their legal rights to complete all personal actions regarding their daily lives," Kronfol said.
The problem of the absence of documentation is prevalent in northern Syria. Muhammad Hallaj, the director of Syria's Response Coordination Group (SRCG), pointed out that those who lost their documents are seeking to issue any document from the local authorities or have to resort to counterfeiting documents, "which essentially constitutes a disruption to the statistics and relief operations."
Hallaj said that in the absence of documentation, widespread forgery and counterfeiting take place, which the SRCG had encountered repeatedly when trying to count the numbers and needs in Idlib. This hindered obtaining accurate figures for the population, their needs, and channeling adequate support.
Sariya Bitar, the director of "This Is My Volunteer Life" non-governmental organization in Idlib, highlighted to Enab Baladi that the absence of documents leads to an "intersection" of the work of relief organizations. He added that some families benefit from several activities and aid, while other families lose the opportunity to obtain their rights due to conflicting information and its lack of centralization.
According to Bitar, relief organizations developed to document, track and provide support to the beneficiaries via detection, verification, and investigation, which require time and effort in order to able to trust the information obtained from families and individuals.
How is documentation done
?
Two governments of no legal capacities have control over north-western Syria: The Syrian Interim Government (SIG) in the areas of Turkish influence and the Salvation Government (SG) in Idlib. 
The SIG worked to issue personal identities through its local councils, while the SG has not taken a similar step. 
When Enab Baladi tried to clarify the reasons, obstacles, and plans regarding documentation from "the government" operating in Idlib, it has not received an answer until the time of preparing the report. 
Any official authority can solve the issue of the lost documents in Syria by taking simple measures to prove their authenticity, according to lawyer Ghazwan Kronfol, noting that residents of areas outside the regime's control currently do not have legal solutions to the documentation problem other than resorting to relatives or legal agents to issue their papers.
Muhammad Hallaj, the SRCG director, believes that there is an "urgent" need for one party to issue full civil status cards including passports, personal cards, family civil registration extracts for the residents to obtain a kind of stability in Idlib, and for thousands of displaced people who preferred to remain under the olive trees rather than return to areas under the control of the Syrian regime and afford the consequences of the security prosecution.
The director of the "This Is My Volunteer Life" organization in Idlib, Sariya Bitar, said that identities must have a fingerprint or an eye print in order not to be easy to forge.
The issuance of identity cards with fingerprint or an eye print facilitates the work of organizations and the distribution of relief materials and guarantees the rights of the population.
if you think the article contain wrong information or you have additional details Send Correction