Syrian regime's government gives new promises about Yarmouk Camp's regulatory plan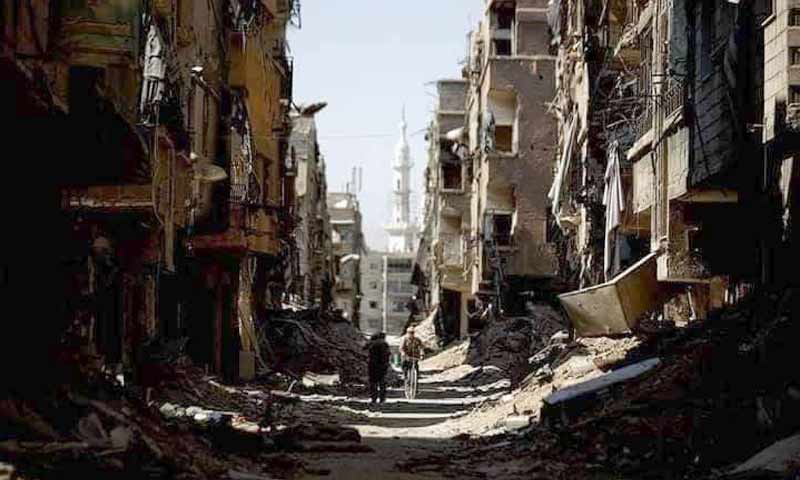 The Local Administration and Environment Minister of the Syrian regime's government, Hussein Makhlouf, has spoken of new promises about a regulatory plan for the Yarmouk Camp area. He also talked about the removal of rubble in al-Hajar al-Aswad neighborhood, southern Damascus province.
Makhlouf said in a speech before Syria's People's Council on Tuesday, 9 June that "Rif Dimashq province will remove the rubble in al-Hajar al-Aswad neighborhood, southern Damascus, to secure the return of its residents to it."
He promised the return of the locals to the Yarmouk Camp again and pointed out that the ministry had chosen "the scenario that has the lowest cost and fastest implementation for organizing the camp in a civilized way."
Nevertheless, Makhlouf did not specify the scenario the ministry is working on and merely talked about "the procedures for certifying the regulatory plan," without setting a time limit for its issuance.
Makhlouf's statements came in response to the People's Council members' questions regarding the fate of the camp, and the failure of returning the residents to the camp, two years after the regime forces regained its control on it.
The Yarmouk Camp neighborhood had witnessed battles between the former "Free Syrian Army" (FSA) factions and the regime's forces, before the so-called Islamic State (IS) took control of two-thirds of the camp in 2015.
Nevertheless, the regime's forces regained full control of al-Hajar al-Aswad and the Yarmouk Camp area in May 2018.
The regime's control came after a month-long military operation, which led to the expelling of IS from the camp, following an informal evacuation agreement, that forced the transfer of IS militants to the Badia east of As-Suwayda.
The military clashes destroyed more than 60 percent of the buildings and infrastructure in the Yarmouk Camp.
According to the "Syrian Cities Damage Atlas," report issued by the United Nations Institute for Training and Research (UNITAR) in cooperation with the REACH initiative, the Yarmouk Camp was classified as the seventh most destroyed area in Syria.
In a previous report, Enab Baladi highlighted the difficulties preventing the return of the Yarmouk Camp's residents and proof of their property ownership.
On his part, Palestinian academic and researcher Ahmad Qassem Hussein believes that there will be no return for the Yarmouk Camp's residents in the foreseeable future.
He said to Enab Baladi, "I think the return matter to the camp has reached a dead end," especially that the massive destruction of the camp left no doubt that the area's regulatory plan has been prepared in advance."
Hussein added, "this narrow geographical region of the camp of about 2.11 square kilometers (520 acres) will no longer be a gathering place for Palestinian refugees and the Syrians who used to live there."
if you think the article contain wrong information or you have additional details Send Correction