Piles of garbage in al-Zakzakaniyah neighborhood amid promises to collect them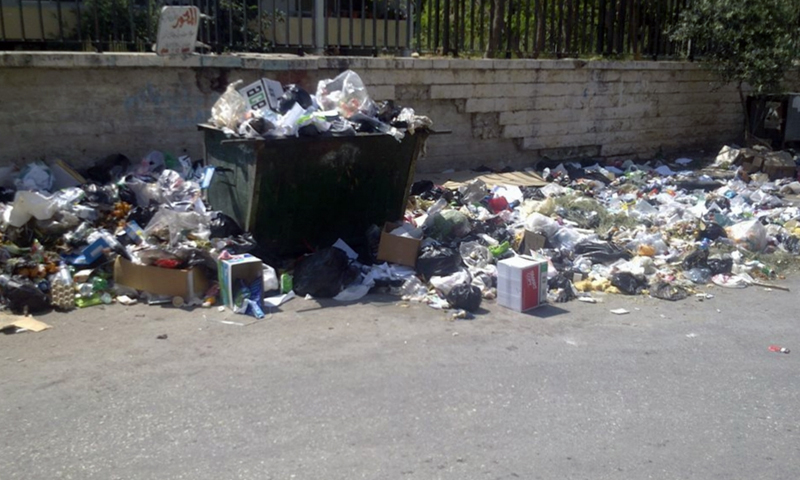 Enab Baladi – Lattakia
For days, waste is left to accumulate leaving foul odors in the "al-Zaqqazaniah" neighborhood in Lattakia.  A sort of negligence residents did not get used to and expressed their dismay at it, especially with the increasing risks of an outbreak of the novel Coronavirus (COVID-19) in Syria.
Lack of services in the neighborhood became a burden on residents, who filed complaints in the municipality on 22 last May. These complaints focused on the significance of dealing with waste especially after sharp increases in COVID-19 infections to reach 122 cases on 29 of last May. They stressed also on the necessity of adhering to hygiene and health rules to curb the virus spread.
After numerous meetings, dignitaries of the neighborhood talked to officials about these problems. They pointed out to the shortage in the numbers of waste pickers and the number of litter bin allocated for the neighborhood, especially that is overcrowded with students attending "Tishreen University". Residents have requested to allocate specific hours for waste pickups as well as the adequate tools to clean streets daily.
Meantime, the responsible for these services in the municipality has promised residents in the neighborhood to deal with problem " within a short period". However, these promises had not been fulfilled yet. For its part, Enab Baladi's team in Lattakia, reported that waste pickups occurred only once for a month and a half.
The official Syrian News Agency (SANA) cited officials in Lattakia governorate, on 18 last May, announcing the start of a "comprehensive" cleaning campaign which included collecting garbage, tree pruning as well as distributing machinery and staff to the administrative units.
Enab Baladi interviewed one of the waste pickers , a young man in his thirties, who said that the municipality's budget cannot cover an increase in the number of workers or their wages, amid prices' hike which forced most of those workers to work only for an hour or two and seek other jobs to secure their needs and their families'.
the same waster picker pointed out that both the municipality and the governorate complain from fuel and oil shortage needed to operate waste collection vehicles to justify the huge lack in services.
Syrian Pound has witnessed an accelerated decline in its value since the beginning of the current year amid constant hikes in the prices of food items.
Syrian regime's government, has promised repeatedly to provide cleaning services in areas under its control, yet these promises have never seen the light of the day. Meanwhile, in 2019, the United Nations (UN) estimated the cost of rebuilding Syria and developing its economy at almost 400 billion dollars.
if you think the article contain wrong information or you have additional details Send Correction