Hebaa Shahada – Ali Darwish
Once he lifted his handcuffed hands with iron chains, and cast his blindfolded eyes towards the ground, cameras began taking photos of him; in an expressionistic scene denouncing beating and insulting journalists by members of "Hayat Tahrir al-Sham" (HTS). The event took place on the international highway connecting Damascus and Aleppo (M4) on 10 of current month. The scene denounced also the faction's conduct before the eyes of its security members to summed up a reality full of contradictions that Syrian journalists deal with, while attempting to find a balance between freedom of expression and the imposed restrictions in northwestern Syria.
The first cry of "freedom" in 2011 outlined new features for the profession of journalism after being shackled in the cellars of the Syrian regime for decades, to become a "revolutionary" act punishable by written and customary laws of the de facto authorities during the past nine years, in the absence of someone to secure the rights of media professionals or even a watchdog to monitor their work.
Stuck between bullets and the darkness of detention cells, journalism deservedly won the title of "profession of troubles" in the northwestern Syria which includes most journalists and media activists from all over Syria.
In the present file, Enab Baladi investigates the reasons behind the absence of an all-inclusive association of media professionals in northwestern Syria, as an entity to secure their rights, protect them and monitor their work. Amid all these obstacles and challenges imposed by the security, between the Syrian regime's targeting and the resentment of the controlling factions.
The term "media workers or journalists," which is still surrounded by "ambiguity" and controversy, refers to media workers inside Syria who work with agencies to report events on the ground through written reports, photos or videos, according to definition by academics.
Born from the womb of war…
De facto authorities "strangle" journalists of the north
The regime forces violations was almost everywhere to suppress and silence peaceful demonstrators. Such attempts created what do we call now revolutionary media throughout Syria, and urged hundreds to fight misinformation and the systematic lying adopted by the regime's official media outlets.
Revolutionary media activists and anti-Syrian journalists fought the machinery of repression and suffered the bitterness of detention, as a number of them lost their lives under torture. Yet violations against them did not stop even when the regime lost control over areas where they operate. As each dominant party tends to create new obstacles and come up with tools to suppress them and prevent them from expressing their opposing opinions freely.
"Citizen journalism" started in Syria after the regime's government tightened grip on the peaceful public demonstrations, expelled international media outlets and prevented the remaining ones from reporting what is happening on the ground.
Journalist Citizen: refers to citizens, without a special training in journalism, who play active roles in their societies by shedding light on specific events   or circumstances, using simple media tools.
In his talk to Enab Baladi, writer and former president of the Syrian Syndicate of Journalists (SSJ), Riyad Muʻasʻas, said that citizen journalism came as a result of two main reasons; namely "the journalistic need and the technological progress" amid an absence of news sources to global newsrooms particularly in areas of conflicts. These conditions urged residents in these areas, who benefited from the technological progress and smart phone revolution to record events and upload them to the internet.
Most citizen journalists did not have the luxury to study journalism; however, they lived through its details and experienced it when they have chosen to convey manifestations of "freedom" and document violations in Syria. However, these "truth-conveyors" were not lucky enough to be chosen by freedom, as they moved from the regime's grip and its censorship to the whims of factions and their members to finally fell into flames.
With the Syrian regime expanding its control over formerly opposition held areas in Daraa, the countryside of Damascus, Ghouta through Homs and Hama, people were forced to move towards the north where about 300 media workers are crammed in the northwest, according to the director of the "Syrian Center for Journalistic Freedoms" (SCJF) of the "Syrian Journalists Association" (SJA) , Ibrahim Hussein.
Punishment awaits those who disobey…here is what happened in "Hayat Tahrir al-Sham" (HTS) branch
After taking control over the region, (HTS) took also the lead in violations against media workers and journalists based on documentations by the Syrian Center for Journalistic Freedoms (SCJF) of the Syrian Journalists Association (SJA).
Since 2011 till last May, no less than 575 cases of violations have been documented against media workers and journalists in Aleppo and Idlib governorates, where "HTS" military branch has the biggest role since 2019, according to statements by the director (SCJF) to Enab Baladi. The director added "barely a month goes by without some new violations by "HTS".
Journalist-activist, Omar (a nickname), did not think that criticizing the so-called "Salvation Government" (SG), accused of its affiliation to "HTS", through social media pages would cause him trouble and lead him to the famous prison "punishment", run by "HTS"
Omar preferred to remain anonymous, although his job is based on revealing the truth. He actually does not want to live the same experience again, as he was subjected to "a great deal of insults when he voluntarily went to one of "HTS" checkpoints to ask why they were looking for him."
After multiple interrogation sessions, during which those who interrogate him brainwashed him and convinced him of the gravity of his guilt. They also charged him with more crimes that went beyond criticizing the "SG" to include "Islamophobia". During these interrogation Omar was beaten up, threatened and feared to be charged with "apostasy".
Omar spent long days in a solitary confinement cell which was no more than two meters in length and one meter in width, with a height less than two meters and a door that goes through to another cubic room that includes a bathroom, a toilet and a washbasin.
After seven interrogation sessions which did not go without accusations and unrelated questions about the "morals and customs" of some female and male activists. Omar was released after serving his 25-day sentence.
In his talk to Enab Baladi, the director of public relations in the "Salvation Government" (SG), Mulhim al-Ahmad, denied journalists being subjected to "any kind of harassment" and pointed out to "the facilitations of their work" and "comfort" news agencies enjoy while operating inside "SG" areas of control compared to other regions.
Criticizing "HTS" leaders is punishable by 83 days of imprisonment 
In another solitary confinement cell, journalist Faiz al-Daghaim was arrested by "Ahrar al-Sham" members in March 2016, where he spent 83 days on charges of "criticizing local leaderships through social media platforms."
Faiz told Enab Baladi, that his detention was at first in form of enforced disappearance, before some members of the faction contacted his family to tell them about his whereabouts
The effects of beating and interrogations did not last long compared to the charges he was arrested for that almost made him lose his job, especially after accusations escalated from criticizing a leader to attempting to assassinate him with improvised explosive devices interrogation sessions. This was the case before a dispute between the faction's court and the leader who arrested took place and led to Faiz's release.
Factions in Aleppo countryside "torture whoever criticizes them"
Areas in the northern countryside of Aleppo are not safer either for activists. From a photo tour in the streets of Afrin, journalist Bilal Seriol was subjected to "brutally torture" by a group affiliated to "Sultan Murad Division" for three days in a row. Days later, pictures of his beaten body went viral on social media.
Bilal told Enab Baladi that threats to him and his family did not stop even after a year and seven months of the arrest which took place on 8 November last year.
Following the incident, Syrian activists launched two hashtags "#withBilal" and "#journalismisnotacrime" to express their rage over the incident and solidarity with him.

For its part, Enab Baladi had contacted "Syrian National Army" (SNA), which includes "Sultan Murad Division" to ask it about the reasons behind the continued crackdown on media professionals and the use of security approaches to deal with media workers and journalists. However, no one responded to these inquiries by press time.
In an opinion poll conducted by Enab Baladi through is official "Facebook" page, a question was asked about what regulates the journalistic work in northwestern Syria?  418 people voted in the poll, 280 of them said that de facto authorities regulates this job at a percentage of 67 percent of all participants. While, 33 percent of voters think that "journalistic ethics and morals' is what actually regulates this profession and its workers.
A User named Hussein al-Rajab thought that both options are false and said "that no one respects journalistic ethics and standards, where most of media workers now have malicious or seditious aims or seek fame."
Arrests and threats …no party to protect media workers' rights
Lack of security and freedoms topped the list of problems faced by media workers in northwestern Syria, because of their significance in terms of restrictions and threats. However, journalists and media workers problems did not stop here.
Journalist Muhammad al-Ali thinks that the most frequent problems facing the journalistic work in Idlib can be linked to the absence of a regulating entity that would set and enforce "real regulations" between media professionals, journalists, activists, photographers, and designers, to stop violations of the de facto authorities .
He pointed out that before the Syrian revolution, journalists did not have an entity either that could be rehabilitated, like other sectors. He explained that the journalistic work was the prerogative of the Ministry of Information; hence it was far from being called "real media".
For his part, journalist Ibrahim al-Shamali thinks that with professional journalists fled the country, this constituted a burden on citizen journalists or journalists working in the filed without an academic knowledge. He also told Enab Baladi that having a union which sets regulations for journalistic work and a charter for the journalism is a "priority" in northwestern Syria.
Most of the controlling forces in these regions relied on issuing documents and authorizations to allow media professionals conduct their work in northwestern Syria. While such procedures vary from one region to another, they did not protect journalists from violations against them where they are beaten or insulted by factions.
Khaled al-Idlibi, correspondent at al-Arabi TV, commented by saying that these factions, very often, attribute the blame to "individual actions" and resort to an apology from media after that, amid the absence of any entity to defend their rights and claim damages.
Taking into account the current circumstances, Khaled thinks that factions can issue a circular instructing their members to stop harassing media workers.
In his talk to Enab Baladi, the director of public relations in the "SG", Mulhim al-Ahmed, said that the role of "SG" is to "set in order" the journalistic work and the adequate standards to regulate it. He also pointed out that "SG" has worked with a number of "revolutionary media professionals known for their professionalism and competence" to create regulations which "do not deviate from the revolution's goals and values."
Naji Mustafa, the public information officer at "the National Front for Liberation" (NFL), which includes a number of factions, pointed out that factions in the northern countryside of Aleppo "cooperate" with media workers to "facilitate" their work. He added that the (NFL) is working to find a joint mechanism to agree on "a charter of honor" that would facilitate cooperation between the media agencies and factions within these entities.
scattered gatherings
where is the journalists' union?
Northwestern has witnessed the establishment of several unions and federations; however, most of them did not last long and had no impact on the field, based on the opinions of many media workers interviewed by Enab Baladi.
There were many attempts to form unions and federations over the past years; however, they failed. Journalist Muhammad al-Ali attributed their failure to lack of "a strategic vision as well as the absence of real support to these initiatives,". He also talked about the need for headquarters, logistics, human resources, staff to provide training and a solidarity fund to provide financial assistance to journalists and cover their needs.
While journalist Khaled al-Idlibi thinks that "media professionals themselves" stand in the way of establishing a union that can include all of them, especially with the state of separation between them. he explained that "each media worker considers himself a boss and refuses to be directed by others, or even adhere to their decisions."
Khaled added that the current media blocs is nothing but gatherings of small numbers on different bases either regional or partisan. Consequently, this means the absence of centralization in the journalistic work.
In his talk to Enab Baladi, journalist Khaled al-Naimi said the different orientations of factions, civil and military institutions northern Syria was an obstacle. He added that the absence of coordination between institutions stood in the way of forming an all-inclusive entity.
For his part, Baraa Razouq said that having different "governments" with various visions was the reason behind failing to establish a union.
While, the director of public relations for "SG", Mulhim al-Ahmed, said that forming a union or an association for media workers is in "their hands".
Meantime, Enab Baladi had tried to contact the "Syrian Interim Government" (SIG) to ask about its role in forming a gathering union for journalist and the way they tackle the issue of journalism, but failed to obtain answers.
Most prominent media gatherings in north-west Syria
Union of Syrian Media (USM)
The union was established in 2018 in the northern countryside of Aleppo, it defines itself as "an independent institution that brings Syrian media professionals together under a charter of honor which was agreed upon. The union aims at enhancing the efforts of media workers, developing their skills as well as protecting their rights."
Media activist, Ali Abu al-Joud, told Enab Baladi, that forming unions is not enough to protect journalists and preserve their rights, because of their limited capabilities that can only cover the needs and rights of those affiliated to them, based on what he said to.
The Syrian Journalists Association (SJA)
"SJA" is an independent organization that is not affiliated to any government or political party, represents all its members inside or outside Syria, and "strives to be an independent umbrella gathering all Syrian journalists without discrimination," as its director, journalist Mussab Saud, put it into words during his talk to Enab Baladi.
"SJA" includes about 500 media workers operating inside Syria and around the world, and provides academic and specialized training courses. The organization also strives to establish ties with Arab and international press organizations and other organizations interested in supporting journalists, conveying the reality of events inside Syria, through providing logistic support to Syrian activists and journalists "in case this kind of support was available."
The organization also includes journalists operating in the regime's areas of control as well as in northwestern Syria. It working on the establishment of a branch in Azaz city, while admitting affiliates under certain conditions.
The association could not find "a way" which enables its members or unaffiliated activists from operating safely in Syria because of the reality on the ground. This actually hindered its role in defending activists and journalists, as put by Saud. He also pointed out to the role of the "Union of Syrian Media" (USM) in the northern countryside of Aleppo which monitors media professionals' cases.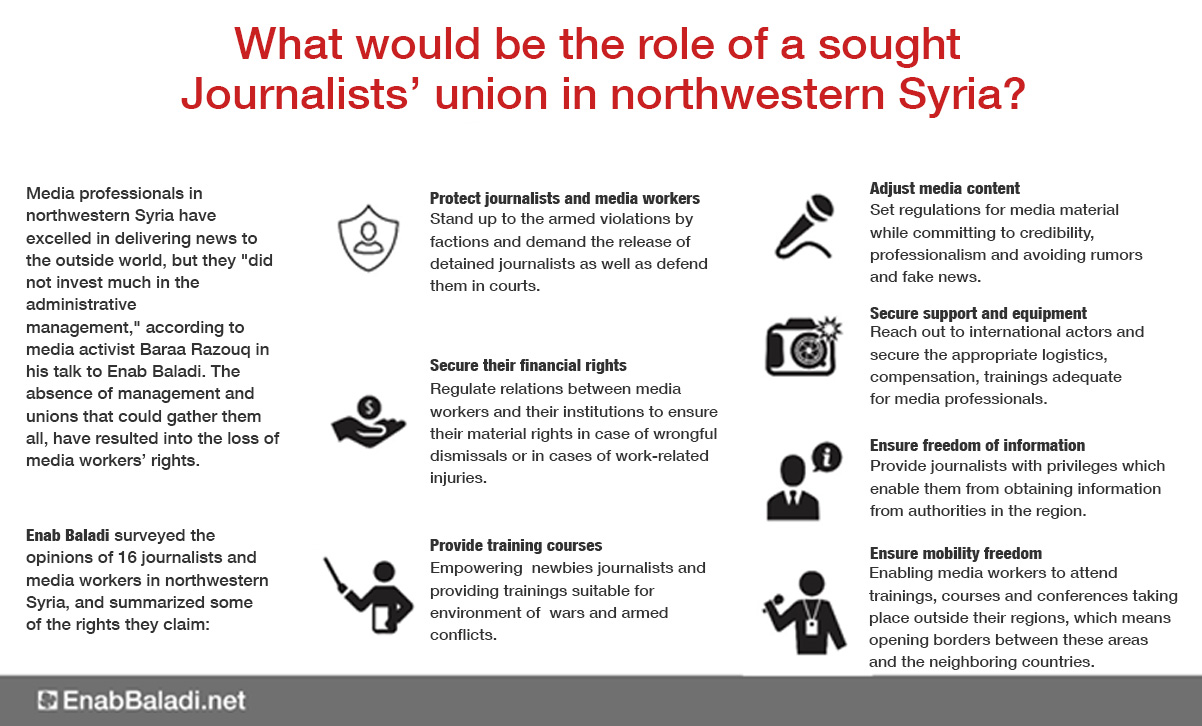 if you think the article contain wrong information or you have additional details Send Correction