"HTS" asks people to evacuate their houses in Jisr al-Shughur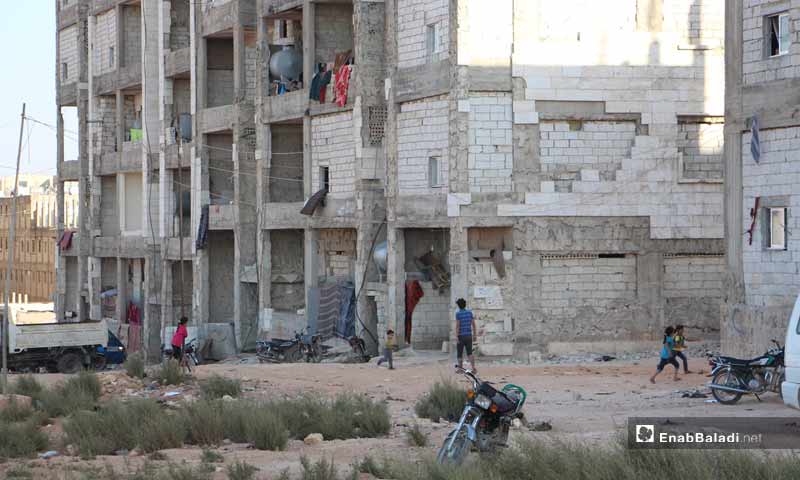 The security apparatus of the "Hay' at Tahrir al-Sham (HTS)," operating in Jisr al-Shughur area in Idlib's countryside, has given some people a two weeks' notice to evacuate their houses.
According to a statement issued on 2 June, the security apparatus asked six people to evacuate all houses and properties they occupied in al- Yakubiyah village and hand them over to the real estate office.
HTS's security apparatus has allocated 15 days from the date of the statement's release to implement the evacuation.  It also threatened that it would take what it called "appropriate measures" if the citizens did not evacuate within the stated period.
 Enab Baladi communicated with the security apparatus official of the area, Anas Muhammed Sabuni, through "Telegram," who attributed the evacuation reason to complaints by the villagers against these people.
According to Sabuni, "these people misused the Internet to harass and blackmail women," therefore, they were asked to evacuate the properties and go to other areas.
The Guardians of Religion Organization (GRO) affiliated to al-Qaeda, is active in rural Jisr al-Shughur, while the HTS has been controlling the city since 2016.
This led to the displacement of the original villagers who belong to Christian families.
Sabuni confirmed that the houses were originally owned by "displaced absent Christians."
He added, "the people residing in these houses have agreed with the Christians of the village that any absent Christian who returns to his home or property would reclaim the property and ask its residents out."
Regarding how these people settled in the houses owned by the Christians of the village, Sabuni clarified that the houses were empty and that anyone who could find an empty house would live in it. Later on, a committee was established to regulate the real estate by creating contracts to prevent the rental and sale of properties.
However, Sabuni did not clarify whether these contracts were held with the main owners of the houses or with the new residents.
According to a report issued in 2019 by the "Syrians for Truth and Justice organization (STJ)," the HTS, the GRO, and members of the Turkistan Islamic Party (TIP) have taken over in the general area of Jisr al-Shughur more than 750 houses owned by Christian families, under the pretext that they were absent from the city.
The GRO is a branch of the al-Qaeda in Syria, and one of the formations of "the Rouse the Believers Operations Room," which includes a group of jihadi formations.
The GRO's military activity is centered in the western part of Idlib province, up to the northern countryside of Lattakia province.
if you think the article contain wrong information or you have additional details Send Correction