Cultivation of wheat at risk in Homs countryside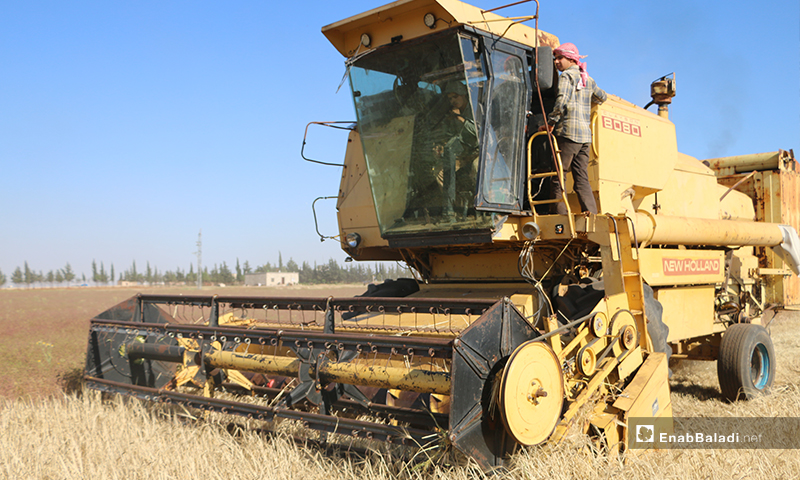 Enab Baladi – Orwah al-Mundhir
"If I had planted two donums of the black seed (200 square meters), it would have been better than cultivating 15 donums of wheat (15 thousand square meters)." Through these words, al-Haj Muhammad, a farmer in countryside of Homs, summed up the poor conditions which wheat farmers face in the region, after the Syrian pound hit low records against the US dollar.
 Al-Haj Muhammad, (a 61-years-old man), planted wheat for over 50 years with his father since he was a child. Yet he will never plant it again even if he had to leave his land without cultivation, based on what he told Enab Baladi.
He explained that nigella crops, for example, can be exported and used in pharmaceutical industry. Thus, planting the black seed is better than wheat simply because the latter is subjected to pricing by the Syrian regime's government.
On 31 of last May, the Syrian regime's government has priced a kilo of wheat at 400 Syrian pounds (USD 0.15). This came after its first pricing at 225 Syrian pounds (USD 0.085), in order to take control over crops from all Syrian governorates.
However, the new pricing did not satisfy farmers, since it will increase their losses, especially after the Syrian pound hit low records against the US dollar passing three thousand pounds per dollar, during the first week of this month. However, the exchange rate last January did not exceed one thousand Syrian pounds per dollar.
Non-Irrigated crops
With the absence of irrigation water in the northern countryside of Homs, farmers resorted to rain-fed wheat cultivation instead of the irrigated one. This means total dependence on seasonal rainfalls.
Enab Baladi has met an agricultural engineer from Kafr Laha in al-Houla Plain (who preferred to remain anonymous for security reasons). In his talk to Enab Baladi, the engineer explained that the average production of one donum (200 square meters) of irrigate wheat may reach up to 600 kilograms, while when planting non-irrigated wheat, production does not exceed 300 kilograms. He also said that these numbers may vary depending on rainfalls.
The engineer explained al-Haj Muhammad's desire to plant the black seed instead of wheat. He added that after adopting rain-fed cultivation, one donum (200 square meters) of high-quality wheat produces only 300 kilograms of crops, with revenues amounting to 120 thousand Syrian pounds (USD 46.15), at a price of 400 (USD 0.15) Syrian pounds per kilo.
Meantime one donum (200 square meters) of black seed produces 200 kilograms at a price of six thousand Syrian pounds per kilo (USD 2.26), which means that 200 kilos can be sold at a price of one million and 200 thousand Syrian pounds (USD 452.83), equivalent to ten times wheat's revenues.
The average production of one donum (200 square meters) of anise amounts to 150 kilograms of crops with revenues exceeding four thousand Syrian pounds; which means that one kilo can be sold at price of 600 Syrian pounds (USD 0.23).
Taking all this into account, the engineer wondered "who is going to plant wheat amid these prices even if we assumed that wheat would be fully subsidized? let alone harvest costs which amount to ten thousand Syrian pounds (USD 3.84) for each donum, and another additional 40 thousand Syrian pounds (USD 15.38) for transporting grain storages. He also pointed out that more 100 donums of wheat (100000 square meters) got burned in the current year.
As per other crops, harvesting them requires a labor force instead of huge harvesters, additionally that risks of getting burned or damaged are much lower than those of wheat. Consequently, it is absolutely normal for farmers to avoid wheat cultivation, which may lead to a bread crisis next year.
governmental support "does not pay off"
The Syrian regime's government subsidizes wheat, starting by seeds, fertilizers, and harvesting costs. However, according to some farmers whom Enab Baladi met, they confirmed that such support is currently almost completely absent, since it is conducted through farmers' union, which is one of the organizations associated with "the Ba'ath Party".
Nasser, a farmer from Ar-Rastan city, (who preferred not to publish his full name for security reasons), said to Enab Baladi that fertilizers' prices have increased in the absence of any kind of support.
Meantime, the farmers' union does not accomplish its tasks and takes no action against the government conducts such as "raising the prices of subsidized fertilizers and the unfair pricing policy which menaces farmers", according to a farmer.
To cultivate one donum of wheat, farmers need 20 kilograms of seeds, offered by the Agricultural Association affiliated to the federation at an affordable price compared to the price of selling the crops' seeds, where one kilogram amounts to 180 Syrian pounds (USD 0.06).
Fertilizers on the other hand, have been distributed equally on farmers, where each farmer received two bags, regardless of their cultivated quantities. Farmers in this case try to secure their needs from the "black market".
As for agricultural loans, they are permanently suspended, which makes the governmental support pointless and shuts the door before the economic feasibility of cultivating wheat, the first strategic crop in Syria.
if you think the article contain wrong information or you have additional details Send Correction