Controversy in Idlib about sitting exams of high and middle school diplomas in Hama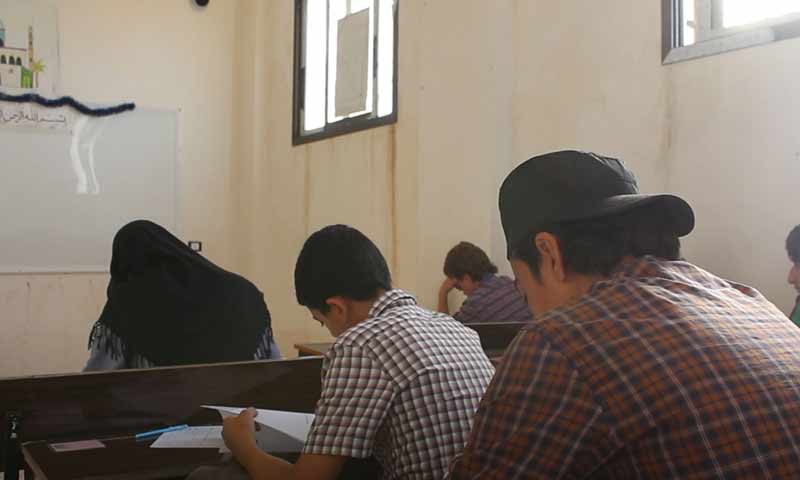 Enab Baladi- Idlib

With health kits and a mobile clinic linked with the Syrian regime's Ministry of Health, the Syrian Arab News Agency (SANA), a Syrian regime-controlled news agency, has taken a photo of government employees waiting for students of middle and high school degrees at the crossing of al-Tarnaba town, west of Saraqib city. A long wait for students who did not come because they were stuck in a tidal wave of controversy in the province of Idlib since mid-June. 
Osama Saud, a high school student, was concerned to take the exam in the Syrian-regime controlled areas, telling Enab Baladi that the presence of his brother in the prison cells of the Syrian regime prevented him from thinking about crossing, in addition to his fear of the novel coronavirus, officially known as COVID-19, which is spread in the regime-controlled areas, and of transmitting it to his family and neighbors in Idlib. 
On 19 June, the security apparatus of Hayat Tahrir al-Sham (HTS) prevented more than 20 senior high school students from passing the crossing, and confiscated their exam cards, after activists in Idlib protested against the students' crossing into the areas controlled by the Syrian regime, recalling its responsibility for the destruction of hundreds of schools, and the displacement of hundreds of thousands of children and their families from their homes. 
SANA quoted Fadi Saadoun, who is in charge of the tasks of the Idlib Governor, as saying that 2,600 senior high school students are supposed to cross to Hama to sit their final school examinations.
The United Nations Office for the Coordination of Humanitarian Affairs (OCHA), in a statement issued on 19 June, called for all parties to "facilitate safe passage for students traveling to government areas to take their final exams."
Nearly 23,000 students in north-eastern and western Syria are expected to travel crossline to government areas in Syria and join roughly 250,000 students throughout the country who will sit national exams scheduled to start on 21 June. 
Most students believe that the diploma granted by the so-called interim government is weak compared with the one given by the Syrian regime's Ministry of Education, according to Osama Saud. However, Saud and students "do not really care."
Saud told Enab Baladi, "It is enough for me that my family in the liberated areas recognize me while learning and completing my studies to serve them soon. My superiority is what makes the whole world recognize me."
Mustafa al-Haj Ali, director of the media office in Idlib's education directorate, considered the recognition of the diplomas a subject of serious concern because it means "recognition of the entire revolution, but the diplomas granted by the "interim government" are only recognized in Turkey. Students can apply for the equivalence of their high school diplomas; diplomas, which are equivalent to those obtained by Turkish students.
Al-Haj Ali told Enab Baladi that the directorate has evaluated and studied the status of students in the areas of displacement, who, since December 2019, numbered more than 380,000, according to the United Nations' estimate.
The directorate has drawn up plans for a compensatory summer education programs for students, after the schools were closed from 14 March to 6 June, due to growing fears of the spread of the coronavirus which northwestern Syria has not recorded any cases yet. He added that exams will be carried out in halls away from the Syrian regime and its ally Russia's attacks after sending the exam entrance cards to the students between 20 and 25 June. 
The number of registered students during the current academic year decreased by about three to four thousand students from 2019 to reach 20 thousand.  Al-Haj Ali indicated that the displacement of students prompted many of them to give up completing their studies.
More than 300 schools are destroyed in the governorates of Idlib and Aleppo as a result of the recent military campaign carried out by the Russian-backed Syrian regime forces. Approximately 117,000 children and more than 5,000 teachers were affected. Besides, 277 schools were disrupted because they were used as displacement centers by 23,419,000 people living in Afrin, al-Bab, Azaz, Ariha, Harem, Idlib and Jisr al-Shughour, according to the report of the United Nations Office for the Coordination of Humanitarian Affairs (OCHA), issued on 12 June.
Enab Baladi's correspondent in Idlib, Youssef Ghribi, contributed to preparing this article
if you think the article contain wrong information or you have additional details Send Correction