Bread Initiatives in al-Bab to bridge pricing gap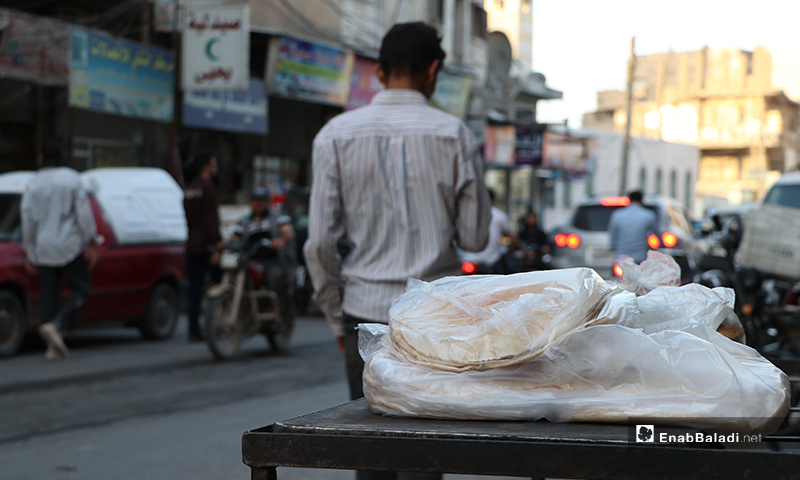 Enab Baladi- al-Bab city
"my displaced brother take you need of bread and leave the rest to your brothers in need", "our pride will defeat al-Assad". These were some of the phrases written on walls of al-Bab city, eastern Aleppo, within the frame of activities launched by a number of relief activists from Deir Ezzor eastern Syria. The campaign aimed at providing free bread to several poor families in al-Bab city.
Bread free of charge
The initiative started by distributing free bread by a number of relief activists from Deir Ezzor governorate in modest proportion for the benefit of 50 families only. Later, the number of beneficiary families have increased to 75 families (where each family receives two bundles of bread). Donations in this initiative did not exceed five thousand Syrian pounds (USD 1.81). However, they have increased through more donations by women, like when a woman residing in Turkey paid for 700 bundles of bread. Meantime,"al-Bab Association for Money Changers" have offered two thousand bread bundles and promised more support.
The campaign's supervisor, Amine al-Hwaish, told Enab Baladi, that they count on 100 youth donors where each of them pays about TRY 30 (USD 4.37), because local councils will set the price of bread in Turkish lira.
Amine added that the campaign targets poor families living in unfurnished homes with no breadwinner. He added, currently there have been attempts to organize a project to distribute water and ice (used to cool water) in case we could not find donors.
All participants in the initiative work voluntarily. They also have some expertise when it comes to families in need as a result of their previous work with relief organizations. They have categorized those in need into subsections including (poor families, families with orphans, individuals with disabilities).
Volunteers try to secure large amounts of bread from "the free market" and that was first challenge they faced. However, the local council in al-Bab city promised to sell them 200 bread bundles on a daily basis in case it adopted the Turkish lira as a currency.
The local council sells bread to authorized distributors for 190 Syrian pounds per bundle (USD 0.07). During the first days of distribution, the campaign's team bought bread for SYP 450 per (USD 0.16) from the "free market", while we pay now SYP 350 (USD 0.13) per a bundle.
According to Amine al-Hwaish, the second challenge they faced was with the crowds front of the distribution center as the team could not handle their numbers. He added that some authorized distributors take advantage of the current situation.
Before the impact of the novel coronavirus (COVID-19) on the Syrian economy has raised to the surface, Humanitarian Affairs and Emergency Relief Coordinator, Mark Lowcock said that 80 percent of Syrians live below the poverty line, and warned against an increase in the number of people suffering from food insecurities, which went up from 7.9 million people to 9.3 million people in the past six months.
Meantime, Syria topped the list of poorest countries in the world with 82.5 percent of people falling below the poverty line, according to statistics issued by "World By Map" last February of the current year.
The value of the Syrian pound against the dollar has declined and reached more than three thousand 500 Syrian pounds per one dollar. It recovered later to record two thousand and 300 Syrian pounds at the sell rate, and two thousand and 200 Syrian pounds at the buy rate, according to Syrian Pound Today website.
if you think the article contain wrong information or you have additional details Send Correction