Ahmed al-Awda..Russia's spoiled boy to form "an army" southern Syria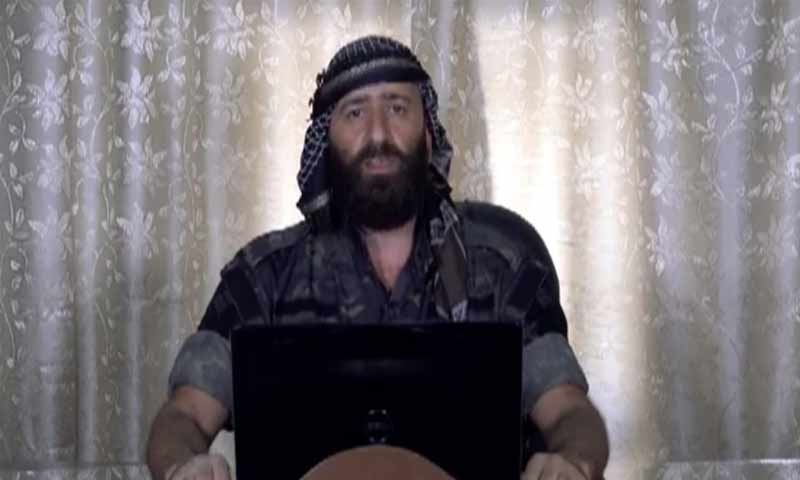 Surrounded by dozens of armed members in an area held by the Syrian regime, Ahmed al-Awda, the commander of the "Fifth Corps" backed by Russia, has announced, on 23 of this month, his attention to form a united army in Hauran region in Daraa.
Al-Awda announcement came in conjunction with the funeral atmosphere at Busra city after the killing of ten members of his "Fifth Corps". This came as a result of an unknown attack on a bus was carrying 40 members from Lattakia to Daraa to switch shifts.
The attack is the first of its kind on the "Fifth Corps", while hundreds of protesters went out to the streets chanting against Iran and the Syrian regime. Demonstrators also faulted "Hezbollah" and Iran of the attack without pointing fingers at Russia.
This move adds more ambiguity to the nature and form of the relationship between the former opposition leader, Ahmed al-Awda, and the regime, since the latter announced its control over Daraa and displaced those who refused to remain under its control in mid-2018.
Al-Awda sudden turns
Although he was known by his opposition to the Syrian regime and lost three of his brothers while fighting the latter in 2014, Ahmed al-Awda ended up getting back to Russia's arms, regime's biggest allies.
Al-Awda, who has a degree in English literature, became known in the past few years of the Syrian revolution for changing his political positions a couple times, and turning against anyone who supported him. These shifts shed light on his overwhelming desire to remain under spotlights through gaining influence and leadership even by changing his aims voluntarily to please those who support him.
Most prominent of these fluctuations was when he turned against "al-Nusra Front" and "Islamic Muthanna Movement" after joining their ranks to expel the regime forces from his hometown the city of Busra in 2015. Back then, al-Awda served as a leader of "Shabab al-Sunna" ("Sunni Youth") and fought side by side with these factions; however, this did not last long before couping against them and expelling them from the city.
Following this, al-Awda started organizing public facilities and services in the city, and established police services, including the traffic police through the support of "MOC chamber" and the United Arab Emirates (UAE), using his kinship with the former Vice President of the Syrian High Negotiations Committee, Khalid al-Mahamid, residing in UAE.
MOC is a foreign military chamber, used for coordinating and issuing orders, ran by the United States, France, Britain and Jordan, additionally to some Gulf states. It was formed in 2013 and began to develop in 2014 and included opposition factions affiliated with the "Free Army" in Daraa, Quneitra, Damascus countryside and the northern countryside of Aleppo.
In 2016, a split took place inside al-Awda faction when ammunition depots and heavy weapons were controlled. Back then al-Awda fled Busra to come back later and retake control over the city and its faction with the support of the "Southern Front".
This stability did not last long either, in 2017, with rising clashes between two of the biggest factions eastern Daraa namely "Sunni Youth" and "Yarmouk" under the command of Bashar al-Zoubi, leading to deaths from both sides.
After the regime's control over al-Lajat and Buser al-Harir mid-2018, various negotiations were held under the Russian sponsorship in Busra, while the regime continued invading most of towns in the eastern regions except for Busra where al-Awda is based.
Meantime, and with the regime's arrival to Busra city, there were "settlement" agreements sponsored by Ahmed al-Awda, which provided the regime's control over the southern region of Syria.
During these agreements, al-Awda handed over the remaining heavy weapons and joined "the Fifth Corps" directly managed by Russians, who rewarded him by giving him the Corps command in the southern region.
In his turn, and as a thank you, al-Awda sent some fighters to the northern part of Syria to support the regime in its campaigns against opposition factions. The gesture was received in great joy by Russians making him more trustworthy for them.
Al-Awda reviving "settlement agreements"
At the beginning of last March, regime forces launched attacks on As-Sanamayn city using tanks and artillery for the first time since the so-called "settlement" agreement in the southern region in July 2018, and clashed with fighters who refused these "settlement" agreements and preferred to stay in Daraa instead.
Back then, the regime forces imposed a siege on the western neighborhoods of the city, until the "Fifth Corps" intervened under the command of al-Awda to broke the conflict and impose a truce, which ended by deporting fighters toward the Syrian north and "settling" the situations of those wishing to stay on the condition of surrendering their arms.
The role of the corps was not only limited to mediation, but exceeded it to pulling out the regime forces' dead bodies after an attack on a checkpoint at Masaken Glen area on 18 last March. This came in conjunction with the corps imposing a "settlement" agreement on Nahtah town, that ended by surrendering 20 different pieces of weapons in exchange for releasing some detainees by the regime, as well as "settling" the situation of youth in this town.
Al-Awda in As-Suwayda…as fighter and as "peacemaker"
The story of al-Awda fighting As-Suwayda factions started in 28 last March, as a response for kidnapping two young men from his hometown, working in cattle trade, from al-Qariah town in the countryside of As-Suwayda.
Back then, young men from Busra tried to infiltrate into al-Qariah town to kidnap young men to start off negotiations on releasing some people who were kidnapped from Busra.
In the infiltration attempt, members from the local factions clashed with the intruders and one of them was killed. Later, factions from As-Suwayda started combing the whole area, which led to a clash between these factions and al-Awda's near Busra. These clashes have resulted into killings in the ranks of As-Suwayda factions, amounting to 16 deaths.
Following the incident, dignitaries from As-Suwayda and Daraa stepped in to contain the tension between both parties. In the meantime, Enab Baladi's correspondent in Daraa has pointed to a Russian intervention by sending a delegation from the Russian "Reconciliation Centre" to Busra which resolved the matter.
Fighting is not only what brings As-Suwayda inhabitants and al-Awda together. Early this month, al-Awda played a critical role into securing Kharba Christian residents return to their town after being displaced in 2014.
The city was once inhabited by bedouin tribes which supported al-Awda, was able to convince them to leave it.
if you think the article contain wrong information or you have additional details Send Correction