Two hospitals in northern Syria offer free medical services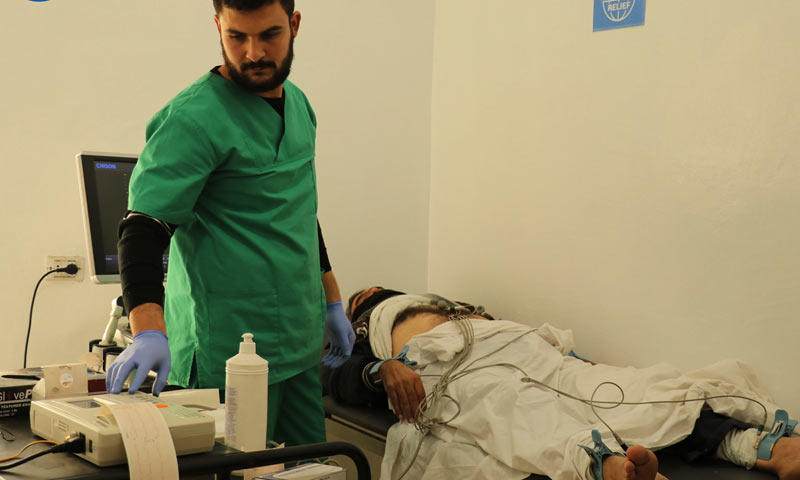 Two hospitals reportedly opened last April in the opposition-held north-west Syria, offering free services in several medical specialties: A new Women's and Children's Hospital opened in Azaz city, northern Aleppo, at the beginning of last April while another hospital with a broader range of medical specialties and services was opened in Harem city, north-west Idlib, at the end of the same month.
The opposition controlled-areas of Idlib, Aleppo, and Hama countryside have been suffering from a lack of resources in the medical sector.
According to the statistical data of the Syrian Interim Government (SIG), there must be 83 hospitals in the area to cover people's medical needs; nevertheless, there are currently 65 hospitals only.
The SIG data was intended to assess the medical condition in north-west Syria, considering the population of 4,178,480 persons according to the United Nations Humanitarian Needs Assessment Program and based on the statistics of health information systems (HIS).
The SIG has reported that there are 600 doctors in north-west Syria, that is to say, there are almost less than two doctors (1.4 doctors) for every ten thousand people.
While the number of hospital beds was 3,065, meaning that only one bed is allocated for 1, 363 persons.
The data also stated that the intensive care units (ICU) in the areas' hospitals included 201 beds, on an average of one bed for every 20,788 persons.
Harem's medical system to be supported by a new multi-specialty hospital
In late April, a new multi-specialty hospital was opened in Harem city in Idlib province. The hospital includes departments for orthopedic and general surgery, a medical analysis laboratory, a radiology department, and a natural birthing section. 
As for the cesarean sections, they are performed in the general surgery department of the same hospital.
In addition, the hospital has a clinic division, which contains the departments of the inpatient, cardiac, and orthopedic clinics. It is also equipped with 12 hospital beds.
The hospital receives about 100 patients on a daily average in different specialties, according to what the communication and coordination official in Harem Hospital, Abdul Hadi Kurdi, said to Enab Baladi. 
The level of medical services provided in Harem area varies from those in other areas, even though it contains a large population.
In a previous interview with Enab Baladi, the head of the Idlib health directorate, Dr. Munzer al-Khalil, pointed out that the existence of "some disparity" in the level of medical services provided in Syria's north-west regions is mainly related to the availability of adequate infrastructure.
These regions need empty buildings suitable for setting medical facilities that were transferred from southern Idlib to its north as a result of the last military campaign.
At that time, the Russian-backed Syrian regime forces launched a military campaign in which they bombarded the infrastructure, mainly field hospitals.
According to the Syrian Civil Defence, since April 2019 and until the signing of the Moscow cease-fire agreement between Russia and Turkey on 5 of last March, the regime and its ally Russia targeted 31 hospitals and 64 civil defense centers.
Al-Khalil said the health directorate seeks to offset the disparity by providing the needy areas with mobile outpatient clinics supported by the referral patients' health care system. Besides, it continues making efforts to secure buildings in areas lacking medical services, whether public or private buildings.
The potential of the health sector has also become limited as a result of the destruction it has experienced during the last year, al-Khalil said.
He added most of the medical facilities are small, serving only their communities, which is one of the health sector's defense policies to protect itself.
By depending on small and distributed medical facilities, the health sector of north-west Syria can facilitate people's access on the one hand, and avoid significant losses in case the medical facilities were targeted.
According to al-Khalil, the directorate, along with its relief organizations partners, cover most of the basic needs of citizens in the region.
He added, Idlib province has 46 hospitals, 38 specialized medical centers, 65 primary health care facilities, more than 70 mobile outpatient clinics, and about 220 ambulances and evacuation vehicles.
These facilities and vehicles offer around 500,000 free of charge medical services per month to the residents of the province, according to al-Khalil.
Women's and Children's Hospital in Azaz city
With the support of the "Violet" Organization, Women's and Children's Hospital was opened in Azaz city, north of Aleppo, at the beginning of last April.
This hospital provided health care services for children and women, natural childbirth services, and cesarean sections to pregnant women, as well as gynecological surgeries.
It also includes a special ward for newborn and preterm babies' incubators, besides another one for children and women's recovery accommodation with 12 beds each.
The hospital receives patients 24 hours a day, according to a three-shift system for medical staff members. It has laboratory analysis services, a pharmacy to dispense medicine for free, in addition to an ambulance vehicle to offer medical emergency services.
Several hospitals and medical centers have spread in Aleppo's northern and western countryside, which are affiliated to the Turkish Ministry of Health. Meanwhile, major hospitals are concentrated in the main cities and often have different specialties.
Moreover, relief organizations also support several hospitals in Aleppo Countryside, including the Blue Crescent Hospital at the Bab al-Salama crossing and Children and Women's Hospital in al-Ghandoura town, east of Aleppo. 
These two hospitals are supported by the Independent Doctors Association (IDA), which also supervises health centers in Suran and the camps of internally displaced people (IDPs) on the borders with Turkey.
In the meantime, al-Ameen for Humanitarian Support Organization operates health facilities in Afrin's countryside, while Syria Relief and Development Organization supports Akhtarin Hospital and several other medical points in rural Aleppo.
if you think the article contain wrong information or you have additional details Send Correction