Syrian economy godfathers Haidar and Makhlouf punished by al-Assad family for crossing red lines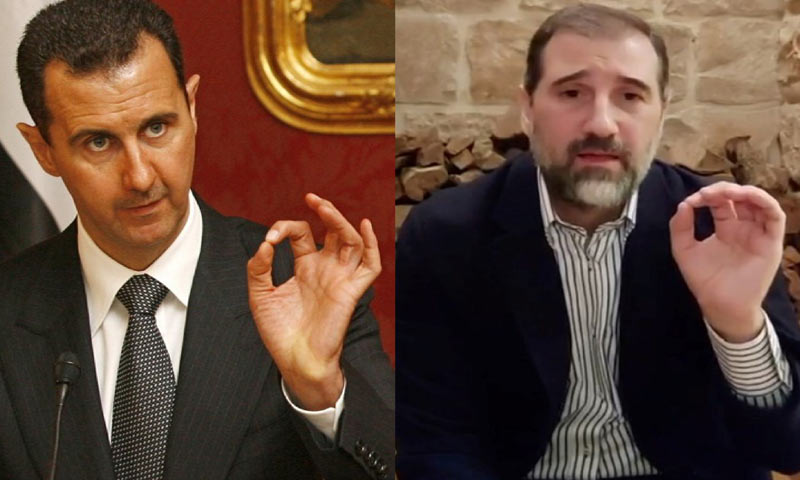 Enab Baladi – Murad Abdul Jalil
The rare and sudden appearance of Rami Makhlouf, a wealthy Syrian businessman and the first cousin of Syrian regime president Bashar al-Assad, speaking of being pressured by figures surrounding the "decision-maker" to give up on his assets, was no small matter for Syrians regardless of their political views, and key countries influencing the Syrian file.
Makhlouf was the financial pillar of the regime's economy over the past two decades. He controls a conglomerate business empire that ranges from telecoms to real estate, oil, and other fields. Hence, Makhlouf's two video recordings became an indication of the rift's level between both sides.
International media and newspapers have been abuzz with dozens of articles analyzing and predicting the reasons that prompted the shocking appearance of the man who is considered part of the "president's inner circle."
Makhlouf's videos also raised questions about the message he wanted to deliver, as well as the struggle over power and influence between Syria's ruling elite.
World reactions addressed the possibility that Makhlouf's role might have come to an end and that it is time for him to pay the bill for his fortune, which he owes to "authorities" that facilitated his access to it in the first place.
This development coincides with the regime's government announcement of an anti-corruption campaign under the pretext of supporting the falling economy to polish al-Assad's image through fighting corruption and corrupt officials to his supporters, and to the countries supporting him, mainly Russia.
Makhlouf's sudden appearance indicates that history is repeating itself in Syria. A somehow similar scenario had happened before with political, military, and economic figures, who served both al-Assads (the father and his son).
The roles played by these figures ended differently depending on their importance or to which extent they are crossing the "red lines" drawn to them by the ruling family in Syria.
The minister of economy in the "Syrian Interim Government" (SIG) Abdul Hakim al-Masri, said to Enab Baladi that everyone in Syria has a red line; however, these lines differ from one person to another. The "red line" that is most critical and not allowed to come near is the "seat of power."
Muhammad Haidar…"Mr. ten percent"
Over the past five decades in Syria, figures in some parts of the state's outlets rose to power to supervise the implementation of plans and decisions of the ruling family, as they were directly linked to them.
In an interview with Russia Today (RT), Russia's state-funded international television news network on 4 May, Firas Tlass, a Syrian businessman and son of the former Defense Minister, Mustafa Tlass, said that "after 1975, and as the Gulf Arab countries financial grants were allocated to Syria following October War in 1973, the merchant class started to emerge alongside the officials' class.
At that time, the idea of demanding a share or a commission on projects that were to be implemented was initiated by Rifaat al-Assad and his circle, along with Muhammad Haidar, and his people," according to Tlass.
He added the Syrian economy had been "drained" for 30 years by al-Assad's family. Tlass pointed out that Syria had no power centers; instead, there were seven to eight persons of the third degree of closeness serving Syria's former president, Hafez al-Assad. The latter would allow each one of them to stand out on the scene to be a center of power derived from Hafez al-Assad himself," as per Tlass's expression.
These people contributed to consolidating al-Assad's family rule before being prosecuted later, including Haidar, who headed several positions with Hafez al-Assad's arrival to power in 1970.
Haidar was the first to open the door for governmental corruption in Syria, according to a source familiar with the details of that phase, who spoke to Enab Baladi on the condition of anonymity.
Haidar was born in Beit Yashout located in the Lattakia mountains in 1931, he graduated from Damascus University, Faculty of Law in 1959 and was appointed as the Director-General of the al-Ghab Institution of the Ministry of Agriculture in 1963.
In 1966, Haidar became the governor of al-Hasakah province, before being appointed as the Minister of Agriculture and Agrarian Reform in 1971.
Nevertheless, Haidar's most prominent position was being appointed as Deputy of Economic Affairs for the former Prime Minister Mahmoud al-Ayyoubi at that time to devote himself solely to the economy.
Supported by Hafez al-Assad, Haidar started working on founding a new phase for a "deep state," also known as a state within a state, when networks of power operate independently of a state's political leadership, laws, and regulations, in pursuit of their own agenda and goals, according to the source.
Hafez al-Assad had a problem in subjugating a country of laws and strict hierarchy; therefore, he started searching for a way to circumvent the laws by creating a "shadow state."
A "shadow state" is when the political power resides not with publicly elected representatives but with private individuals who are exercising power behind the scenes.
Haidar worked on increasing dominance, by forming ministerial groups under his presidency, as well as establishing the Supreme Council of Companies to run the major public state institutions, far from the eyes of the relevant ministers.
He gave the companies' managers exceptional broad powers that exceeded the ministers' powers. Haidar also put huge financial budgets at their disposal to conclude deals and import and export contracts that are excluded from customs and laws. Such relevant managers were the Director-General of the Military Housing Establishment, Khalil Bahloul.
The freedom and powers granted to Haidar enabled the regime of Hafez al-Assad to control the nerve centers of the country's economy, with everything now at the hands of the institutions and companies that were run by Haidar.
Haidar was given a title of "Mr. five percent" as a reference to the proportion of commission he used to demand on every deal or project to be accomplished, which was mentioned by the British writer Patrick Sealel in his book "Asad of Syria: The Struggle for the Middle East. " Later, the commission rate increased changing Haidar's title to "Mr. ten percent."
Haidar remained in office until 1976, and then he became under scrutiny, which forced him out of the National Leadership of the ruling Ba'ath Party in 1980.
In August 1984, a decision was issued that prohibited Haidar from engaging in any partisan or political work, before being tried in absentia in 1999. At that time, Haidar was outside Syria after issuing his book "al-Ba'ath and the Great Irrevocable Divorce.", to be later sentenced with 15 years of provisional detention, and died in 2017.
The favors that Haidar provided to Hafez al-Assad, as he paved the way for him to control the economy, did not spare him from punishment for crossing the "red lines."
Haidar's closeness to Rifaat al-Assad, who attempted a coup d'état and made Haidar his adviser, according to what was mentioned in Mustafa Tlass's book "Three Months Shook Syria" in the 1980s, pushed the former regime to hold him accountable and to punish him.
Punishments vary according to people's importance
Haidar is only one on a list of many names punished by the Syrian regime for crossing the lines. Other names included the former Prime Minister Mahmoud al-Zoubi, who headed the government for 13 years between 1987 and 2000.
Al-Zoubi committed suicide following accusations of corruption, according to the regime's official story, which was denied by the former chief of the criminal security branch, Major General Mahmoud Ali. The latter confirmed that al-Zoubi was killed by three bullets.
The informed source, who held leading positions in Syrian state institutions, says that al-Zoubi was told to retire and abandon political life with what he gained during his service; however, he refused and asked for more money than his actual share, and threatened to expose corruption operations; therefore he was killed.
The source added, had al-Zoubi abided by the limits that were drawn to him, he would have been shown generosity, and no one would come near him, such is the case of the former Prime Minister Muhammad Mustafa Mero.
Mero wanted to open files of corruption; therefore, he was threatened and forced to remain silent. When Mero followed the orders, his matter was dismissed. Later on, Mero was appointed as Chairman of the Syrian Arab People's Committee for the Support of the Palestinian People.
The Deputy Prime Minister for Economic Affairs for 15 years, Salim Yassin, was also one of these names punished by al-Assad. He was arrested in 2000 on charges of misappropriation of funds and was sentenced to 10 years of imprisonment, along with substantial fines.
The Minister of Transportation in al-Zoubi's cabinet, Mufeed Abdul Karim, was also one of the influential figures punished by the regime. He was arrested for the same reason and sentenced to pay 10 million dollars (USD), besides ten years of imprisonment, according to what was reported by the UAE newspaper "al-Bayan" reported by the government-owned newspaper, "al-Baath."
Moreover, other prominent military figures were punished by the al-Assad regime, such as Ghazi Kanaan and Rustum Ghazaleh.
As for Makhlouf, although there is no clear picture of his rift with al-Assad so far, the current development could be a repetition to what happened to him in 2004.
At that time, Makhlouf believed that he had the right to transfer some investments to Dubai, where he wanted to possess properties and tower blocks. Nevertheless, Syrian authorities started to narrow down on him to curb these attempts, before some political and economic figures mediated to resolve the dispute.
Makhlouf's fall from grace is now certain as the Syrian regime officially started exerting pressure on him, which he alluded to in his video when he said, "the security forces are arresting my employees."
"Can anyone expect that the security services would come to Rami Makhlouf's companies to arrest employees, after being the biggest supporter of these agencies, the greatest servant and sponsor of them during the war?"
The authorities' pressure on Makhlouf is mainly aimed at collecting his money and requesting him to surrender his assets, which he hinted at in his second video by saying, "they are asking and pressuring me; nevertheless, I will not give up. I am here."
In an interview with the US-based Arabic speaking TV channel, Alhurra, on 9 May, Firas Tlass said that he believes "Bashar al-Assad does not want to get rid of Rami Makhlouf; instead he wants to know more about Makhlouf's management of this fortune, which a large part of it exists in several countries."
Tlass also added that "Asma al-Assad is seeking to control the money, considering it an inheritance to her children."
According to Tlass, the dispute over wealth is not seen as a defection of Makhlouf, but rather a kind of rebellion on the doors shot at Makhlouf's face by al-Assad. In other words, Makhlouf is trying to address al-Assad through these videos, after losing the direct line of contact with him.
After the public exposure of this dispute, it is to be seen what punishment awaits Makhlouf, taking into account that the nature of the punishment is determined by the importance of the person, according to the minister of economy in the Syrian Interim Government (SIG), Abdul Hakim al-Masri.
According to al-Masri, "the penalty of crossing the red lines depends on the importance of the person's position in the government, as well as on being a member of the ruling family, the ruling sect, or otherwise, as the method of punishment varies from one sect to another."
Al-Masri also excluded the possibility of killing Makhlouf, for he is part of the inner circle of the ruling family. Instead, he thinks Makhlouf will be banished with some of the wealth he gained, just like what happened to Rifaat al-Assad, who was allowed by his brother Hafez to leave Syria with millions of dollars.
Meanwhile, Firas Tlass pointed out that according to the information he obtained, there has been an agreement that allows Makhlouf to leave Syria quietly and without a fuss.
According to Tlass, this agreement would be implemented after Makhlouf apologizes for the video recordings and abandons his companies, most importantly Syriatel and Ramak for Development and Humanitarian Projects LLC., which only represent ten percent of his financial empire.
if you think the article contain wrong information or you have additional details Send Correction