Phenomenon of photographing and online publishing of charitable giving exacerbates in Ramadan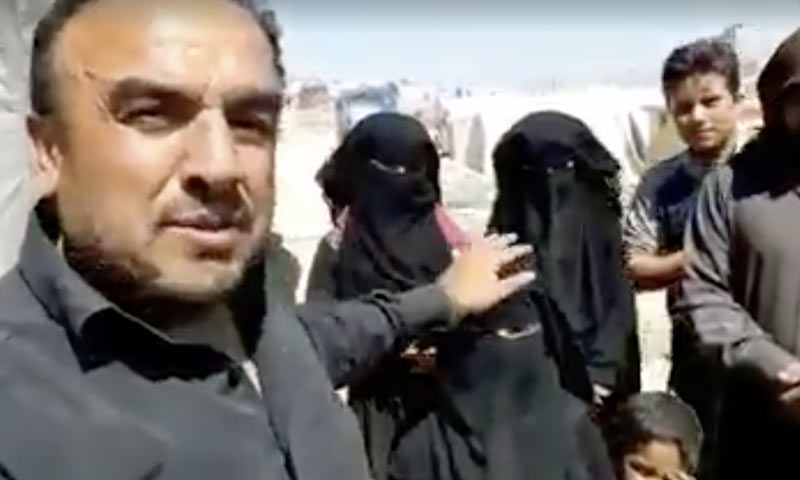 Enab Baladi – Yaseen Bazenko
Ramadan is the month of giving charities and helping those in need in Islamic societies. Relief organizations and well-off people dedicate this month to focus on the launch of goodwill initiatives and the distribution of charitable aid. Nevertheless, the distribution and delivery processes of the assistance to eligible beneficiaries in northern Syria have highlighted a negative phenomenon, which recurs every year.
The phenomenon of clicking photographs or videos for the beneficiaries while receiving charity aid in the shape of cash or in-kind assistance to be later shared on social media platforms has resurfaced again. 
From secret charity to "Facebook" charity
Several Facebook accounts shared videos showing the identities and faces of some beneficiaries during the distribution of charitable aid. These videos were marred by some excesses that were dehumanizing charity recipients.
A video of a man donating money to an old woman who seemed tired while lying on her bed provoked angry reactions among users on social media platforms. The video was criticized for showing the old woman's face, and the mediator, who mentioned the donor's name while offering the charity in the video.
Social media activists also criticized a video showing a man giving veiled female children an amount of 2,000 Syrian pounds (SYP = 1 USD). In the same video, the man tells one of the children that if she wears a veil, he will give her a reward of 5,000 (SYP = 2 USD) in return.
Humanitarian organizations operating in Syria also publish videos and photos of their relief programs' beneficiaries through their social media accounts based on different criteria and conditions.
In an interview with Enab Baladi, Ziad Hatem, the director of media and advocacy team in Watan Foundation, said that there are international documentation standards to photograph charity recipients that must be taken into account.
Such standards include obtaining written consent before taking photos of beneficiaries. 
As for children, their consent and their current guardians' must be taken. According to these criteria, charity recipients must not be portrayed in a degrading situation.
However, Hatem believes that some organizations violate these standards to gain donors' sympathy by taking images and videos to show beneficiaries in a miserable situation.
In Hatem's opinion, sometimes violations occur due to the ignorance of charity recipients of their rights, as some believe that they will be denied assistance if they refuse to be photographed.
Amin Abdul Nasser, a former volunteer in the International Committee of the Red Cross (ICRC), and a displaced resident of al-Karama camps, north-western of Idlib province pointed out to Enab Baladi that media teams of humanitarian organizations usually take photos of beneficiaries to ensure proper distribution and adequate progress of their charity programs.
The media teams often try to avoid taking pictures that show charity recipients' faces; however, some organizations sometimes break these conventions for propaganda purposes, according to Abdul Nasser.
Documenting aid distribution to avoid accusations campaigns
Organizations and humanitarian actors have different methods in documenting the delivery of aid to the eligible beneficiaries. 
In general, individual and small-scale community initiatives lack proper monitoring mechanisms, unlike major organizations that have the necessary means to verify the delivery of humanitarian support to the beneficiaries.
Syrian journalist Jamal Mamo, and the supervisor of Dafaa Group for Humanitarian Relief, said to Enab Baladi that the issue of photographing beneficiaries during the delivery of charity aid is not new; it goes back to the beginning of relief campaigns that were initiated at the start of the Syrian revolution.
After campaigns of accusations and credibility questioning against the "Dafaa Group" regarding the arrival of assistance to their beneficiaries, the group decided to video its financial aid distribution process. Dafaa group resorted to this documenting tool without revealing the identity of the aids' recipients or his/her face; unfortunately, this standard is not followed by all relief organizations.
Psychological wounds that might not be healed
The adverse effects of the phenomenon are not limited to abusing the beneficiary in videos only but often get past that. The phenomenon causes psychological and social damages when he/she appears as a person in need in front of the surrounding society.
Enab Baladi interviewed the consultant psychiatrist Dr. Jalal Nofel who said that the supposed aim of assisting those in need in times of crisis is to empower them, not to show them weak or helpless.
Nofel added that this behavior, when repeated, could cause the "beggar psychology" for needy people. They can develop long-term negative feelings against the charitable entity that dehumanized and degraded them, for these entities intended to depict them in a vulnerable position. 
As for children, Dr. Nofel said that these behaviors of an improper depiction of children might develop a sense of shame and embarrassment for them in the future. They might sense injustice and negative feelings towards their parents for agreeing on portraying them in such humiliating conditions. 
Humanitarian aid is essential 
Many factors made humanitarian assistance essential for civilians, such as the never-ending waves of displacement, the lack of commercial activities, and the high poverty rate in Syria.
Relief projects fail to meet all needs, especially with the recent wave of displacement in Hama and Idlib countryside in 2019, as the number of displaced people exceeded one million and 533 thousand since April 2019, according to the Syrian Response Coordinators Group (SRCG).
According to Under-Secretary-General for Humanitarian Affairs and Emergency Relief Coordinator Mark Lowcock, 2.7 million people in north-western Syria depend on relief assistance for their livelihood.
A humanitarian needs assessment published by the "reliefweb" website, which relies on United Nations statistics, on 12 April, showed that 81 percent of the population in the opposition-controlled areas in north-western Syria face problems in obtaining humanitarian assistance.
About 49 percent of the displaced and residents eat three meals a day, while most residents of Atme, Afrin, and Kafroma have one meal per day.
if you think the article contain wrong information or you have additional details Send Correction