No effective solutions for random swimming in Euphrates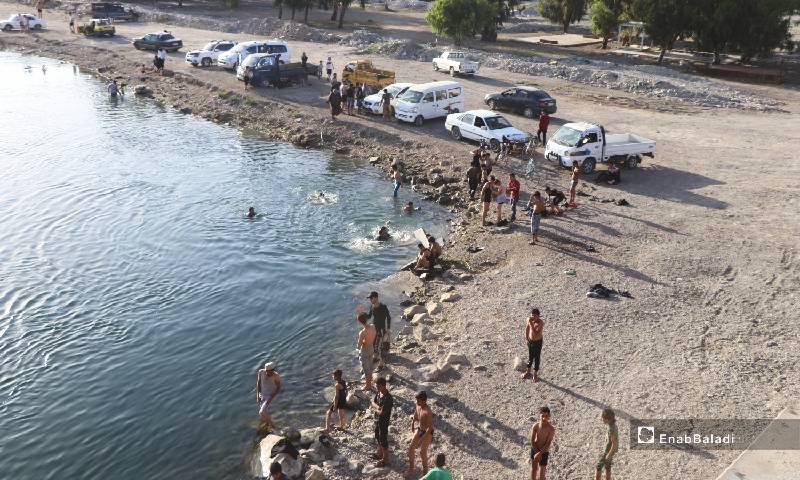 Enab Baladi – Raqqa
Ten people from Raqqa and Deir Ezzor drowned in the Euphrates River in the first two weeks of this month, as monitored by Enab Baladi, in a seasonal phenomenon that recurs every summer with young men and children flocking to the banks of the river to swim amid the absence of designated swim areas and shortage of rescue teams. 
Ali Salam, a young man who lives in Raqqa, told Enab Baladi that he swims almost every day in the Euphrates River because all swimming pools in the city have been destroyed or badly damaged by the various military operations. 
Meantime, Enab Baladi met two other young men in the city, who swim regularly in the Euphrates River; they said that good weather brings people together, especially those living in areas north and east the river.  
Who is responsible for these drowning cases? 
Despite hearing about numerous drowning cases, Ali Salama said "our nature drives us towards the river, we are linked to it as much as it is linked to us," and he explained by saying that many of those who drowned do not know how to swim or had muscle cramps in doing so, while he bets on his swimming skills which save him from a similar fate. 
Ali also attributed the many cases of drowning to the fact that the Kurdish-led "Autonomous Administration of North and East Syria (NES) in Raqqa throws rubbles on the river's shores, making safe spots for swimming invisible and areas frequented by young men more deeply. 
Muhammad Khalid also swims in the river, told Enab Baladi that he never saw rescue teams doing their job, while most rescue operations are carried out by skilled swimmers who frequently visit the river.  
As for Khalid al-Faraj, one of the residents in the city, who visits the river but not for swimming, demanded to designate swimming areas and put signs to determine them, as well as to appoint lifeguards to prevent people from swimming beyond them. Al-Faraj pointed out that the absence of first aid assistance increased the number of deaths, as there are no medical points in areas with swimmers to provide first aid to the drowned victims when rescued.    
Six divers only 
The civil council in Raqqa has allocated a first response team, and part of its job is to conduct rescue operations in the Euphrates River or retrieve the bodies of drowning victims.
Yasser al-Khamis, leader of the "First Response Team" in Raqqa, told Enab Baladi that six divers work within the team, but their duty is limited to incidents taking place in areas near the city center. He pointed out that his team has responded to more than 68 incidents since 2019. 
The team also conducts patrols on the Euphrates River entry points and on both the old and new Raqqa bridges being the safest and popular places to swim, considering that "the river is not suitable for this kind of activity because of its depth and the velocity of its flow."
The "First Response Team" has also assigned a public phone number to respond to any drowning emergency in Raqqa and its outskirts. 
Contrary to Raqqa, Deir Ezzor governorate has no response team for rescue operations, and it is up to its inhabitants to deal with such incidents, based on what was monitored by Enab Baladi.  
Rescuer on demand 
Khalid Harith is a diver, and a freediving hunter, known for his skills, does not work within the team, but he publishes his underwater trips on "Youtube" and "Facebook" and participates in rescue operations and retrieving bodies from the river. 
Khalid told Enab Baladi that he retrieved many bodies from the river under the request of the "First Response Team," reaffirming the importance of rescuers near areas popular for swimming, because "drowning may occur at any minute, while later work is limited only to finding bodies of the victims."
Based on his expertise in diving in the Euphrates River, Khalid thinks that most of its spots are unsuitable for swimming due to its strong stream that drives swimmers away quickly, making such a ritual a real risk that requires cooperation between both residents and local authorities to survive it. 
if you think the article contain wrong information or you have additional details Send Correction