Homs northern countryside deprived of internet access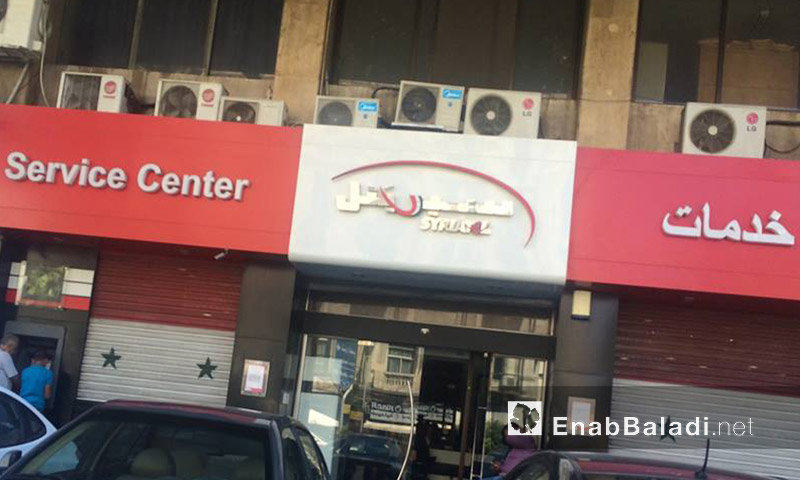 Enab Baladi- Orwah al-Mundhir
Umm Muhammad, who lives in Talbiseh city, northern Homs, misses her children who have taken refuge in Europe. She talked to Enab Baladi about her suffering while using her mobile phone. Being an old lady, Umm Muhammad cannot write them, and she has to use video calls or send voice messages instead, a process usually hindered by slow internet.
Her son had sent her a mobile phone, but she was unable to extend an internet line from Homs city to her northern region. She had to buy a device worth 200 thousand SYP (389.82 USD) to be able to connect the network line to her home and talk to her loved ones in clear and uninterrupted voice calls. 
Three years ago, during Syrian opposition factions' control over Homs governorate, the need for good internet lines to ensure effective communication between the fighting factions and the departments of local and international organizations came to the surface.
Consequently, internet lines were extended from Turkey to the northern countryside of Homs to supply homes, streets, and farms using more than one "Wi-Fi" network.
Poor infrastructure 
Mamoun al-Sheikh, a resident of the northern countryside of Homs, had an internet line from Turkey before the so-called "reconciliation" agreement. Back then, he had an effective internet network, but now he is unable to obtain the same service from the city center in Homs.
It has been three years since the so-called "reconciliation" agreement took place and was imposed by Russian forces, Syrian regime's allies, on Syrian opposition factions in Homs countryside, leading to regime forces' control on the whole region.
Yet, government institutions' role responsible for the provision and development, as well as the implementation of programs related to these services is still missing from the picture. 
At a time when the region was under opposition faction's control, regime forces destroyed almost completely the infrastructure and stroke vital centers, including posts offices in both al-Rastan and Talbiseh towns, and the local distributor in al-Houla Plain, northern Homs.
These attacks led to the deterioration of telecommunication services as a result of the malfunctioning or the out-servicing of many communications towers affiliated to the two only mobile phone providers inside Syria: "Syriatel" and "MTN." 
Small-scale telecommunications service
According to the area's residents, telecommunications towers deployed by these mobile network providers have failed to rise to the required level of service, while their scope of services is limited to the Homs-Hama International Road, part of the Damascus-Aleppo International Road (M5). 
According to Muhammed Kajo, a telecommunication engineer who lives in al-Rastan town, the main problem resides in obtaining an internet connection from one of the neighboring towns on the other side of the al-Rastan Dam.
He explained to Enab Baladi that the area on the other side of the al-Rastan Dam is administratively part of Hama governorate, while al-Rastan city belongs to Homs governorate. This situation forces residents to receive an exception from Hama governor to have access to the network and install a broadcast device and a receiver later. 
Per Muhammed, the real dilemma is that the only telecommunication system allowed to use works in one case only when both the broadcast device and the receiver are on the same height. Consequently, depriving al-Rastan city of access for being relatively low in comparison with the neighboring areas. Talbiseh city experienced the same problem, where the long distance prevented network connection from being deployed, hence limiting this project to farms only. 
High costs and bad services 
Syrian regime's government does not allow the use of an advanced telecommunication system for an adequate internet service in these areas so that Syriatel and MTN, the only two cell phone providers, will not miss their chances to reap financial profits amid the deteriorating economic conditions in the country. 
In the absence of a better choice, some of the residents are burdened by the high costs of internet service subscriptions compared to those of obtaining Wi-Fi service. 
Nour al-Din Muhammed, a resident of Granada village in the city of al-Rastan, told Enab Baladi that he bought a device to detect internet network signals, at a cost of 46 thousand SYP ( 89.41 USD). Muhammed had put it three meters long of the surface on a pole, so as to pick up internet connection signals; however, internet speed is still extremely bad compared with the paid price. 
Nour al-Din's case is less annoying compared to those obliged to deal with either of the two cell phone providers, as one gigabyte (GB) amounts for more than 12 thousand SYP (23.32 USD), while he pays now five thousand SYP (9.71 USD) for 30 GB monthly.
if you think the article contain wrong information or you have additional details Send Correction