Fuel prices hike in Idlib due to production shortage and demand increase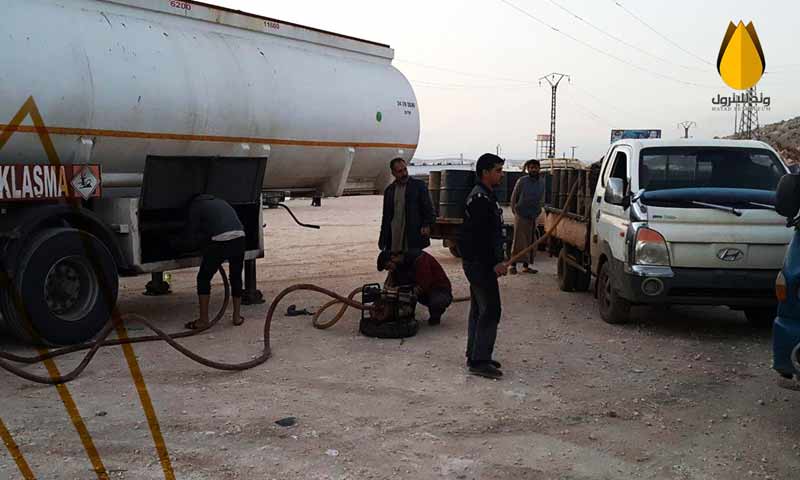 Enab Baladi- Idlib 
With the start of Ramadan, the scarcity of fuel in Idlib city, northwestern Syria creates new suffering for Idlib residents, especially farmers, and adds another challenge in securing daily needs.
In addition to the price hike in basic commodities, prices of fuel have increased as well, particularly diesel, used in many services such as operating vehicles and agricultural irrigation machinery.
Decrease in production
Cities in northern Syria witness a decrease in fuel production, especially diesel, according to Safwan al-Ahmed, media office official in "Watad Petroleum Company", which has exclusive rights to import oil and gas from Turkey. According to the official, this decrease was due to the inability of the company, which runs the fuel market in Idlib currently, to secure the required quantity of diesel usually imported from Turkey.
Al-Ahmed attributed this shortage to work suspension of some Turkish oil companies as part of the precautionary measures against the novel coronavirus (COVID-19) spread. 
Al-Ahmed told Enab Baladi that the company used to depend on its fuel output on diesel coming from northern Syria, more specifically from Turkish oil companies, which consequently led to a scarcity in the imported quantities in Idlib.  
An increase in demand and prices 
The second reason behind this shortfall in diesel inside Idlib, according to al-Ahmed, is due to people's tendency to buy more goods and food commodities in Ramadan, which also increased the demand for fuel products. 
The closure of crossings between areas under the control of the Kurdish-led "Syrian Democratic Forces" (SDF) and areas in the northwestern including Idlib, has contributed significantly in the interruption of refined diesel supplies in the last period, where the SDF-controlled areas are the main source of diesel used in northern cities. 
In Idlib, one liter of imported diesel costs about 760 SYP (1.48 USD), while the same quantity of imported petrol amounted to 610 SYP (1.18 USD). Gas cylinders, on the other hand, cost about 10,100 SYP (19.68 USD), according to Watad's bulletin prices published on its Facebook page on 25 last April. 
Criticism
Bulletin prices published by the company raised discontent and criticism among buyers in Idlib, who talked about their practical experiences in buying fuel and the recent fuel price hike.
One of the buyers confirmed that he filled his car with petrol near Hazano village and paid an additional 20 SYP (0.03 USD) than the price mentioned in the bulletin, while others said that fuel is completely missing in their areas. 
Commentators compared fuel prices, especially that of gas cylinders, between Idlib areas and the northern countryside of Aleppo, and they pointed out that gas is available in the latter at a price less than that of Idlib by 3,000 SYP (5.84 USD) per cylinder.
Expectation of drop in prices
Due to the global decline in oil prices, the media office official in "Watad Petroleum Company", expects a decrease in diesel prices in northern Syria. 
The official said to Enab Baladi that the rates of reductions are to be different, where one barrel of petrol is expected to amount to 53.5 USD, while one barrel of diesel will cost 25.5 USD and a gas cylinder to be 2.2 USD. 
Al-Ahmed added diesel prices across northern cities are "close" and less than fuel prices in southern Turkey by ten SYP (0.01 USD).
if you think the article contain wrong information or you have additional details Send Correction