"Al-Anaya" a deep-rooted Ramadan ritual in Daraa defying prices' hike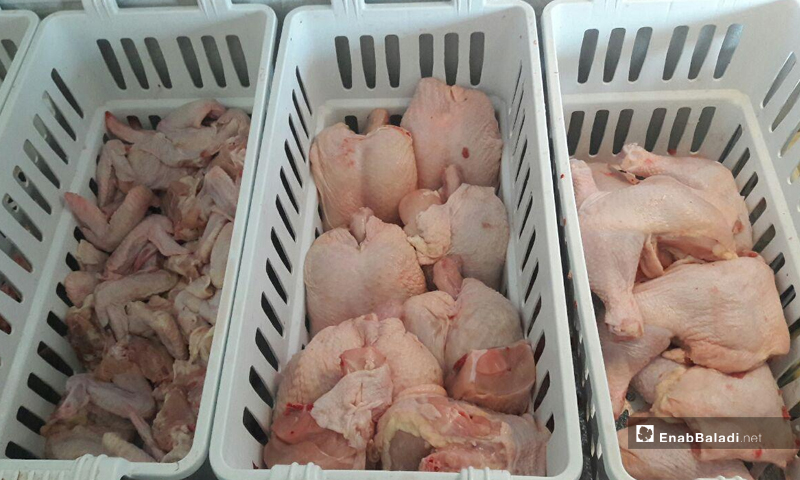 Enab Baladi – Daraa 
From one house to another, men residing in Daraa visit their female relatives to check on their conditions during the last days of Ramadan, carrying out food to strengthen their kinship ties and show support, in a persistent ritual restricted only to people of the south, a custom that still exists in a world full of changes.
During Ramadan, Daraa inhabitants are committed to visiting 'al-Anaya" (a term usually used to describe female relatives), to provide aid and distribute chicken meat for their benefit and help them secure these basic meals.
The term "al-Anaya," plural of "Aniya," refers to a female relative of the first or second degree or any lady a man of the same family feels obligated to provide for and help, such as daughters, sisters, aunts or other kinswomen.   
During the current Ramadan, Daraa residents did not stop distributing chicken to their female relatives, in a ritual called "al-Anaya" despite its high prices in Syrian markets. 
Kinship ties
The term "al-Anaya" is based on the idea of social solidarity where men feel obligated to provide for the less fortunate women in the family, according to the traditions and customs of Syria's southern residents.   
This ritual holds a special place in Daraa's traditions, which goes beyond its financial costs, given its positive psychological impact resulting from strengthening family and kinship ties. It also contributes to reducing the financial burden on some of these women, especially after one kilogram of chicken amounted to SYP 1,400 (USD 2.72), based on what was monitored by Enab Baladi. 
On 17 March of this year, the Advisory Council on Poultry in Syria set the price of live chicken meat at SYP 1,200 (USD 2.33), according to what the Ministry of Internal Trade and Consumer Protection has published on its official Facebook page.
Poultry markets touched a remarkable peak during the current year compared to the previous ones, as a series of hikes in prices began with winter due to the increase of production costs as well as the death of large numbers of chickens resulting from cold weather.
According to the latest poultry prices update, issued by the Ministry of Internal Trade and Consumer Protection in the regime's government, last February, the cost of one kilogram of chicken fillets amounted to SYP 3,200 (6.22 USD), while the original price was SYP 2,650 (USD 5.15). 
Meantime, the price of one kilogram of chicken meat went up from SYP 1,650 (USD 3.20) to SYP 2,200 (USD 4.27), compared to the same quantity of live chicken meat that saw an increase in prices to reach SYP 1,475 (USD 2.86). 
Production and U.S dollar
Veterinarian and the head of the Poultry Committee in Daraa, Dr. Waheb Al-Miqdad, linked this hike in prices to the increase of production costs. He also confirmed that poultry breeders have nothing to do with it and that the main factor is the high costs of poultry farming, as reported by"Tishreen" newspaper. 
Technical advisor in the Chambers of Agriculture in Syria, Abd al-Rahman Karnafleh, told the same newspaper, that the decline in the value of the local currency (Syrian Pound) against foreign ones hurts poultry farming because most of the production inputs are imported and paid in foreign currencies. 
Moreover, chicken meat prices have experienced an increase despite the extremely high demand arising from "al-Anaya" ritual and helping the poor during this holy month, based on what was monitored by Enab Baladi's correspondent in Daraa.
if you think the article contain wrong information or you have additional details Send Correction