A missing aid shipment to As-Suwayda worth 1.2 million Euros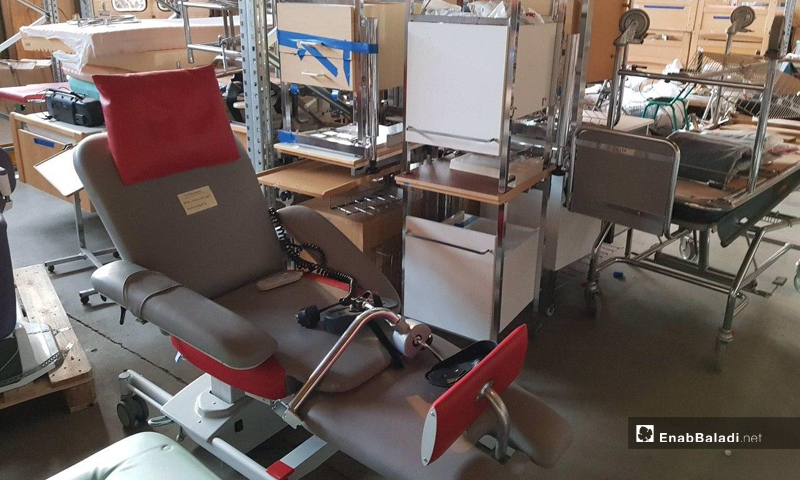 Enab Baladi- Nour Aldeen Ramadan
Coordinators of a medical aid shipment provided by Finnish associations are still looking for it after going missing for three months since its arrival to As-Suwayda city. The donor associations said that providing more aid in the future is conditioned by delivering this shipment to the intended recipients. 
The shipment, held by the Syrian regime's Health Directorate in As-Suwayda, includes medical equipment, sterilizers, and other protective materials against the novel coronavirus (COVID-19). 
Coordinator in the "Syrian-Finnish Friendship Association," Imad al-Khatib, who is also a supervisor on the aid shipment, told Enab Baladi, that the shipment arriving at As-Suwayda early last February is worth 1.2 million Euros, according to donors. 
According to al-Khatib, this shipment includes dozens of medical equipment, ventilators, hospital beds, protective equipment against the virus as well as sterilizers. Al-khatib added that these items are of high value in the light of the pandemic spread. 
Al-Khatib said that holding the shipment by As-Suwayda's Health Directorate stands in their way of sending more shipments to other areas inside Syria, as the association asked him to document the arrival and distribution of the last one for beneficiaries, to resume sending other scheduled shipments.
Correspondents… A prolonged Inspection  
Al-Khatib, who has been in Finland for the last 40 years, said that he contacted the Syrian embassy in the Swedish capital and "Syrian Arab Red Crescent" (SARC) as well as members of "the Syrian People's Assembly" to ask them about the shipment. Still, there has been no response to his inquiries.
Meantime, the Health Directorate in As-Suwayda has refused to disclose the fate of the shipment to several dignitaries in the city, according to al-Khatib. 
However, the local website "Suwayda 24", has reported on the Director of the Health Directorate in As-Suwayda, Dr. Nizar Mhanna, that portion of the said shipment arrived at the directorate; however, when it comes to its distribution, it is not the directorate's decision to make.  
According to Dr. Mhanna, the directorate's role was limited to sending medical engineers to inspect the shipment and conduct an inventory count jointly with a committee established by beneficiaries. 
The shipment's coordinator, al-Khatib, wonders about "what holds back distributing a shipment of medical supplies in the times of coronavirus? and does it take three months to inspect a shipment, at a time when all countries are in search of medical supplies to fight the virus pandemic?" 
Past suffering 
Seizing deliveries is not a new phenomenon, as Europeans have tried several times before to reach Syria to follow them up; however, their attempts have always been stymied by the Syrian regime. 
Finnish priest Erkki Ilkalanen, who works with donor associations, has tried, even at his old age of 75 years, to find shipments to distribute them inside Syria. 
After more than a month of suffering to obtain an entry visa to Syria from the Syrian embassy in the Swedish capital, Stockholm, he was able to travel to Lebanon and go from there to Syria. 
The priest told Enab Baladi that the regime's checkpoints along the Beirut-Damascus highway did not allow him to reach Damascus and forced him to return to Lebanon.  
Al-Khatib keeps appealing to inhabitants and those in charge in As-Suwayda to exert pressure on bodies controlling the shipment and its distribution to be able to send more deliveries into other parts in Syria.
if you think the article contain wrong information or you have additional details Send Correction