Turkish flag instead of Öcalan's mural in Afrin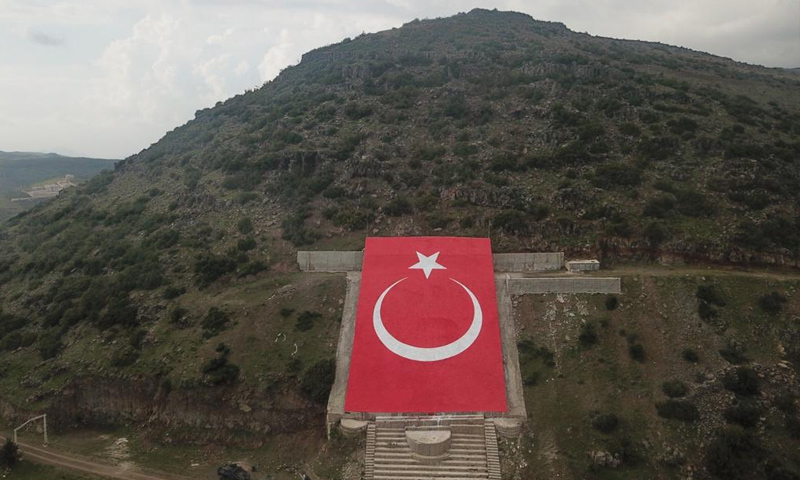 Turkey installed its flag instead of the mural of the leader of the "Kurdistan Workers' Party" (PKK), Abdullah Öcalan, which was destroyed by Turkish drones in Afrin in the countryside of Aleppo.
On 9 April, Volkan Yılmaz, Silivri district mayor, published through his Twitter account, pictures showing the image of the Turkish flag at the southern slope of Darmaq Mountain located in the northern countryside of Afrin.
Yılmaz said that a number of Turkish soldiers asked him to help provide the needed paint for painting the Turkish flag over the of Öcalan, which was later delivered to them by a man in the Turkish state of Gaziantep.
He added that the process lasted 45 days, expressing his hope that the Turkish flag will remain in place forever, saying that "a flag raised once will never fall again."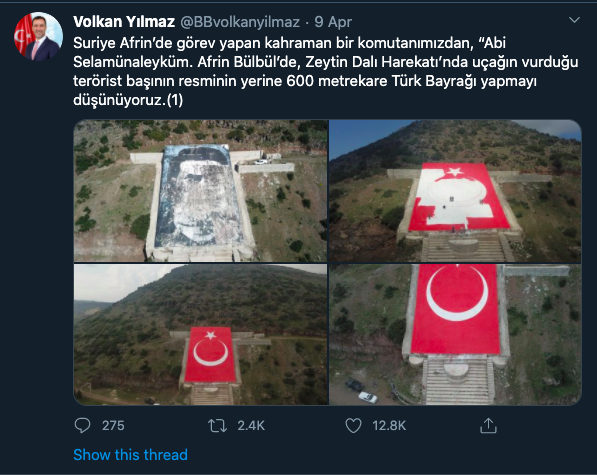 Meanwhile, Turkish websites reported that the area covered by the flag is about 600 square meters (m²).
In early February 2018, Turkish drones targeted Öcalan's mural, statue-like, as part of the "Olive Branch" operation held in Afrin.
Back then, the Turkish General Staff displayed a videotape showing the destruction of Öcalan's so-called 'monument', which covered a vast area of cement. 
In June 2016, the Turkey-supported "Sultan Murad" faction, operating under the banner of the "Syrian National Army" (SNA), placed a picture of the Turkish President, Recep Tayyip Erdogan next to the Turkish flag and the Syrian revolution flag instead of Öcalan's portrait and wrote, "Gifted by Murad Sultan Faction." 
This came a day after the Turkish president Erdogan re-won the Turkish elections, while his ruling Justice and Development Party (AKP) topped the rest of opposition parties in parliament.
Turkey has led a military operation against the (Kurdish) "People's Protection Units" (YPG)in Afrin and took control of it in March 2018.
Öcalan is considered the first founder and leader of (PKK), which Turkey considers a "terrorist organization." At that time, Öcalan tried to establish an independent state, which led to a military collision with Ankara in 1984, punctuated by several peace attempts. 
Later on, he was arrested in 1999 at the Greek embassy in Kenya, after being expelled from Syria by the former Syrian President, Hafez al-Assad, under Turkish pressure. Öcalan left Syria towards Russia, then to Italy, and finally to the Greek embassy, where he was arrested.
Turkey put him on trial for treason and was sentenced to death, before converting his sentence to life imprisonment following the abolishment of the death penalty in Turkey. 
He is now serving a life sentence in İmralı Island prison in the south of the Marmara Sea off the coast of Istanbul.
if you think the article contain wrong information or you have additional details Send Correction