Self-employed break "coronavirus" preventive measure in Homs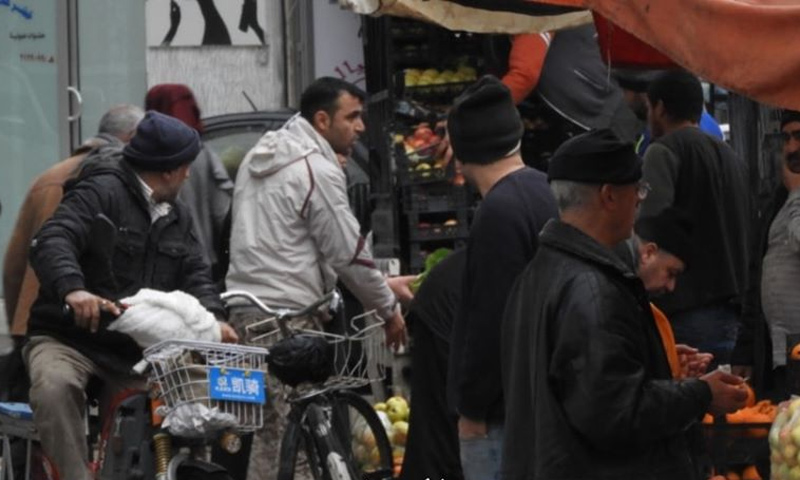 "If I do not work, I will die of hunger and not from coronavirus."

With these words, Youssef Najjar, who works as a barber in Talbiseh city, in rural Homs, responded to the Syrian regime's measures to prevent the spread of the novel coronavirus (COVID-19), which imposed a partial curfew in the regime-controlled areas.
Last week, the regime's government undertook several precautionary measures to curb the coronavirus spread, which included closing restaurants, cafes, and markets, except for grocery stores. The government also decided on shutting down public and private transport and movement between cities and rural areas, as well as imposing a partial curfew from 6 p.m. until 6 a.m.
The implementation of such measures came after the number of coronavirus infections in Syria reached five, according to the Ministry of Health's announcement on 25 March.
Meanwhile, they have had negative impacts on many self-employed people due to their businesses' total or partial cessation being their only source of income.
Houses transformed into barbershops
While Syria's Ministry of Interior tightens its grip on the implementation of these measures, some self-employed resorted to moving their works to their homes out of the sight of police and security patrols that roam the areas.
Among these, the barber, Youssef Najjar, who said he wished he could stay home and keep social distance and isolate himself, where he and his family can take preventive measures, but the absence of an alternative source of income other than his job, forced him to work from home.
Najjar elaborated by saying, "my financial situation does not allow me to sit without a job, I have four children, and I have to provide for them," which consequently prompted him to move his barbershop to one of his house rooms and receive customers through phone reservation to avoid crowding. Najjar pointed out that some barbers who cannot provide their services at home and go to that of their customer's instead.
The haircut fee remained the same despite location change, as the customer is charged with 700 Syrian Pounds (SYP) (0.515 USD) (with an exchange rate of 1,300 SYP per dollar).
As for Imad, a motorcycle mechanic in Talbiseh city, also known as "Abu Nasih," he had to transfer his entire work kit to his home warehouse after the implementation of these measures. Like many self-employed, Imad wants to maintain his income; besides, the motorcycle owners need their broken vehicles to be repaired, for they are the only means of transportation in the region.
"Abu Nasih" pointed out to a hike in the price of spare parts, resulted from hardware stores' closure as well as the decline in the Syrian Pound against the dollar, as the price of spare parts for bike "Bart 125" (piston and piston ring cost about 6,700 SYP (5.255 USD)، while the cost of full maintenance of an engine costs about 2,500 SYP (1.961USD).
Poverty breaks quarantine
The regime's government set of measures was met with various responses on social media outlets, between those who think it deems necessary and preventive to curb the virus spread, and those who see it as additional suffering for some Syrians. The actions come at a time when the regime's government does not have the required infrastructure to keep people under quarantine through providing financial help for self-employed whose work has dried up amid the coronavirus crisis, in comparison with the rest of developed countries.
Moreover, the past years of war have also drained the Syrian citizens' savings, where 80 percent of them live now below the poverty line, according to a report issued by the United Nations (UN) in March 2019, and 11.7 million Syrians need some form of aid, including food, healthcare, and shelter.
All of this prevents many Syrians from closing their stores and losing their only source of income. Every day of closure is offset by a decline in the family's standard of living, especially with the increased expenses spent on sanitizers and cleaning products, which cost now double the regular price, and foodstuff rose by about 30 percent, according to what was monitored by Enab Baladi.
No official statement was issued on the possibility of helping self-employed and sole traders; however, the former Governor of the Central Bank of Syria (CBS), Duraid Durgham, suggested offering a monthly compensation of 50,000 SYP (39.683 USD) for those registered in social security and for those whose work has dried up. Still, there is no response from the government on the proposal.
if you think the article contain wrong information or you have additional details Send Correction