Pictures of weapons used by fighters who left the U.S. base "al-Tanf" to join regime forces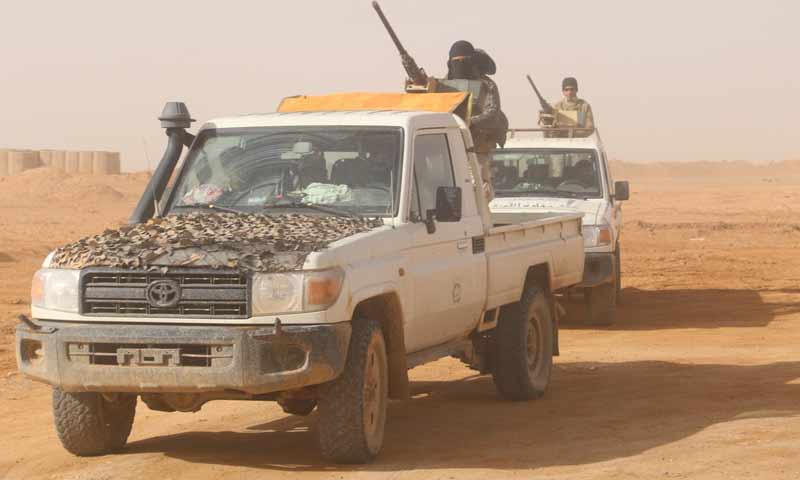 The Russian Network News Agency, "ANNA," posted on its "Telegram," pictures of fighters leaving the U.S. "al-Tanf" military base, two days ago, towards the Syrian regime forces' controlled ones, in what Syrian regime media described as "surrender."
The released photos, on 17 April, showed several fighters, along with machine guns, ammunition, and military vehicles.
In a statement published by ANNA, the head of the Russian Center for Reconciliation in Syria, Oleg Zoravlev said "the number of fighters who surrendered to the Syrian regime from al-Tanf area is 27," pointing out that "they were receiving training at a U.S. military base near "al-Rukban" camp.
He added that these fighters had been planning for a while to return to the areas of the Syrian regime and civilian life, he said.
On 15 April, Syrian regime media outlets released a video showing the arrival of several military vehicles loaded with fighters to the regime-controlled areas in Homs countryside.
"Almasdarnews" website, monitoring regime forces' movements in the Badia area, said that those fighters willingly surrendered themselves to the Syrian regime forces and handed over their weapons and equipment. The same website pointed out there had been ongoing coordination for some time. 
For his part, the director of the "Hammurabi Agency," which provides news updates on "al-Tanf" base and the movements of the "The Revolutionary Commando Army" faction periodically, Hazem al-Salloum, said that the group leaving al-Tanf region works for "the Revolutionary Commando Army." He also pointed out that its leader is called "Ghanam al-Khudair, a well-known drug smuggler in the region, who joined "the Commando" in 2018. 
Enab Baladi contacted Said Saif, a journalist familiar with the Syrian Badia situation, who confirmed the defection of a group from "al-Tanf" base headed by Ghanam al-Khudair aka "Abu Hamzah Asha'ir." 
The journalist stressed that al-Khudair is a well-known drug smuggler in the Middle East region; he has connections with the Lebanese "Hezbollah" and other regional parties involved in the drug trade for many years.
In a previous statement, the Revolutionary Commando Army, denied Ghanam al-Khudair's connections with the "commandos," clarifying that some of his relatives joined the "commandos" previously to leave it with him later.
The statement also mentioned that al-Khudair had left the region because he was unable to smuggle drugs in it, pointing out that "commandos" members allowed him to leave along with his family to spare a conflict with him, especially that women and children accompanied him.
if you think the article contain wrong information or you have additional details Send Correction