Livestock vaccination campaigns to promote production in Daraa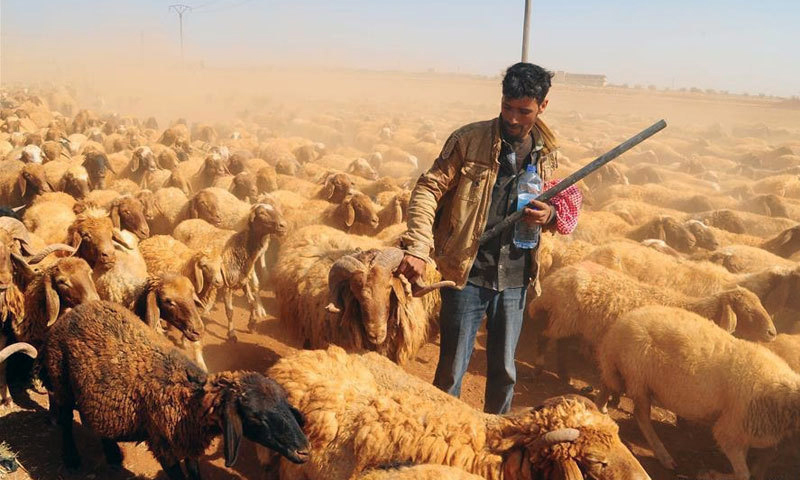 Daraa – Halim Mohammed 
Daraa province is a stage for periodical livestock vaccination campaigns against various infectious diseases, where the doses given to livestock provide immunity to different viruses for a whole year.
In the past few years, viral diseases spread between livestock in Daraa province that caused significant losses in this sector, most notably foot-and-mouth disease (FMD), and lumpy skin disease (LSD), as infectious and epidemic diseases.
FMD
Foot-and-mouth disease (FMD) is a highly viral infectious disease that mostly affects cows, sheep, and goats. The virus can be transmitted in a number of ways, either through the air or directly through contact with infected animals or even through the contamination of fodder, waterers, and barns.
A veterinarian in the countryside of Daraa ( who preferred to remain anonymous for security reasons) explained to Enab Baladi that symptoms of FMD disease include drooling, blisters on the lips or mouth, accompanied by high fever and a drop in milk yield. 
No cases have been recorded so far to prove or confirm that the virus is transmissible to humans, according to the vet, who explained that the only way to curb it is through annual periodic vaccinations provided by counseling units for all domestic animals. These vaccines provide the antidote that makes animals immune against the virus for a whole year, leading to a significant decrease in the number of infections last year. 
LSD
Lumpy skin disease (LSD) is a disease characterized by enlarged superficial lymph nodes and multiple nodules, accompanied by high fever with nasal discharges and drooling. 
The vet that Enab Baladi interviewed said that symptomatic cows need to be isolated immediately from the rest of the cattle, as well as an urgent consultation from the vet.   
The infection is transmitted through insects and mosquito bites and can be treated. However, treatment costs can be avoided through periodic vaccination.
The vet pointed to the necessity of a time difference of no less than 15 days between FMD vaccine and LSD vaccine, for better immunization.
Annual vaccination campaigns
The Animal Health Department (AHD) of the Syrian regime's government has followed up on the implementation of vaccines against livestock infectious diseases during the past year, and a new round has started this year.
The AHD plan for the year 2019 has been implemented in Daraa, through vaccinating 352,000 sheep against anthroximia, while 46,000 cattle had been given injections against LSD. Another 70,000 sheep were vaccinated against anthrax. In addition to 26 thousand and 500 cows and weaned cows were vaccinated against "brucella," according to the deputy director of Agriculture and Animal Wealth affairs in Daraa, Ayman Makhlouf, as reported by the Directorate's "Facebook page." 
Mohamed Nour el-Din, a cattle breeder in the western countryside of Daraa, told Enab Baladi that the agriculture extension unit affiliated to the Syrian Ministry of Agriculture and Agrarian Reform paid visits to all breeders in the area, and gave them the necessary vaccinations to avoid infectious diseases. In addition to that, animals also benefit from free and periodic vaccinations. 
To prevent losses, livestock breeders need to avoid these contagious epidemics, especially that a large number of rural residents depend on livestock as a source of livelihood, said Nour el-Din.
Significant growth in livestock numbers
Several projects have been established to improve the quality and productivity of cattle during the past two years. In the meantime, the livestock sector recovered after the return of the internally displaced people (IDP) who fled the bombing of the regime forces, leaving their cattle behind. 
The numbers of livestock started to improve in Daraa, as the number of sheep and goats reached 750,000 last year, annually producing 24,000 tons of milk, and 6,900 tons of meat.
The number of cows in Daraa reached 34,136, annually producing about 42,000 tons of milk, and 2,900 tons of meat, according to a statement by the Head of Daraa's Provincial Department of Agriculture, Abdel-Fattah al-Rahal, quoted by the official Facebook page of the Directorate.
if you think the article contain wrong information or you have additional details Send Correction