IS kills Autonomous Administration's official in charge of fuel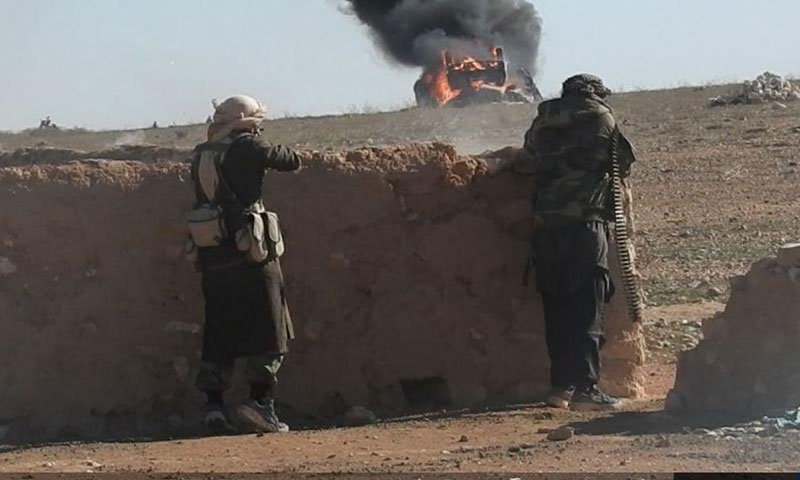 The so-called "Islamic State" (IS) has claimed responsibility for killing an official in charge of fuel in the Kurdish-led Autonomous Administration of North and East Syria (NES) institutions in Deir Ezzor.
"Amaq" news agency affiliated to "IS," said, through its "Telegram," yesterday, that some "IS" members targeted Ahmed al-Sheikh with a machine gun, which led to his immediate death. 
"Amaq" accused al-Sheikh of working for the intelligence services affiliated to the Kurdish People's Protection Units (YPG), based on what was monitored by Enab Baladi. 
For its part, "Deir Ezzor Media Center" affiliated to NES said that Ahmed al-Sheikh was working as a mayor in al-Jarzai Al-Gharbi village located in the eastern countryside of Deir Ezzor.
The Media Center also emphasized that al-Sheikh was in charge of fuel of the "Municipalities and Public Services " in "Deir Ezzor Civil Council" affiliated to NES.
While, the local Facebook page, "Euphrates Post," pointed out that al-Sheikh was killed along with his nephew, after being shot by unknown persons in al-Shaheil town.
"IS" targets, on a daily basis, members of the "Syrian Democratic Forces" (SDF), as well as employees working for NES's institutions in Deir Ezzor.
Meantime, Amaq agency publishes statements on these operations continuously, which also include details about operations launched by "IS" against Syrian regime forces in Deir Ezzor.
In the past few months, SDF, backed by the International Coalition Forces (ICF), confirmed that IS organization has stepped up its operations against SDF members through its sleeper cells in areas under NES's control.
A week ago, ICF led by the United States, issued a statement in which it confirmed the coalition's intention to continue fighting IS' cells in both Syria and Iraq.
This statement coincided with its forces completion of long-range artillery and the use of live ammunition training in the vicinity of the "Koniko" field and the "Jdeid Akkidat" field in the eastern countryside of Deir Ezzor.
if you think the article contain wrong information or you have additional details Send Correction