Increasing assassination attempts against regime forces' members in Daraa in last two days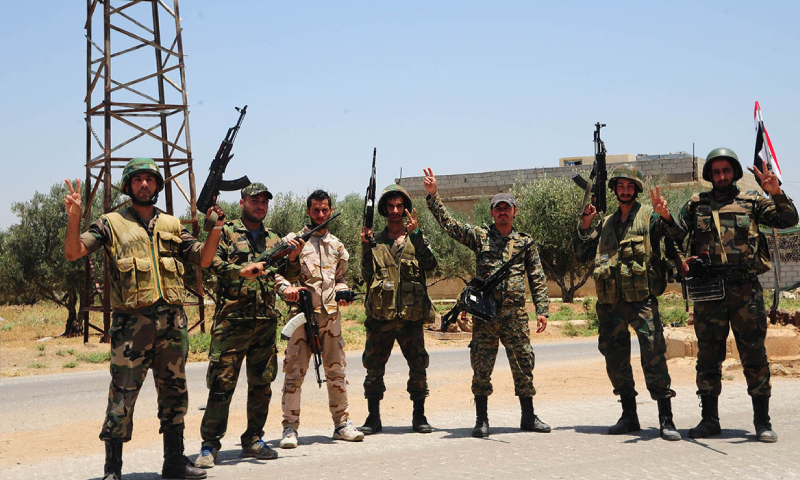 The assassinations that targeted elements of the Syrian regime forces in the Syrian north have increased during the past two days.
Enab Baladi's correspondent in Daraa reported on 17 April that unidentified gunmen assassinated a non-commissioned officer (NCO), voluntarily serving in the regime's army, in Khirbet Qais town in the western Daraa countryside yesterday.
Earlier that day, another assassination attempt with a silenced pistol was carried out against a soldier from the regime's army in the city of Nawa, which is also in the western countryside of Daraa province.
The soldier was wounded and carried to Nawa National Hospital before some of the settlement officers affiliated to the Military Intelligence Branch shot fire against the attackers and killed one of the masked men.
Regarding the incident, Daraa's correspondent of Sama channel, a Syrian regime-affiliated television channel, Firas al-Ahmed, published on his Facebook account that a regime member had been shot in the abdominal region by unknown gunmen.
Al-Ahmed said the gunmen fired straight at their target while they were on a motorcycle on the highway in Nawa city near the old police station.
He added that unidentified assassins targeted members of the Syrian regime's forces in two other separate incidents in rural Daraa.
The first incident targeted two elements of the "38th Brigade" affiliated to the regime's forces positioned between Izra and Namer areas, leading to the killing of both of them.
The second targeting severely injured two other members of the "Fifth Corps" after being shot by unknown gunmen between Izra city and Busra al-Harir town, according to the correspondent of Sama channel.
The two assassination attempts were followed by raids and arrest campaigns by the regime's forces in Maliha al-Atash town in the eastern countryside of Daraa.
Meanwhile, the so-called Islamic State (IS) claimed responsibility for killing and injuring five members, including an officer from the Syrian regime forces, in the countryside of Daraa province yesterday.
IS'fighters shot fire at a military vehicle near Izra town, north of Daraa (in the western countryside).
Last Wednesday, Ali Ghassan Raslan, a sergeant major serving in the regime's forces, was assassinated in al-Nasiriyah town, western rural Daraa. Hours before, another soldier was assassinated in Ain Dhakar town.
The assassination attempts were frequent in Daraa since the Russian-backed Syrian regime forces regained control of Daraa and al-Qunaytirah provinces in July 2018 under an agreement imposed on those wishing to settle their situation in the area. The agreement included a pledging document of 11 articles, enclosed with documentation sheet to obtain all information related to opposition factions and their funding resources.
if you think the article contain wrong information or you have additional details Send Correction