High expectations for wheat crop despite challenges… Can northern Syria become self-sufficient in wheat?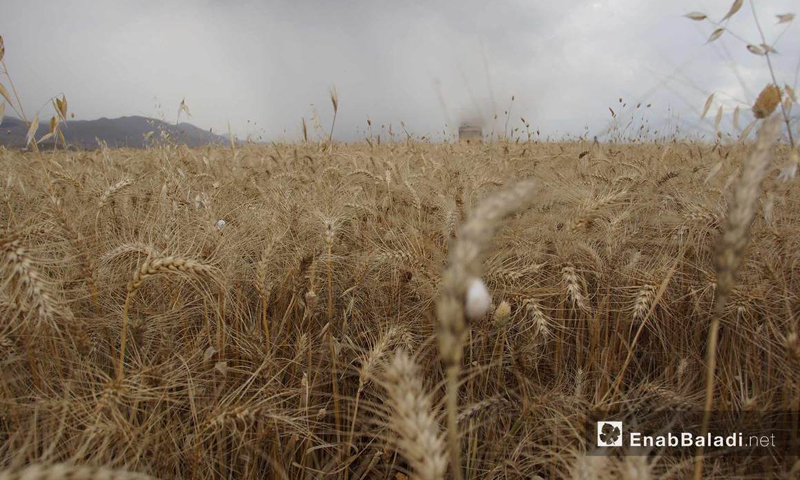 Enab Baladi- Abdullah al-Khatib
Although the Jazira region, formerly known as Jazira Canton, is the actual center of wheat cultivation in Syria, agricultural organizations in the northwest are aiming to support the wheat sector, in an attempt to secure growing needs, amid the recent movement restrictions and the increasing difficulty to import anything.
Both experts and farmers in northwestern Syria (Aleppo countryside and Idlib governorate), whom Enab Baladi contacted, expect a promising crop of wheat in the agricultural lands, despite all the differences and challenges each region faces. 
A better wheat season in Aleppo
Abdul Karim al-Karmo, an agricultural engineer and one of al-Bab city residents in Aleppo countryside, told Enab Baladi that he was expecting a lucrative season for his wheat crop. Meanwhile, farmers in Idlib face more enormous challenges, mostly related to security.
The local council of Marea city, in Aleppo countryside, linked its expectations of a good season of wheat in the region to rainfalls, which helped the irrigation of croplands.
Hassan al-Muhammad, director of the general foundation for grain, affiliated to the "interim government" in northern Syria, confirmed to Enab Baladi that the weather and climatic conditions these days are excellent for wheat, as he also expected a good production season for grain crops such as wheat, barley, and legumes.
Fundamental differences between Idlib and Aleppo 
Wheat cultivation undergoes fundamentally different experiences between Idlib and Aleppo, mostly linked to agricultural lands, their nature as well as the capabilities used in each region. 
Mustafa Khanous, an agricultural engineer and a resident of Kafar Awid village in Idlib countryside, said to Enab Baladi, "areas like al-Ghab Plain, Saraqib, Taftanaz, and Binnish used to be the main reservoirs of wheat cultivation in Idlib, but military campaigns conducted by the Syrian regime and its ally Russia turned everything into ashes and left nothing behind."
According to Khanous, fields in these areas are considered to be fertile, famous for their high productivity, and the excellent quality of their crops. But, they are no longer cultivated because of the ongoing battles and farmers' displacement, leaving only areas near the villages of Hazano, Kibin, and al-Atārib.
The director of the foundation for grain northern Syria, Hassan al-Muhammad, thinks otherwise. He told Enab Baladi that Idlib and both western and northern Aleppo countryside till al-Bab and Jarabulus cities were not among the main production areas of wheat in Syria. He explained that Idlib and its countryside produce wheat in small quantities at the expense of fruitful trees such as olives, the same applies to the northern and western rural areas of Aleppo.
As for areas they supervise (i.e., the general foundation for grain) in northeastern Syria, precisely, in Tel Abyad and Ras al-Ain, they are essential for wheat production, as al-Muhammad put it. However, due to several reasons and challenges, most farmers chose to cultivate barley and other rainfed grains, at the expense of wheat. 
Consequently, and because of the widely soils cultivated for rainfed farming, these two major wheat-producing regions can not contribute to covering all wheat needs in the opposition held-areas, according to al-Muhammad.
What are the challenges faced by farmers?
Al-Karmo, both an agricultural engineer and a farmer in Aleppo countryside, ranks the agricultural cost on the top of difficulties he struggles with due to the high price of diesel, which is farmers' biggest dilemma in those areas.
Followed by wheat diseases, this season, for example, his wheat crop was heavily infected with leaf rust. This disease damages wheat completely to be later sold only as fodder and not for human consumption, taking into account the high cost of treatment. 
The director of the general foundation for grain, Hassan al-Muhammad, agreed with al-Karmo regarding the problems farmers face in the countryside of Aleppo. He also considered securing agricultural supplies such as fuel, fertilizers, pesticides, and treatments to be among the few challenges that hinder farming and push landowners towards rainfed agriculture at the expense of wheat.
Meantime, Mustafa Khanus, who is an agricultural engineer in Idlib, attributed the region's decline in wheat production to the attacks launched by the Syrian regime and seizure of lands, which in turn led to the displacement of farmers who left their fields behind without cultivation, all this in addition to the high population density in the region.
Al-Muhammad pointed out that the "Syrian interim government" seeks to resolve these crises through its institutions, mainly through the ministry of agriculture, the propagation of seed directorate, and The general foundation for grain, which support farmers and provide the available support to them. However, this support remains insufficient due to the lack of funding these agencies receive, an additional problem that farmers have to deal with.  
Absent wheat varieties… "high risk" in Idlib
According to Mustafa Khanous, many varieties of wheat were absent, particularly in Idlib, and the most significant difficulties facing northern farmers are those related to the process of mixing wheat varieties.
According to him, they had very strong and tasty varieties, but with the movement of displacement, and the absence of a generalized and a complete plan by agricultural entities, everything was up to the farmer, who might rent a particular variety of wheat from his neighbor, borrow another or buy a third, leading to a mixture of varieties. 
When one can mix the category "Douma 1" with "Sham 7", or "Douma 2" with "Sham 8" or with "Sham 10" or "Sham 6".
According to Mustafa Khanous, mixing these varieties creates a major agricultural problem and entails re-purifying them. This process might take six years, at least to regain control and maintain a new variety that goes in conformity with the region's morphology and hydrology (water).
Differences between 2019 and 2020 seasons
Abdul Karim al-Karmo believes that the difference in cultivation processes between the 2019 and 2020 seasons is reflected in the high cost of cultivation and treatment supplies. However, there were distributions of wheat seeds to encourage him and his fellows to cultivate.
Al-karmo used to cultivate and plant one hectare of his land at about 20 thousand SYP (38.87 USD) in the last season of 2019, but in the current season, it costs about 60 thousand SYP (116.63 USD).
Closing roads, as a result of the undertaken measures to prevent the spread of the novel coronavirus (COVID-19), also has a significant impact on the selling price. 
What about wheat self-sufficiency?
The Director of the Foundation for Grain, Hassan al-Muhammad, confirmed to Enab Baladi that Syria will not reach in all its agricultural areas what is called self-sufficiency when it comes to wheat. There is always a substantial deficiency between needs and the available crop.
Northwest Syria needs about 731 tons of wheat.
The expected yield is 300 thousand tons
Al-Muhammed expected that wheat farmers across the country will harvest between one million and 500 thousand tons and one million and 700 thousand tons under the best circumstances. 
Regarding the large gap between production and consumption, al-Muhammad said, there have been global studies by the World Food Program (WFP) as well as the Food and Agriculture Organization (FAO) and many other organizations, to determine the Syrian annual wheat consumption per capita. 
These organizations concluded that in Syria, the yearly average consumption per capita of wheat is 133 kilograms based on the nutritional patterns and customs of Syrian citizens. 
In case this was to be applied on the population in the " liberated" areas northern Syria, multiplied by the number of people living there which is estimated by five million and 500 thousand people, this means Syria will need 731 thousand tons of wheat annually when its annual crop does not exceed 300 thousand tons at best. 
This report was conducted in collaboration with Youssef Gharibi and Asim Melhem, Enab Baladi's correspondents.
if you think the article contain wrong information or you have additional details Send Correction