Displacement of livestock with their breeders… livestock breeds "at-risk" in rural Hama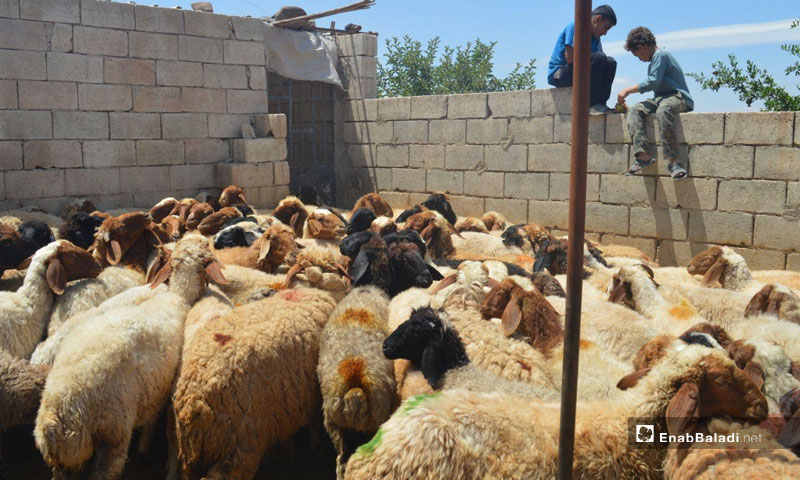 Hama countryside – Eiad Abu al-Joud
Military campaigns by the Syrian regime forces and its Russian ally on villages and towns of al-Ghab Plain and Jabal Shahshabo, west of Hama, in June 2019, led to massive waves of civilian displacements towards northern Syria.
Since most of al-Ghab Plain and Jabal Shahshabo residents depend on breeding livestock for their livelihood, a large number of them were forced to take their livestock on their journey of displacement and had to sell some of them later due to the high cost of grazing.
High costs
Heavy shelling on al-Sharia village, in the western countryside of Hama, forced Khaled al-Hussein to flee to the northwestern town of Armanāz, in the province of Idlib, taking with him four cows, his only source of income, according to what he said to Enab Baladi.
Al-Hussein said he was obliged to sell three of them later, due to the absence of a barn and rangelands. He also complained about the high prices of feeds compared to that of milk, whereby "a fodder bag costs more than 11,000 SYP (21.44 USD), while a kilo of milk is about 250 SYP (0.48 USD). 
Khaled al-Shehada, a  sheep breeder in Jabal Shahshabo, was forced to flee to Sarmada city in the suburbs of Idlib after the regime retook control of all the villages of Jabal Shahshabo. Al-Shehada told Enab Baladi that he took 70 sheep with him and rented a tent as a shelter. However, the scarcity of natural pastures and the high cost of agricultural land, as well as the hike in feed prices, forced him to sell 40 of them.
Al-Shehada pointed out that the rent fare of one dunum of agricultural land (approximately 1000 square meter) amounts to 75,000 SYP annually, while he depended previously to grazing his sheep on the mountain of Jabal Shahshabo and agricultural lands after harvesting crops, vegetables, and other yields. 
As for animal feed prices, one kilo of wheat straw costs about 100 SYP (0.19 USD), while lentils hay costs 150 SYP (0.29 USD), and one kilo of barley increased to 170 SYP (0.33 USD). Veterinary pharmaceutical drugs also saw an increase in their prices due to a large number of diseases among livestock, al-Shehad said.
Livestock loss 
The Syrian regime's military campaigns led to a sharp decline in livestock wealth in al-Ghab Plain as well as Jabal Shahshabo areas, which before contained about 100 thousand heads including cows, sheep, goats, and buffalo, based on what, Anas Abu Tarboush, an agricultural engineer, said to Enab Baladi.
He added by saying that the displacement of livestock owners resulted in many difficulties, most importantly their dependence on overpriced concentrate feeds due to the lack of natural pastures in areas of displacement,  also sheep exposure to some diseases as a direct result of moving from one area to another and lastly, a significant decrease in dairy products prices compared to livestock grazing costs. 
Meanwhile, the deterioration of the security situation and physical condition obliges breeders to sell vast numbers of their livestock, resulting in the dispersion of livestock within and beyond those areas, raising the alarm of more losses in the coming period, according to Abu Tarbush.
Azzam al-Khaldi, a livestock breeder and one of Jabal Shahshabo's residents, explained that in the light of these conditions, only a limited number of breeders remained in the area, particularly near the fire lines of al-Rouge Plain, in the western countryside of Idlib. Al-Khaldi linked the scarcity of breeders to the regime's complete control over Jabal Shahshabo and most villages in al-Ghab Plain.  
if you think the article contain wrong information or you have additional details Send Correction