Coronavirus preventive measures from Damascus to Aleppo… curfew at night and queues of people in daylight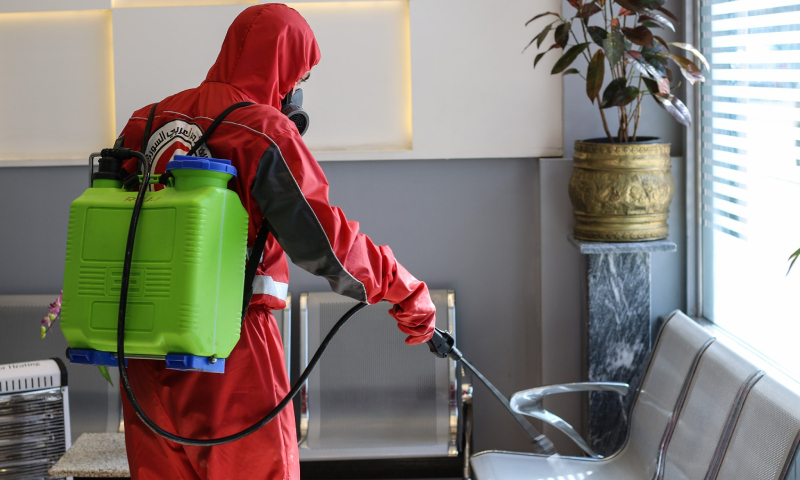 The intensive deployment of security forces to implement the curfew and quarantine measures in Syria has left the streets almost empty of passersby and cars, creating an impression that restrictions and procedures taken by the Syrian regime's government to confront the spread of the novel coronavirus (COVID-19) are the most strict and effective measures around the world.
Nevertheless, morning hours prove otherwise, as queues of people gather in front of the Syrian Trading Establishments (STE), the state authorized entities for selling subsidized goods, in front of bakeries, as well as automated teller machines (ATM) to collect their salaries. That is to say, the possibility of one infection among the crowds can lead to a significant number of infection cases.
Enab Baladi followed up the set of measures imposed by Syria's Ministry of Health since the beginning of last March, as its correspondents, in some of them regime-controlled areas monitored Syrians' responses towards these procedures.
Daraa… initiatives by young people despite residents' violations of preventive measures
The regime's government has suspended school attendance in its areas of control as part of the preventive measures to stem the spread of the coronavirus; however, students at Daraa's schools did not remain indoors, instead, their gatherings to play outdoors have increased, according to Enab Baladi's correspondent in Daraa city.
In an interview with Enab Baladi, a male nurse said on the condition of anonymity, that residents of Daraa province are not concerned about the government not announcing any coronavirus infections in it, adding that "if the regime is withholding information from the public about coronavirus infection cases, then the situation is very dangerous."
On the other hand, young people from Inkhil city in Daraa province formed a voluntary team of doctors and academics to raise awareness among the city's residents of the coronavirus danger, as well as to implement health instructions set by the Ministry of Health, through distributing flyers and launching campaigns on social media outlets.
In addition to distributing disinfectants, medical alcohol and other necessary preventive kits for residents within its available means, and in case matters worsened, the team will work on imposing quarantine in the city, according to what Enab Baladi's correspondent monitored.
This campaign was preceded by an initiative of young people and dignitaries in the al-Karak al-Sharqi town in eastern rural Daraa, who agreed on the necessity of taking preventive measures against the coronavirus.
Damascus and Rif Dimashq… governmental measures suffocate residents financially
Some of the regime's measures to prevent coronavirus spread increased the economic suffering of people in the Syrian capital, Damascus and Eastern Ghouta, among which; forcing shop owners to close their stores.
Nonetheless, people with low-income did not comply with the governments' closure decision due to their poor living conditions.
Therefore, the Internal Security Forces carried out patrols to close these shops and sealed them with vermillion wax and imposed fines on the violators, leading to an almost total absence of life aspects, especially in Eastern Ghouta areas.
Muhannad, a thirty-year-old young man from al-Ghouta, confirmed to Enab Baladi that his financial situation is similar to that of hundreds of families inside the region. He stressed that he cannot stay in the house without work and that the regime will never contribute to satisfying civilians'  hunger.
Zuhair, a thirty-five- year- old man, who owns a telecom store, confirmed that the regime forces raided his store while he was working and fined him. They also forced him to pledge not to open his store unless a decision is issued to open shops again.
Meanwhile, the regime's government did not conduct any awareness campaigns on the coronavirus, and limited its procedures to merely closing shops, a curfew, and carrying out patrols at day and night to monitor the situation in markets and the decision' violations.
On the other hand, bakeries in Douma city and other districts of Damascus witnessed overcrowding, as some bakeries' owners took advantage of the situation, and reduced selling in their places in order to sell the bread bags in illegal and separate street selling platforms in prices double to their original value, exceeding 200 Syrian Pounds (0.156 USD) while the actual cost was 50 SYP (0.039 USD).
Since the regime's government has announced the first confirmed infection of the coronavirus, The demand for medical kits and disinfectants has increased dramatically, leading to a price hike of facial masks from 30 to 280 SYP (0.023 – 0.218 USD), medical alcohol from 200 to 3000 SYP (0.156 to 2.335 USD), and gloves from 25 to 200 SYP (0.019 to 0.156 USD).
Deteriorating economic condition in Syria amidst absence of  international support
Imposing a curfew and closing all entertainment or service places as well as cafes without compensating day-workers and those affected by the decisions will lead to a major crisis in a country already on the top of the list for the world's poorest countries, at 82.5 percentage according to the statistical data of the international "World By Map" website.
The poverty level, by definition, is the lowest amount of income by which an individual can provide an adequate standard of living.
The website's figures match those of the United Nations (UN), which estimated the proportion of Syrians below the poverty line at 83 percent, according to its annual report of 2019 regarding Syria's most urgent humanitarian needs.
The report stated that 83 percent of the population lives in extreme poverty; therefore, many people in local communities most affected in Syria can no longer adapt to the situation.
According to the report, 33 percent of the Syrian population suffers from food insecurity, and an estimated 11.7 million Syrians need one of the different forms of humanitarian aid, such as food, clean water, shelter, health services, and education.
According to UN data, the biggest number of those in need of humanitarian aid are in Aleppo, followed by Rif Dimashq province, then Idlib. Data also showed that the number of those in need of assistance in hard-to-reach places is more than one million Syrians.
The UN also estimated the number of Syrians in need of relief aid during the winter season this year by about three million people.
Meanwhile, Syria's Ministry of Health had always denied any infections with the coronavirus until 22 March, when it declared an infection, and then the number increased to ten.
if you think the article contain wrong information or you have additional details Send Correction