Coronavirus changes customs and traditions in Daraa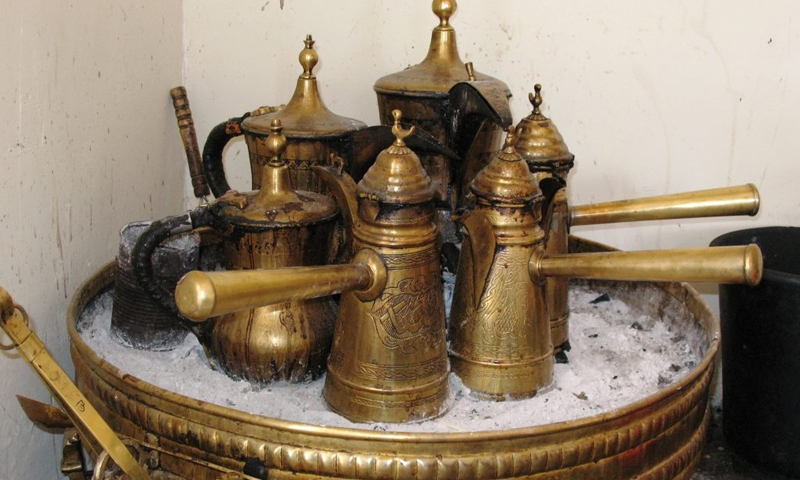 Enab Baladi – Daraa
Fifty-five years old, Abu Mohammed al-Rifai, got dressed, put on his ghutrah (a traditional Arabian headdress), and prepared himself for a funeral's condolence gathering held in his town.
Despite the changes caused by the recent spread of the novel coronavirus (COVID-19) pandemic that turned the world upside down, the obligation of paying respect to the deceased overshadowed what the Hourani man has heard in the newscasts about the danger of infection spread as a result of social gatherings.
"The risk of community gatherings, and the necessity of social distancing," were some of the thoughts floating in Abu Mohammed's mind; however, they did not prevent him from offering the duty of condolences. In other words, customs and traditions that he has grown to have prevailed over his thoughts.
He moved around from one street to another unusually alone this time, for it is customary according to Houran's traditions for each clan (or Hamoula in local dialect) to gather and then head out to the condolence gathering, preceded by the elderly and those holding academic degrees.
Abu Mohammed is not the only one who decided to go alone, as coronavirus' repercussions and preventive instructions which take up most of the content of newscasts, forced the people of Houran to modify the latter tradition and go to the condolence gathering in fewer numbers.
Dressed in his traditional dress, a long loose Arabian garment, with a "farwa" coat on top of it. A "farwa" is a knee-length clock, made of lambs' wool lining with felt fabric from the outside, worn in cold weather. Abu Mohammed was also wearing his ghutrah and igal (a black cord, worn doubled, used to keep the ghutrah in place on the wearer's head).
It is worth noting that, this kind of dress is worn by most of the Hourani men who are over 50 years old.
With his Hourani prestige, Abu Mohammed arrived at the condolence gathering, where he was supposed to handshake, kiss, and console the deceased's male family members who customarily sit at the entrance door of the condolence gathering.
Then as by tradition, he should move to sit inside the condolence place and take a glass of water offered by one of the young men, few moments after his arrival.
Followed by another one of offering black and bitter Arabic coffee, which is present in every social gathering, whether it is a wedding, a funeral, or any other form of social gathering.
Nevertheless, these customs did not occur in the same sequence as they were supposed to.
Abu Mohammed told Enab Baladi that public health necessity and avoidance of infection require social resilience in handling some customs and traditions, most important of which is consoling and comforting the family of the deceased that can never be abandoned, as per his expression.
However, social awareness and fear of contracting infection have imposed a new reality, in which one can offer condolences to the deceased's family without kissing them or drinking from the same glass or cup.
He added, offering water and coffee to guests in disposable plastic cups, became a usual practice that was unfamiliar before.
Once "Coronavirus" is over, we will return to our old habits
Ibrahim al-Khaledi, a resident of Daraa countryside, said to Enab Baladi that once the threat of the coronavirus infection is over, things will return to normal. The current situation is exceptional and requires awareness, as well as taking actions necessary to rectify the danger of the spread of the epidemic.
Al-Khaledi also said that, nowadays, most people avoid greetings with a handshake and kissing in everyday life, not only in funerals and weddings.
These behavioral changes are paralleled by local initiatives' efforts trying to raise awareness to confront the virus.
In Inkhil city, north of Daraa province, for example, a group of medical staff, university students, and city intellectuals formed what they called "Inkhil voluntary Team," which works on distributing flyers, medical face masks, and disinfectants depending on available resources.
Meanwhile, the regime's government has closed schools and mosques across the province, as a preventive measure to prevent social gatherings out of fear of virus transmission.
The government has also conducted disinfecting campaigns for public facilities and schools.
At the time of this report, the Syrian Ministry of Health has announced 38 confirmed coronavirus infections, two of whom have died, while another five patients have recovered.
if you think the article contain wrong information or you have additional details Send Correction