Cooperation and advocacy among people of Raqqa to overcome labor stoppage during Coronavirus curfew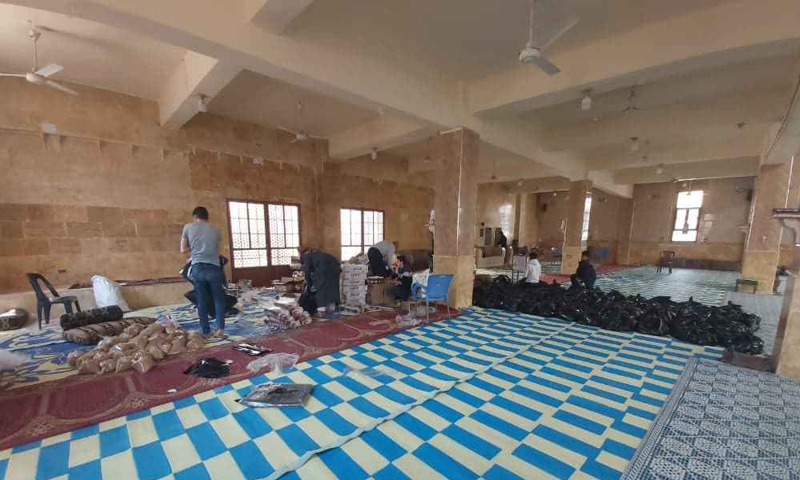 Civil solidarity initiatives have been launched in the city of  Raqqa, in north-eastern Syria, with the aim of alleviating the adverse impacts of coronavirus lockdown on poor families and sick people.
Although these initiatives reflect a kind of social solidarity and its importance in times of crisis, they remain unable to meet all the essential requirements of people, particularly if it is unclear when lockdown will be lifted.  
The Kurdish-led Autonomous Administration of North and East Syria (NES) has imposed a curfew in its areas of control as a precaution measure to prevent the possible spread of the "new Coronavirus (COVID-19), since March 23, to announce later its extension until April 21 of this year. The administration also imposed fines targeting the violators of the lockdown rules, including individuals and vehicles' owners.
The curfew order excluded hospitals, public and private health centers, international organizations,  the International Committee of the Red Cross (ICRC), pharmacies, sterilization committees, bakeries, grocery stores, trucks of food and infant formula, fuel tank trucks and cleaners.
Monthly salaries and food baskets
As several people stopped working due to their mandatory stay at their homes, an urgent need arose to carry out humanitarian initiatives that help heads of households, including daily workers, orphans, the sick, the low-income people.
These initiatives were carried out in coordination between the people of Raqqa, mainly the well-off people and market traders, who distributed tasks in order to provide families with financial support to meet their needs during the quarantine period, in addition to offering them water, food, medicines, and financial medical assistance.
Through collective efforts, "Sandouk Ahl al-Khair," "the People's Municipality of Raqqa," "Tabaea Ahl Maarouf," "Raqqa Be Ayoun Ahliha initiative," "Badir team" and "Aoun association," contributed to these charity initiatives to help needy people under curfew. 
Aid depends only on charitable donations of people
The mayor of Raqqa's People Municipality, Ahmed Ibrahim, spoke to Enab Baladi about the initiative conducted by the municipality's social support program, which included providing and distributing aid to the residents of the city, in cooperation with many donors of the "Sandouk Ahl al-Khair" and aid distribution volunteers. 
The nature of assistance given is varied between food baskets, medical financial aid—paying for costs of medication, medical treatment, check-ups, and operations—clothes and items of furniture.
Ibrahim pointed out that the beneficiaries of this social service initiative are the families who lost their breadwinners, and families living below the poverty line in the city of Raqqa.  
However, he indicated that the aid provided is not sufficient, as it depends entirely on donations from the people of the city with no other source, and the curfew imposed caused a significant increase in needs.
In response to the question about if there will be future plans if the curfew continues for a longer time, Ibrahim highlighted that work is underway to merge most civil charitable projects into one body, and under the roof of the social support program, to ensure "there is no wastage of aid distribution, and the ability to cover the needs of Raqqa people, besides stirring up the social spirit to eliminate poverty and indigence in the region."
Ibrahim explained that under the social support program, there are three partial programs, which are "Social Credit," "Sandouk Ahl al-Khair," and "Sana'a al-Maarouf."
People's needs aggravated by COVID-19 curfew
The media professional in the Raqqa Civil Council, Osama al-Khalaf, indicated that Raqqa is currently a densely populated area because it contains housing shelters for internally displaced persons (IDPs) from the provinces of Idlib, Deir Ezzor, Aleppo, Hama, and Homs.
Al-Khalaf pointed out in an interview with Enab Baladi that people's needs have been exacerbated during quarantine, which promoted charitable people and donors to give more donations covering the essential requirements of people in many areas.
He added that there is a new emergence of new initiatives, especially by expatriates from the people of Raqqa in the Gulf and European countries. 
Al-Khalaf emphasized that the charitable efforts that took place in the province of Raqqa are based on donations from its people, including merchants, farmers, doctors, engineers, and expatriates. He noted that these initiatives have proven to be very useful as being purely civil in nature, far from the spotlight of media outlets with no means to take photos of the beneficiaries.
if you think the article contain wrong information or you have additional details Send Correction