Abdul Hameed Dashti's economic empire in Syria by alliance of his Kuwaiti and Syrian companies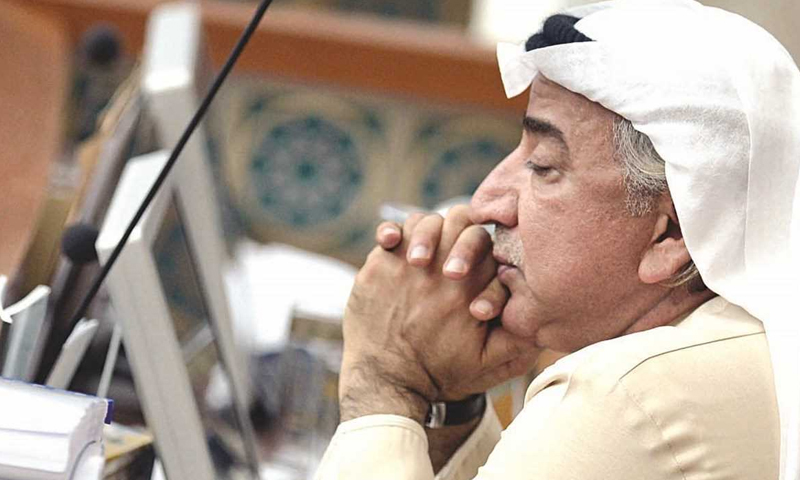 Enab Baladi – Murad Abdul Jalil
"My authority and connections are strong, starting from President Bashar al-Assad to the guards at the Syrian border crossings."
This explicit statement was announced by the former member of the Kuwait National Assembly and President of the International Council for Supporting Fair Trial and Human Rights, Abdul Hameed Dashti.
In an interview in 2014, Dashti talked about the strong relations he and his children have in Syria, especially with the narrow economic circle close to the ruling power in Syria.
Dashti's name has come to light during the past years, mainly for publicly defending the Syrian regime and its head al-Assad, in the Kuwaiti parliament and during Dashti's human rights meetings at the United Nations (UN).
This drew the attention of Syrians, who attributed Dashti's defense of the regime to the mutual economic advantage and investments of millions of dollars with figures close to the regime.
In this report, Enab Baladi attempts to monitor Dashti's economic empire that he shares with his children in Syria. This empire is divided into two parts: The first includes Talal, Mohammad, and Shuruq Abdul Hameed Dashti, who together own Marakez Real Estate Trade Centers CO, with their father.
On the other hand, the second part is represented by Dashti's second Syrian family that includes his twin daughters, Aya and Shahad, and his Syrian wife, Hala Qutrash.
Dashti's first economic empire
Dashti's first business empire was established in 1999 when he founded the "Children of Dashti International Company- Talal Abdul Hameed Dashti and CO.," before the company's name became Marakez Real Estate Trade Centers CO. in 2005. 
The company had investments in Syria that amounted to approximately 18 million Kuwaiti Dinar KWD (60 million USD), according to what the Chairman of the company's Board of Directors, Talal Abdul Hameed Dashti, said in 2015.
The company's first investments in Syria started with the implementation of the most significant touristic project in Tartus city, after the Syrian regime's Ministry of Tourism signed in 2003 a contract of 10 billion Syrian Pounds (SYP-200 million USD) with three UK companies, Gwanada International Limited, and its partners, Kirwood Investment Limited and the Wahoud Group(UK) Limited, according to the Saudi newspaper, al-Hayat.
The contract parties agreed on establishing a joint-stock company called "Antaradus." They also agreed on building hotels of different classifications, tourist chalets, business centers, administrative offices, a port for boats and yachts, playgrounds, entertainment venues, and a cinema hall.
Nevertheless, the company's establishment was delayed until March 2006, as it had a capital of 103 million SYP (2,239,130 million USD), including the participation of Marakez Real Estate Trade Centers CO. with a share of 12,236,000 SYP (266,000 USD) with a portion of 12 percent of Antaradus company's capital.
After the Syrian revolution erupted in 2011, the attention was focused on the fate of Gulf investments in Syria. At that time, Talal Dashti declared that the company's investments in Syria are safe and away from the tension zones, indicating that most of Tartus' project was completed before the company announced its withdrawal from the project this year.
On 26 last March, "Marakez" company announced the sale of its stakes in Antaradus company for tourism development in Syria for 21 million USD, without disclosing the buying party.
The second project of the Kuwaiti company in Syria is the city of the "World Trade Center," according to what Abdul Hameed Dashti announced in a speech before the company's Ordinary General Assembly in 2013. He also highlighted that the company will start the establishment of the World Trade Center City project when the situation stabilizes in Syria as well as after getting the necessary finance for the project.
According to the "Marakez" company's website, the project aims at building a city over an area of 620 thousand square meters (m²), in Sa' sa' area of Rif Dimashq province, including commercial, investment, and residential buildings as well as hotels and hospitals.
The city project also includes at least 153 eight-story buildings with approximately 4896 apartments; besides, building a commercial complex and a shopping center on an area of 50.000 (m²) and 18-story in height, and rental offices and meeting rooms for businessmen and investors.
Dashti's second economic empire
Abdul Hameed Dashti's Syrian family founded the second wealth empire, with his Syrian wife, Hala Qutrash, and his two daughters, Aya and Shahad, who established companies in several fields, including "The Abdul Hameed Abbas Dashti and CO." and Children of Dashti Investment Group." 
However, there is not enough information about these two companies, except their formation of an alliance to establish other companies.
Qutrash, who holds a computer science diploma, is Vice-Chairperson of the Board of Directors of the "World Trade Center" project in Damascus city, and Deputy Chair of the Board of Directors of the "Children of Dashti Investment Group."
Qutrash is also the President of the Board of Directors of Yushi Trading company, which she established with her daughter Shahad, according to al-Iqtisadi, a local website specializing in Syrian financial news. 
Qutrash's most significant contribution was to al-Aqeelah Takaful Insurance Co., which she helped to establish in December 2007.
This company's capital amounts to two billion SYP (40 million USD), with a portion of 40 million SYP (two percent) for Qutrash, while the rest of the shares were distributed between the rest of the founders, including Abdul Hameed Abbas Dashti and CO. and Children of Dashti Investment Group with 20 million SYP (one percent) for each.
However, the largest share was for al-Aqeelah Finance Leasing and Investment Company, with 640 million SYP (32 percent). Meanwhile, there is not any available information about the company's owners, in which Aya Dashti worked as a receptionist in 2008, according to her account in the job searching website, Bayt.Com.
As for Shahad Dashti, she holds a master's degree in law from London University and a bachelor's degree in Global Economy from Royal Holloway University in London. In 2017, Shahad became a member of the Board of Directors of al-Aqeelah Insurance CO. as a representative of her father's company.
Shahad also contributed to the establishment of several companies, including the "Children of Dashti Investment Group," "Yushi for Trading and Investment" with her mother.
She also established "al-Shahad for Investments CO." with her twin sister Aya, in Damascus in 2012 where both sisters had 50 percent of the company's capital of one million SYP (778 USD). This company specialized in business, industry, agriculture, and services.
Syrian Pearl Airlines: Dashti's unfinished project with Rami Makhlouf 
In 2008 and after the Syrian People's Council ratified a decree issued by al-Assad, the head of the Syrian regime, Dashti made one of his most significant investments in Syria, a partnership with several parties to establish an airline under the name "Syrian Pearl Airlines" with a capital of eight million USD.
The airline company was founded with a 25 percent share of the government-affiliated corporation the "Syrian Arab Airlines"; besides, a portion of 69 percent for Cham Holding joint-stock company owned by the Syrian businessman Rami Makhlouf, the cousin of the Syrian President Bashar al-Assad.
Al-Aqeelah Finance Leasing and Investment Kuwaiti company, Aqeeq Aviation Holding Company, Children of Dashti Investment Group, and Abdul Hameed Abbas Dashti & CO," co-founded "Syrian Pearl Airlines" with a share of six percent. 
In May 2009, the Syrian Arab Airlines corporation celebrated the launching of the Syrian Pearl Airlines' first flight that took off from Damascus International Airport with the presence of Rami Makhlouf.
According to the project's outline, the Syrian Pearl Airlines fleet should have included six aircraft in 2009.
Nonetheless, a month later, the airline company stopped its activities after the Spanish company "Orion" broke the contracts of two aircraft due to the warning of the US Department of the Treasury (USDT) to the Spanish company against violating the sanctions imposed on Syria and the businessman Rami Makhlouf.
In August 2019, Dashti recorded an interview with "World and Syria News" website in which he expressed his intention to invest millions of dollars in Syria in the coming period. In the interview, Dashti addressed the Syrian people by saying, "do not forgive me if I did not invest two billion dollars in Syria in the coming years."
In the meantime, Dashti faces prison sentences of more than 65 years after his diplomatic immunity was lifted in Kuwait, following successive trials that began in 2016.
Dashti has also been sentenced for 14 years of prison on charges of insulting Saudi Arabia and Bahrain; therefore, he left his home country, Kuwait, to live abroad up to this day.
if you think the article contain wrong information or you have additional details Send Correction