Victims of car bombing in Syria's opposition-held Azaz…  White Helmets spend five hours extinguishing fires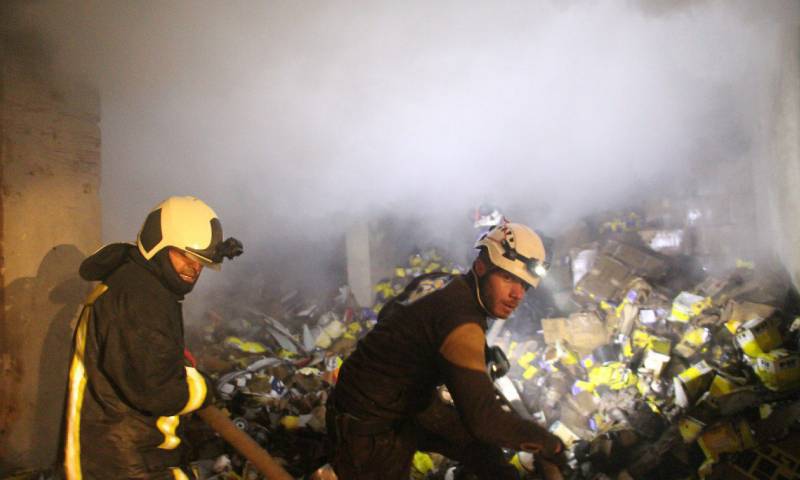 A car bomb exploded in Syria's opposition-controlled city of Azaz, north of Aleppo, along the border with Turkey, killing two people and wounding others. The firefighter teams in the opposition's Syrian Civil Defense, globally known as White Helmets, spent five-hours to put out fires that resulted from the car explosion.
The Syrian Civil Defense (SCD), according to its Facebook page, documented that two people were killed and 17 others were injured as a result of a car bomb blast in the western entrance of the Azaz city on Thursday, 17 March.
The powerful car explosion led to a fire, which burned down a gas station and caused the collapse of a building's exterior facade.
According to the Azaz Media Office, preliminary information from the local police indicated that the explosion was the result of a car bomb attack. No one has claimed responsibility for the car bomb attack.
The very recent bomb blasts brought to the minds of civilians the series of bombings that struck the areas controlled by the opposition factions—car bomb explosions were declined in the past two months—in northern and north-eastern Syria. However,  the car bombings escalated after the launch of Turkey's Operation Peace Spring on 9 October 2019 in northern Syria.
Between 9 October to 4 December 2019, the number of car bomb explosions amounted to more than 14. The most recent of which was on 16 March of this year; three members of the "Free Police" were killed, and others were injured in a car bomb explosion at a checkpoint in the town of Tel Halaf, which is affiliated to the city of Ras al-Ain in the northwestern Hasaka countryside.
On 8 March, three explosions took place in Afrin and al-Rai in the northern and western countryside of Aleppo, which resulted in the death of civilians and the injury of others.
Furthermore, a legislator of the "Army of Islam" faction, which is linked with the "Syrian National Army," was killed by an explosive device detonated in his car, last Tuesday, in the city of al-Bab.
The deadliest attack in Tel Halaf was caused by a car bomb explosion on 26 November 2019, killing 17 civilians and wounding more than 20 others.
There are mutual accusations between Turkey and the Syrian Democratic Forces (SDF) of being responsible for the car bomb attacks.
The Syrian National Army (SNA) levels accusations against the SDF, the so-called Islamic State (ISIS), and cells of the Syrian regime forces of conducting car bomb attacks.
if you think the article contain wrong information or you have additional details Send Correction