Syrian Response Coordinators Group: Severe storms affect hundreds of families adversely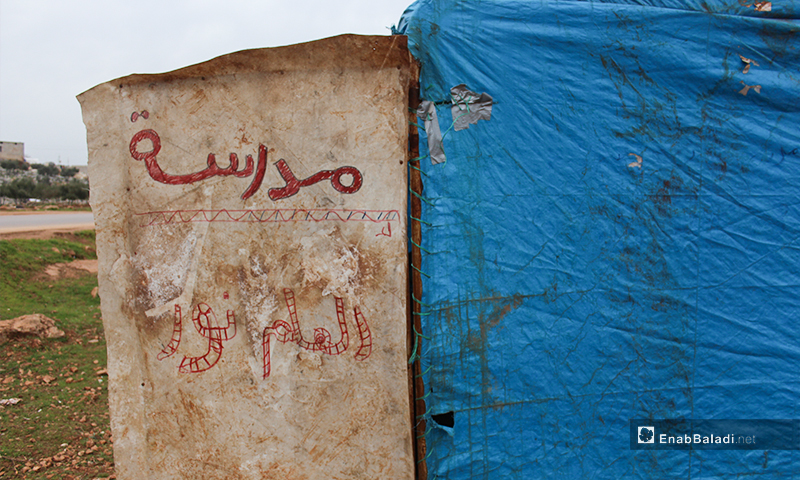 19 Camps in north-western Syria have been impacted negatively by the extreme weather conditions recently.
On 14 March, the Syrian Response Coordinators Group (SRCG) released a damage assessment of the IDP camps damaged by heavy rainfalls and windstorms. Nine hundred eighty-three families have been displaced; "scores among these families are now totally without shelters."
The internally displaced persons (IDPs) in north-western Syria are in vulnerable situations following the military offensive waged by the Syrian regime forces since last January.
The United Nations (the UN) estimated that nearly 327,000 civilians (out of the 960,000 people who have been displaced from Idlib)  are now sheltering in camps and individual tents.
Strong winds and torrential rains hit several areas in Syria in the past few days.
The Syrian Meteorological Department warned of damages to crops, agricultural lands, and electricity networks due to strong winds and heavy rainfalls that would hit southern areas and coastal highlands, and heavy torrential rains, especially in south Syria.
The state-run Syrian Arab News Agency (SANA) quoted the meteorologist, Jaafar Yousef as saying that the wind speed will be extreme during the noon hours in the southern region while in the evening hours, the wind speed will be up to 70 km (43.4 miles) per hour in the southern and coastal areas.
Harsh living conditions faced by IDPs of Idlib
Human rights organizations called on the international community to address the "horrific" humanitarian conditions in which civilians live in the war-torn province of Idlib in north-western Syria. The organizations also warned of the threats that the IDPs will face in the event of renewed fighting there.
On Friday, 13 March, the Cairo Institute for Human Rights Studies, the Syrian Center for Media and Freedom of Expression, Syrians for Truth and Justice organization, and the "Dawlaty" foundation issued a joint statement.
The statement stated that "Idlib is in the midst of a worsening human-made humanitarian crisis. And the continuation of the Syrian-Russian military operations to recapture Idlib will exacerbate the humanitarian crisis and further destabilize the region, not to mention that much of the Idlib province remains under the control of Hayat Tahrir al-Sham (HTS), a former al-Qaeda affiliate."
The statement clarified that the civilian population is facing various hazards in Idlib, represented by the indiscriminate shelling attacks and systematic attacks against civilian infrastructure, including hospitals and schools, by the Syrian regime and the Russian air force.
Furthermore, the Syrian regime deliberately targeted and killed a group of elderly women. Meanwhile, the armed opposition factions based in Idlib carried out attacks on border villages under the Syrian government control.
Furthermore, the Turkish drones targetting the military sites of the Syrian regime in Idlib cause a dangerous escalation of hostilities and put civilian lives at risk.
if you think the article contain wrong information or you have additional details Send Correction