Seven civilians killed in floods triggered by heavy rainfall in Syria's Raqqa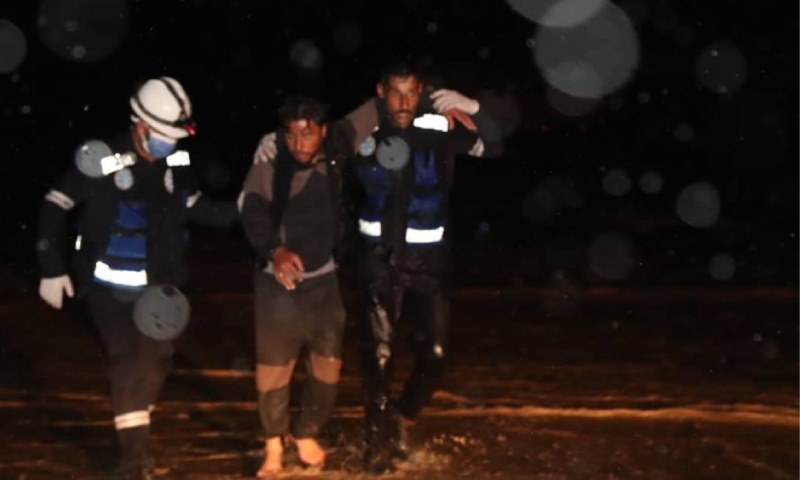 Seven civilians have died in floods and mudslides triggered by torrential rains in the last three days in Syria's northern province of Raqqa. 
The Civil Council of Raqqa, affiliated with the Kurdish Autonomous Administration of North and East Syria (NES), announced the floods caused by heavy rains, claimed seven civilian lives in Raqqa.
The council published photos of the emergency medical teams as they were trying to pull out those affected by the floods.
The council pointed out that the teams managed to rescue three people, in the villages of Ratla and al-Akirshi, south of Raqqa, after heavy rains, which caused a flood and landslides.
"Raqqa is Being Slaughtered Silently," a Facebook news page run by Syrian civil activists, stated two days ago, torrential rains and floods hit the province of Raqqa, the floods slightly damaged an IDP camp but without inflicting any significant injuries.
In the past few months, several people were forced to flee their homes in the province of Idlib to Raqqa. These people were sheltered in a camp designated for them in the Abu Qubei area in the eastern countryside of Raqqa.
"Raqqa is Being Slaughtered Silently," highlighted that the rainwater flowed sufficiently in the streets of Ratla village, and penetrated most of the village's homes of a height exceeding half a meter, explaining that tens of families had to leave their homes because of the floodwaters.
The news page also pointed out that a bridge near the village of Sharidah in the eastern countryside of Raqqa was destroyed as a result of flooding and mudslides caused by the heavy rains, indicating that seven civilians were killed as well.
The NES-linked Municipality of the people in Raqqa called upon the people of Raqqa to fill the water storage containers with sufficient water and to take the necessary precautions before cutting off the water from the water supply network of the city.
The municipality sheds the light that torrential rains and floods in Raqqa caused a problem in the main water pumping stations, which are fed by the Euphrates River. The municipality cut off the water in order to dispose of the large amounts of sediment particles and purifying water supplies.
if you think the article contain wrong information or you have additional details Send Correction