Re-emergence of witchcraft in Daraa: citizens fall victims to fraud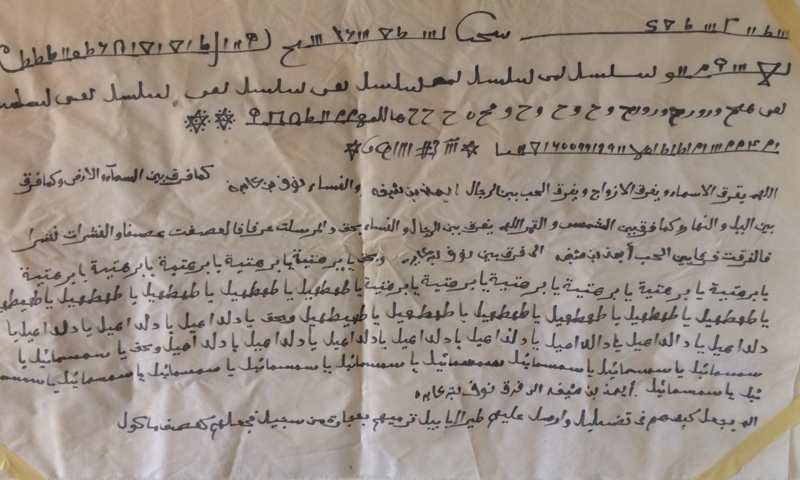 Ahmad (an alias name) took the advice of his relatives and counted on a magical talisman made by one of the most reputed sorcerers in Daraa province to heal his sickness. The "sheik" mumbled something on Ahmad's body and read him some incomprehensible words, promising that his wellbeing will improve.
Ahmad was told by the "sheik" to soak the talisman paper in a bottle of water and then wash his face with it twice a day. He was desperate to find a solution to his illness and constant pain which the doctors could not cure, so he resorted to witchcraft.
Ahmad has not been the only person who resorted to sorcerers described as "sheiks" in Daraa.
Enab Baladi monitored the witchcraft phenomenon, which started to spread again in Daraa province attributed mostly to the psychological aspect amid the deteriorating social and living conditions for Syrians in general.
Enab Baladi also made contact with four cases in the province of Daraa for people who relied on charlatans to change their social or medical situations for better. However, those people did not reveal their names for security and social reasons.
 Daraa residents victimized by their endeavors 
Ahmad confirmed to Enab Baladi that his condition did not improve; he was frustrated; mainly because he knew in the first place that he was counting on an illogical solution.
Saleh (a pseudonym), also did not get results from his visit to a sorcerer in rural Daraa after his family convinced him that it would solve the failure in his marriage.
Saleh narrated his observation from inside the sorcerer's house where reviewers are received in a room similar to the reception rooms of medical clinics, and then each case enters separately to meet the sorcerer.
"The charlatan is over 70 years old with an incense brazier in front of him, surrounding himself in what looks like a spiritual aura to deceive people", Saleh said.
Saleh added that after he finished explaining his condition, the charlatan put his hand on Saleh's head and told him to bake three loaves of bread and feed them to a hungry dog for his problem to be solved.
Nevertheless, when the warlock asked him to pay 20 thousand Syrian Pounds (18 USD) as a cost to summon the jinn, Saleh left the place convinced that it is an absolute fraud and "mere superstitions" as per his description.
Another victim said that a sorcerer gave him an amount of salt and asked him to wash with it; however, his problem was unsolved. Moreover, a young girl met by Enab Baladi confirmed that one of the warlocks requested 30 thousand Syrian Pounds (27 USD) from her to facilitate and increase her chances of marriage, which she described as an "illusion."
Psychological aspect
Ahmad al-Ammar, a social scientist from Daraa, confirmed to Enab Baladi that the psychological reason is the most prominent factor pushing people towards sorcerers, especially after the harsh economic conditions prevailing in Syria.
Al-Ammar added, failure is sometimes a motive for people to visit charlatans who use their poor psychological state for obtaining material gains.
The social scientist pointed out that witchcraft practices witnessed a setback during the period of the opposition factions' control. People feared the Islamic factions' punishment, which could amount up to the death penalty in some cases. However, the sorcery phenomenon returned to the surface after the Syrian regime regained control of Daraa in 2018.
Legal and religious deterrence of witchcraft
The Syrian Criminal Code provides for the punishment of preventive detention for those practicing any form of witchcraft for making profits.
The preventive detention lasts between a day and ten days, according to the first paragraph of Article (60).
The penalty is aggravated in case of a repetition of the crime up to six months of imprisonment combined with a fine. The legislator also allowed the judge to expel and deport foreigners accused of witchcraft practicing, to their countries of origin.
Nevertheless, sorcery activities mentioned in section 754 of the Syrian Criminal Code may be accompanied by other acts that constitute an independent offense in itself far more dangerous to both individuals and society, such as fraud, assault, or murder.
On the other hand, the Islamic religion prohibits witchcraft and sorcery practices. In a previous interview with Enab Baladi, Sheikh Mohammed Bashouri, who holds a master's degree in Sharia and a licentiate in the Hanafi school of thought, said: "any recitation from outside the Holy Quran is considered an act of quackery."
Nonetheless, Enab Baladi did not monitor any recent arrest cases or widespread criticism towards sorcerers in Daraa province. Therefore, the primary solution to witchcraft is to raise awareness among the general public and spread knowledge and education about the hazards of witchcraft, according to the social scientist, Ahmad al-Ammar.
if you think the article contain wrong information or you have additional details Send Correction