IDPs sell their furniture in northern Syria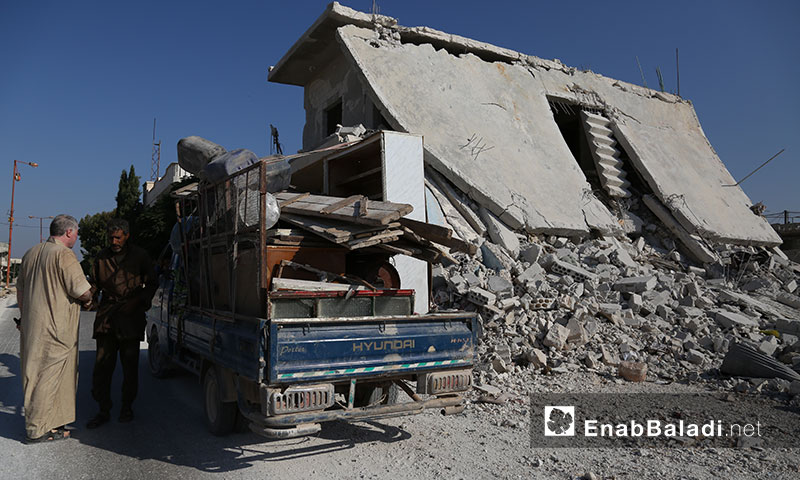 Ibrahim Ramadan was forced to sell the furniture of his house for a very small amount of money because he could not transport it with him to his unknown destination. 
Ramadan and his family started their journey to find a secure shelter in order to save their lives.
Ramadan had to flee his hometown of Maar Tahroma in the southern countryside of Idlib, which was re-captured by the Syrian regime forces in the recent battles.
Maar Tahroma experienced intense artillery, aerial bombardment, and barrel bombs, which resulted in the forced displacement of several civilians.
Ramadan was unable to move his furniture entirely to the new destination of displacement, mainly amid the higher cost of furniture delivery trucks, which amounted to 40,000 Syrian pounds (SYP- 40 USD).
The rise in the costs of furniture delivery trucks is due to the high demand for transporting furniture by the internally displaced persons (IDPs)
The number of civilians fleeing Syrian and Russian bombardment in north-western Syria has reached 900,000 since December 2019, Under-Secretary for Humanitarian Affairs and Emergency Relief Coordinator, Mark Lowcock said on 17 February.
Therefore, Ramadan was forced to sell his house furniture for less than a quarter of its value, as he estimated the cost of what he sold at about 300 USD, but he received only 50 USD.
Ramadan was like tens of thousands of IDPs from north-western Syria. For example, Khaled Ramah, a displaced person from the village of al-Naqir in the southern Idlib countryside, sold most of the things he left from his house at low prices, as a result of the falling living standards.
Most furniture is bought by other displaced people or by furniture dealers.
Walid Hababeh arrived in al-Rai town in the northern countryside of Aleppo, where he rented a house to settle in after his displacement from the eastern Idlib countryside following the military operations. His new home was not fully furnished. Therefore, he decided to buy a few pieces of furniture from other IDPs, because he could not afford to buy new furniture.
Hababeh told Enab Baladi that the prices of furniture sold by the displaced are much lower than the prices of furniture stores.
Abu Youssef, the owner of a second-hand furniture store (speaking on condition of anonymity for security reasons), justified the difference in the prices of furniture sold by the IDPs and the owners of second-hand furniture by the increasing number of offers for selling furniture.
Abu Youssef added that many customers offer him their furniture for sale every day. Still, he can only take a few pieces of furniture because of the transport difficulties and the low percentage of furniture sales compared to the offered goods. He also noted that some customers keep their furniture at their homes without taking its price until it is sold.
Moving furniture among the residents and selling it at low prices are accompanied by fears that the Syrian regime forces will re-take control of the last-opposition held areas as a continuation of its recent military offensive.
The Syrian regime managed through its offensive to take control of large areas of the southern countryside of Idlib and western Aleppo.
Hababeh and Ramadan do not want the fighters of the Syrian regime forces to loot the furniture of their homes, as happened in other areas, the latest of which is the western countryside of Aleppo. They would rather sell it with their own will as a haven from possible " looting" operations.
if you think the article contain wrong information or you have additional details Send Correction