IDPs host other IDPs in their tents in last-rebel held province of Idlib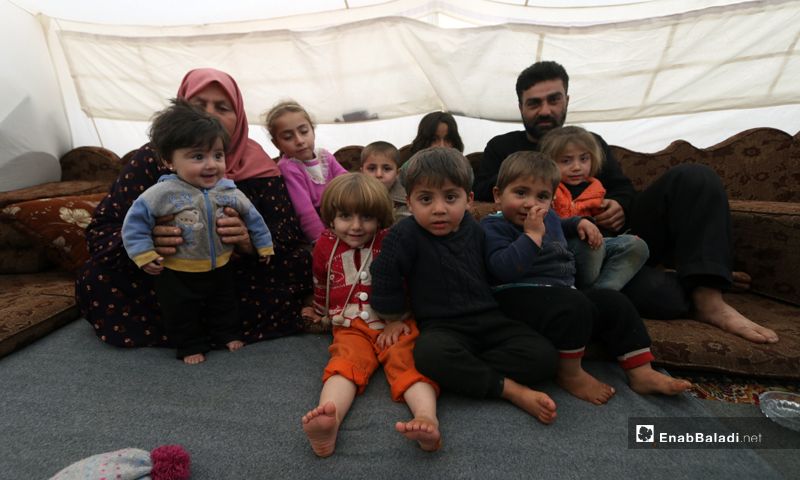 Backed by Russian forces, the Syrian regime forces have escalated their military operations recently in north-western Syria, which resulted in the displacement of about one million civilians from the rural areas of Idlib and Aleppo; 81 percent of them are women and children. 
 According to statistics of the United Nations Office for the Coordination of Humanitarian Affairs (OCHA), some of those internally displaced persons (IDPs) have been forced to flee more than three-time to an area, hosting nearly four million people. 21Percent of the IDPs have to live with host families.
Omar Haj Abdullah is one of the million IDPs who were forced to leave their homes after the regime forces advanced on the town of Atarib in the western countryside of Aleppo.
This was not the first displacement of Haj Abdullah, as he was displaced with his family the first time from the village of Maarrat Dibsah, which he had to leave for the city of Atarib and from it. Then, Haj Abdullah went out to the "unknown".
After a long search for shelter, Haj Abdullah, a thirty-three-year-old displaced person, arrived at Maarrat Dibsah Camp in rural Idlib. Haj Abdullah there met one of his village residents who lives with his family of seven in a tent. He responded to Haj Abdullah's request to stay with him in the same tent with his family of eight. Thus, the two families of 15 have to live together in an area of only 16 square meters.
Haj Abdullah, in an interview with Enab Baladi, said that the two families live amid "total lack" of life-saving essentials, noting that both families have nothing after being displaced.
After the recent displacement, the two families share the same tent "equally," and their members sleep "stacked" on top of each other. When the time for food comes, the tent's residents are divided into three groups, and each group waits for its turn to eat.
The Omar Haj Abdullah family is not the only family that shares another displaced family's tent, as Jassim Muhammad al-Amin from the village of Maarrat Dibsah received in his tent another displaced family, from his community.
 Muhammad al-Amin told Enab Baladi that life is very hard, especially with no heating supplies; every four members of the families in the tent have to use one mattress to stave off the harsh cold.
Both Haj Abdullah and  Muhammad al-Amin do not know the fate of their families, especially in light of the blurred military scene and the lack of options before them. Moreover, displaced families are left with only temporary solutions, ranging from additional tents to temporary accommodations provided by some relief organizations.
 Other organizations such as Molham Volunteering Team (MVT) are working to provide the IDPs with stone houses in many areas, which are supposed to be relatively safe in Idlib and its countryside.
The MVT launched a reconstruction project for stone housing units with insulated canvas roofs. Each housing unit has two rooms built of stone, with plastic ceilings and an area of 24 m². The cost of each unit reaches 2,200 Turkish Lira (370 USD).
However, those projects are still on a small scale, in light of fears of military operations, while tents and their residents multiply in northern Aleppo and Idlib. Near the border areas with Turkey, displaced populations take shelter. 
For its part, the Turkish Humanitarian Relief Agency (IHH) worked on establishing housing units in the village of Harbnoush near the Syrian-Turkish border.
Each housing unit has two rooms built of stone, with plastic roofs and an area of 24 m².
The cost of each unit reaches 2,200 Turkish Lira (370 USD).
if you think the article contain wrong information or you have additional details Send Correction