Disparity of relief aids' distribution in camps of northern Syria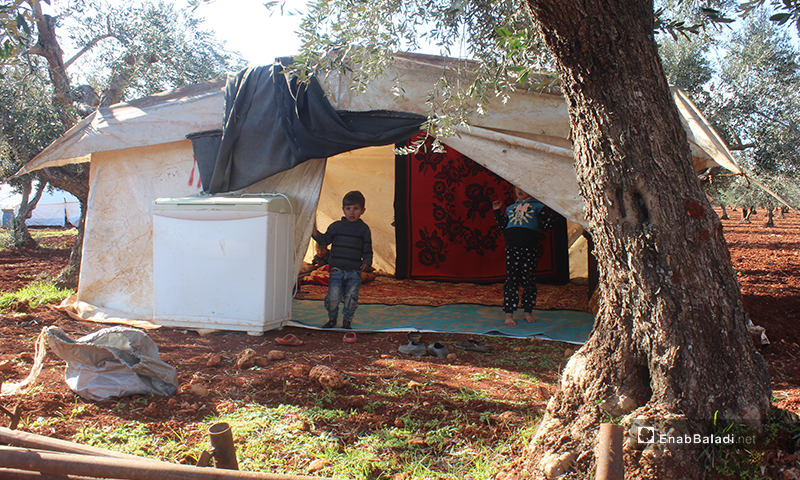 Enab Baladi – Eiad Abd al-Jawad

Tens of internally displaced persons' (IDPs) camps are scattered in rural Aleppo, Idlib, and Hama province because of the repeated military campaigns launched by the Russian-backed Syrian regime forces, and its targeting of residential areas and infrastructure of cities and villages northwestern Syria.
The massive increase in numbers of IDPs' camps led to poor coordination between relief charities and organizations on the one hand, and camps' administrations on the other, which made it difficult to equitably distribute relief aids to inhabitants, as well as to the shortage of aid given to some camps, meanwhile, other encampments were deprived entirely of these aids.
Absence of relief aids to some IDPs' camps
Harbanoush village of northern rural Idlib includes a camp of 20 tents, which gives shelter to IDPs of al-Tah town in Maarat al-Numan district south of Idlib.
This small camp has not received any assistance, as it needs to cover its muddy ground as well as tents' interior equipment and bathrooms, according to the camp's manager, Mohammed Sultan.
Nevertheless, other camps in neighboring areas have been assisted by relief organizations, where displaced people received food baskets, health services, and solar power panels, Sultan added.
However, relief aids' deprivation is not limited to small camps only, as some IDPs in the Syrian north are also suffering from the lack of receiving any form of assistance.
Abdul al-Mueen al-Ghabi, a displaced person who was forced to leave Maarat Hurmah town, south of Idlib to Maarat al-Numan city, then to Darat Izza city in the western countryside of Aleppo, where he temporarily resided. Nevertheless, the latest military escalation on rural Aleppo compelled al-Ghabi to flee to Kafr Orouq village of northern Idlib.
Al-Ghabi confirmed to Enab Baladi, that he had not received any relief aids for almost a month, despite contacting the village's local council for help, attributing the council's failure to respond to "patronage and biased mediations."
Camp administrators' role in relief aids' disparity
According to Mohammed Abu al-Adham, a relief activist who operates in rural Idlib, camps' administrations have a major role in the varying levels of granted assistance, as some of these camps receive significant support while others remain marginalized with no access to donor organizations.
Some administrators and representatives of IDPs' encampments, who receive continuous support, are on constant contact with relief charities and organizations; they show a great deal of professionalism while dealing with staff members and maintain a strong relationship with them.
However, the newly established IDPs' camps lack the experienced managers and representatives, who have the needed public relations or even communication channels with relief charities, not to mention the patronage system in some organizations, according to Abu al-Adham.
Increasing demands of IDPs hampering aid access
On the other hand, the director of the humanitarian aid association  'Ataa' in Sarmada area of northern Idlib, Muath Bakbash, asserted to Enab Baladi that most camps in the Syrian north are covered by the six months United Nations World Food Programme "WFP."
However, the number of camps has increased considerably due to the recent massive wave of displacement, as nearly 300 new camps were established in the towns of Killi and Maarat Misrin north of Idlib. Besides, additional services and expansions were added to existing camps, making it challenging to cover all these camps' needs, Bakbash added.
Several relief charities and organizations cooperate with the WFP to provide camps' families with a monthly food basket; unfortunately, the massive increase in numbers of destitute people, takes more time to cover their needs, according to Bakbash.
International warnings of worsening humanitarian crisis in Syria
Jeans Lark, the media spokesman of the United Nations Office for the Coordination of Humanitarian Affairs (OCHA), said in a press release at the UN office in Geneva on 13 March, that humanitarian needs are "acute" in areas of northwestern Syria.
Lark said that about 327,000 civilians out of 960,000 were displaced from Idlib and are currently living in camps, while about 165,000 live in houses and buildings that are unfit for human habitation. He added that 366,000 displaced persons live in rented houses or with other hosting families, whereas nearly 93,000 persons reside in public facilities such as schools and mosques.
Lark also pointed out that humanitarian field workers are raising the alarm to the fact that four out of five people who have been displaced since early December 2019, are women and children whose health and security are at risk due to their displacement.
if you think the article contain wrong information or you have additional details Send Correction