Details on Syrian regime's military escalation in rural Daraa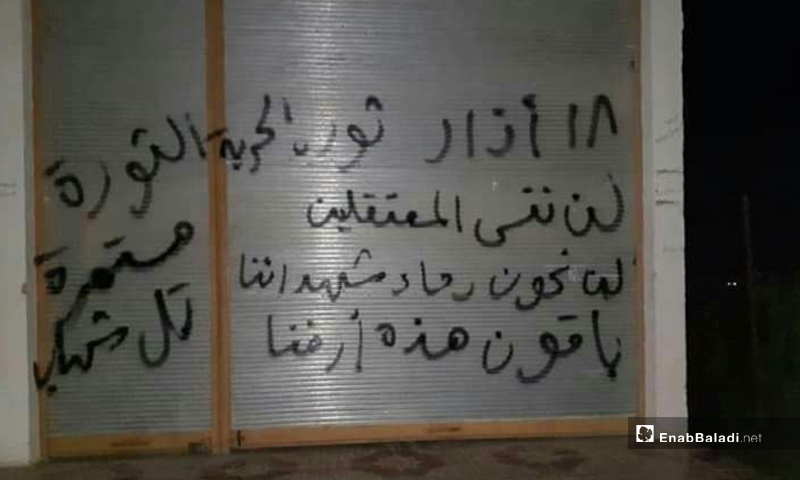 In the last few hours, the western countryside of Daraa province experienced a military escalation by the Syrian regime forces. They bombarded the Gleen village, leading to several deaths and injuries among civilians, including children.
The military escalation started when the fifth division of the Syrian regime forces tried to advance towards the Gleen checkpoint in western rural Daraa, then members of the division set up some checkpoints and started asking civilians for their identity cards, on Wednesday, 18 March.
According to Enab Baladi's correspondent in Daraa, the regime forces fired on several civilians, killing both the former leader of the "Free Syrian Army," (FSA) Walid al-Barazy, known as Abu Raafat, from al-Ajami town, and another commander named Hassan, known as Abu al-Iz from Atman village.
Besides, Bassem Jilmawi, another faction leader known as Abu Kinan from al-Qusayr town, was also wounded by the bullets of the regime forces, which advanced towards al-Khatib's Lumbermill to establish a military post.
Clashes began between FSA former fighters and regime forces centered in the area, resulting in the death of several members of the regime forces.
Meanwhile, the regime forces bombed the Gleen village, which houses thousands of civilians and internally displaced persons(IDPs), killing eight people, including three children.
On the other hand, Daraa Martyrs Documentation Office registered the deaths of seven civilians, including two children, as well as many injuries.
Enab Baladi's correspondent reported that the regime forces withdrew from the new checkpoints they advanced to on 18 March.
It is worth mentioning that the regime shelling coincided with the ninth anniversary of the Syrian revolution that erupted in Daraa on 18 March 2011, when demonstrations were held in the al-Omari Mosque in Daraa al-Balad area.
Last February, the regime forces surrounded the al-Sanamayn city and cut off its main roads. Clashes took place between the regime forces and FSA former fighters, killing a civilian and wounding two others.
Back then, the regime forces targeted the northern neighborhood of the city, which eventually led to the transportation of 21 opposition fighters to northern Syrian while those wishing to stay settled their situation with the Syrian regime.
In July 2018, the Syrian regime forces retook control over southern Syria, following reconciliation agreements with the Syrian opposition factions.
if you think the article contain wrong information or you have additional details Send Correction