Declining support exacerbates suffering of people with disabilities in al-Bab city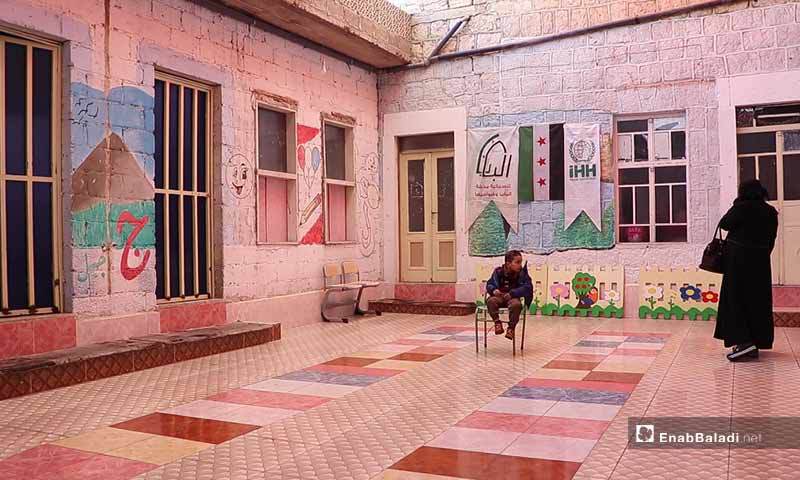 Aleppo countryside – Asim Al-Mulhem
People with mental and physical disabilities in al-Bab city in Aleppo countryside are suffering from lack of support, after several organizations stopped providing the necessary supplies to them, and care for them was limited to centers established individually, which are in turn suffering from the lack of necessary equipment for disabled children.
 Speaking to Enab Baladi, the director of the Beitna Center, Mohammad al-Khalaf, said that the center is suffering from a lack of some tools for the disabled, such as strollers for children with polio, and headphones for those who have difficulty speaking due to hearing impairment.
 The Beitna Center is the only organization that cares for the director of the Beitna Center, Mohammad al-Khalaf in the city.
 The Beitna Center was established in the al-Bab city in 2013 through the al-Bab Coordination Office and was closed after ISIS's takeover of the city. It was then reopened with the support of the Turkish "iHH" organization after the opposition factions took control of the city in 2017.
 Al-Khalaf explained that the lack of equipment is mostly harmful to the children, explaining that the condition of children suffering from a hearing and speech impairment can improve by simply securing a headset, and they may be able to speak properly over time.
 As for strollers, they are considered a means of comfort for children with motor disability and for their families, as these strollers make it easier for these families to transport and carry these children. There are many children who do not come for treatment because of the lack of a stroller that facilitates their movement, according to al-Khalaf, who pointed out that these are the most crucial tools for them.
Beitna Center is not affiliated with al-Bab Local Council, which, according to al-Khalaf, tried to close it, but failed.
 He added that in 2017, "iHH" provided a set of strollers and headphones for disabled children, and paid the workers in the center, yet it is expected that it will stop its support.
 Several organizations have visited the Center and documented its needs, but they have not sent any of them, according to the Center's director.
 The Center receives children from three to ten years old. It includes departments for autistic patients and children suffering from difficulty or delay in speech, in addition to departments for people with polio and Down syndrome and a department for physical therapy.
 The center also receives 23 children with polio, 17 cases of Down syndrome, 24 cases suffering from a delay in speech, and 34 cases of children with autism.
 Enab Baladi tried to communicate with several families with handicapped children who are being taken care of in Beitna Center, yet it did not receive any response.
The Center is not licensed
 The head of al-Bab Local Council, Jamal Othman, justified not dealing with the Beitna Center by saying that it is not licensed.
 He indicated in an interview with Enab Baladi that the center is receiving support from the Turkish "iHH" organization, and thus it is working under its umbrella.
 Regarding the lack of support, the director of the office of Ihsan organization, Walid Alito, told Enab Baladi that there has been no direct communication between them and the Beitna Center regarding the support and other matters.
 He stressed that their work is generally based on providing support to the cases they find.
 For his part, a member of al-Bab Local Council and an official in the education department, Fawzi al-Sayeh, told Enab Baladi that the Council has not visited the center.
 He pointed out that work is underway to arrange a close visit to the Center to study its needs.
if you think the article contain wrong information or you have additional details Send Correction